Magic vs. Bulls: TV Schedule, Live Stream, Spread Info and More
March 8, 2012

Kevork Djansezian/Getty Images
Tonight, two of the top teams in the Eastern Conference take center stage as Dwight Howard leads the Orlando Magic (25-15) into Chicago to take on Derrick Rose and the Chicago Bulls (33-8). 
The Bulls are riding a huge eight-game winning streak, while Orlando is heading into this game after a disappointing loss to the Charlotte Bobcats. 
Chicago won their only matchup this year, defeating Orlando 97-83 despite Howard going off for 28 points and 15 rebounds. 
Where: Chicago, Illinois United Center
When: Thursday, March 8 8:00 p.m. ET
Watch: TNT
Listen Chicago: WSPL- 1250AM Orlando: WSTU - 1450AM
Betting Line
According to 5Dimes.com, the Bulls are a six-point favorite. You should take the Bulls in this game, as they are the better overall team and Rose is playing at such a high level right now. 
They won the first game on the road in Orlando by 13, and own a 15-2 record at home this year. 
Key Injuries

Orlando
Guard Von Wafer is questionable with a shoulder injury. He missed Tuesday's game against Washington because of this shoulder injury. 
Chicago
Guard C.J. Watson is out for tonight's game because of an ankle injury. This will mark his second-straight game he will sit out because of a sprained ankle. 
Guard Richard Hamilton is out indefinitely after suffering a mild right shoulder sprain. 
What They're Saying
Chicago (According to the Chicagotribune.com):

Coach Tom Thibodeau's philosophy is to call all injured players day-to-day to aid their mentality as they go through the rehabilitation process. It's why he called C.J. Watson day-to-day even though Watson wore a walking boot on his sprained left ankle. The guard said he's targeting either Saturday or next week for his return, meaning he will miss Thursday's game against the Magic. 

"It still hurts a lot," Watson said. "I can't put any pressure on it or walk on it. It's really swollen, so I'm trying to get that out."
Orlando (According to the Orlandosentinel.com):
They face the Bulls in Chicago Thursday, followed by games against the Indiana Pacers, Miami Heat and San Antonio Spurs. 

And that portion of schedule isn't even close to what makes the next week or so the most critical of the season. 

There's a little matter of whether Dwight Howard still will be on the team by the end of the business day next Thursday.
Most Important Player to Watch: Chicago Bulls Point Guard Derrick Rose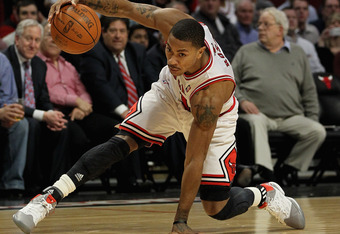 Jonathan Daniel/Getty Images
In their last meeting, Rose came close to a triple-double posting a stat line of 21 points, 10 assists and eight rebounds. Rose is riding a huge 10-game swing posting numbers of 24.6 points per game, 7.9 assists and 3.4 rebounds. 
He should be able to have his way with the Orlando defense as the Magic are allowing teams to make 43.5 percent of their field goals, and are giving up 91.6 points per game. 
If Rose can go off again for a stat line of 25/15/7, he will lead the Bulls to their ninth-straight victory.
Key Matchup: Dwight Howard vs. Joakim Noah and Carlos Boozer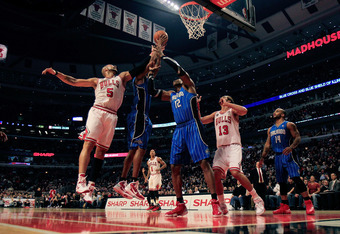 Jonathan Daniel/Getty Images
In their last meeting, Howard dominated whomever was guarding him leading everyone in scoring and rebounds. Tonight, Noah and Boozer have to do a better job in limiting Howard's ability to grab rebounds while forcing him into tough shots. 
On the offensive side, they have to find a way to get Howard into foul trouble. If Rose can find Noah and Boozer down low, they can force Howard to take unnecessary fouls forcing him out of the game. 
Prediction
Orlando is a good team, however, Chicago is playing on another level right now. Chicago has beaten four potential playoff teams during this streak, Atlanta, San Antonio, Philadelphia and Indiana. 
Rose will carry this Bulls team to a 97-88 victory tonight.