Fantasy Baseball 2012: Buster Posey and 15 Injuries to Know Before Draft Day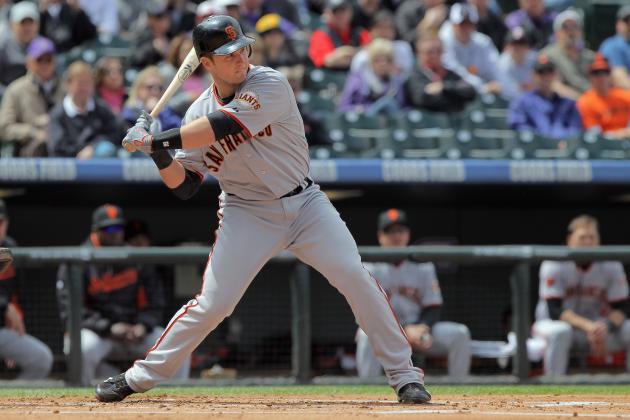 Doug Pensinger/Getty Images

Players returning from injury represent huge question marks heading into spring training and fantasy baseball season.
Several ace-potential starting pitchers are coming off serious trips on the disabled list. But the pitchers are not the only ones who get hurt.
San Francisco Giants phenom Buster Posey had a horrific injury, but another top catcher is coming back from a more mysterious injury.
In fact, there are players everywhere who were hampered last year and need to show that they are healthy before being considered in fantasy baseball drafts.
Begin Slideshow

»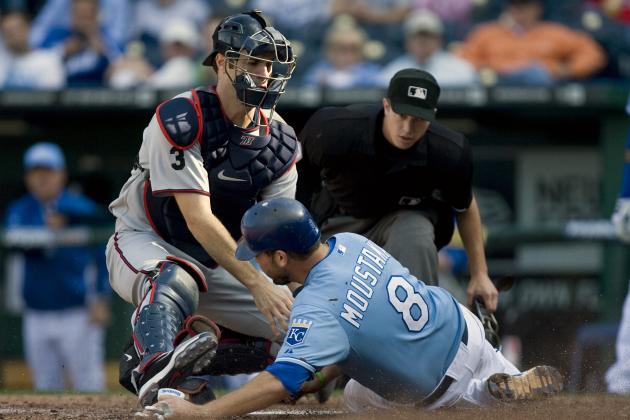 Ed Zurga/Getty Images

Joe Mauer played only 82 games last year—52 behind the plate—and was routinely banished to the disabled list with various forms of weakness and discomfort. It seemed the only reports coming from the team were of things he didn't have.
Coming into spring training, Mauer says he is at full strength. He is looking at a season peppered with days off or days at first base.
The fact of the matter is that fantasy owners would love to see Mauer play first more often. It doesn't affect his catching eligibility and doesn't put him at risk for the catching-type stress that comes from squatting for three hours.
Mauer is the only catcher likely to challenge for the batting title. He may never hit 20-plus home runs again, but 12 to 15 with a .330 average is plenty to be a top-three option at the position.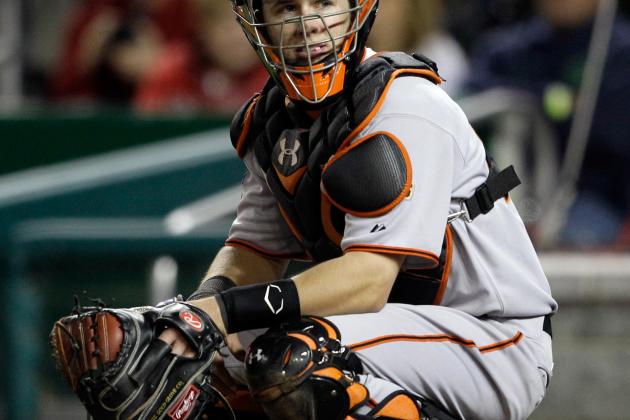 Rob Carr/Getty Images

Buster Posey's collision at the plate forever called into doubt the sacred practice of blocking the plate—so much so the Giants have told him not to do it. This, however, is welcomed news to fantasy owners, who would rather he didn't catch at all and just keep his eligibility.
How much will last year's collision be in the back of his mind as he plays the game? That's a question that no one can answer, but the kid is talented enough to emerge confident and raking.
Barring additional injury, the risk for aggravation of the ankle is low, and Posey has potential to hit .290 with 25 home runs in a full season.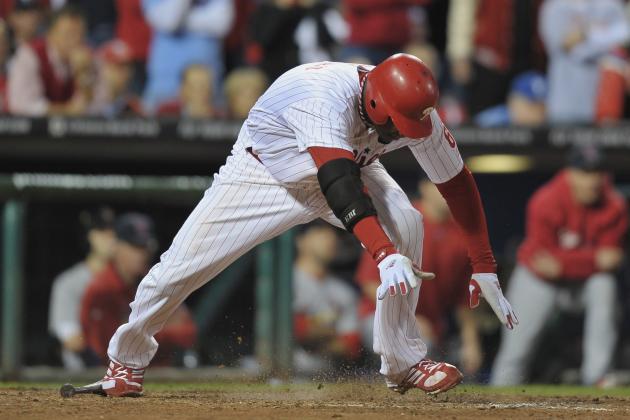 Drew Hallowell/Getty Images

Just as the Phillies' season was ending, Ryan Howard crumpled to the ground in agonizing pain. Investigation would indicate a ruptured Achilles. Howard had surgery in October and launched a long rehab program.
Early timelines saw Howard returning in June, but as his rehab progressed, rumors circulated about a possible early return to the Phillies lineup in May. Executives with Philadelphia (assistant GM Scott Proefrock being one of them) gave various possible dates, always insisting they would err on the side of caution. The latest is from Ruben Amaro Jr., who said Howard could be "backed up for a while" and that there is no timetable for his return.
Before you draft Howard as a sleeper, hoping for an early return, remember that his numbers were declining before the injury as well. His OPS, batting average, hits and runs scored all declined three years in a row.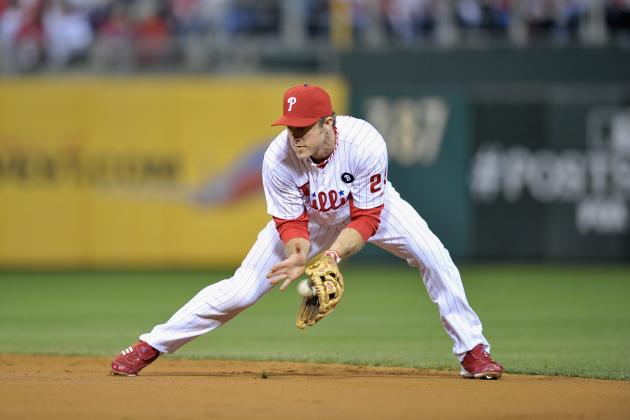 Drew Hallowell/Getty Images

Chase Utley will never play without pain again. He has a degenerative disease which puts pressure under the kneecap, and he will constantly be rehabbing and strengthening to avoid flare-ups. This will also require regular days off.
While he is no longer in the top tier of second basemen, there isn't a lot after the top three. Consider that, with Howard's injury, Utley will likely bat in the middle of the lineup and is a career .290 hitter.
While the days of 30 home runs and 20 stolen bases are gone, there is a lot of value in 20 home runs and 15 steals, a .280 average, 80 to 90 runs and the potential for 90 RBI. Don't reach for him as if he's returning to prime form, but if Utley slips past the first five rounds, he's a good value.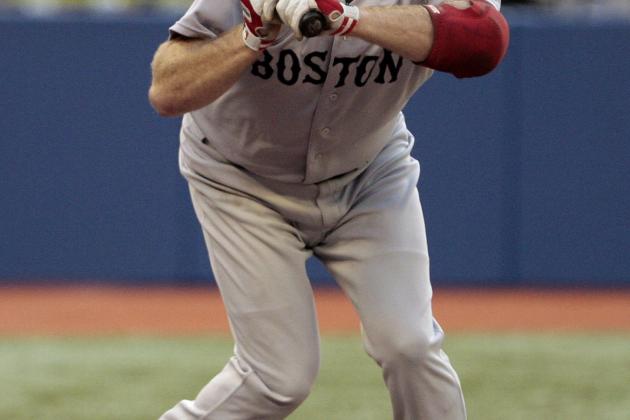 Abelimages/Getty Images

Kevin Youkilis fought through a sports hernia through the end of 2011. He still finished with 17 home runs and 80 RBI in just 120 games. That pace, stretched over 162 games, would be 21 home runs and 101 RBI.
Youkilis is healed up and back in the middle of a loaded Red Sox lineup. It is reasonable to believe that with Dustin Pedroia, Adrian Gonzalez and Jacoby Ellsbury potentially batting ahead of him, Youkilis should have plenty of easy RBI chances.
Concern about his age and consistency has dropped Youk in fantasy rankings behind such questionable commodities as Brett Lawrie and Aramis Ramirez. Grab the Boston run-producer in the middle rounds and be thrilled about it.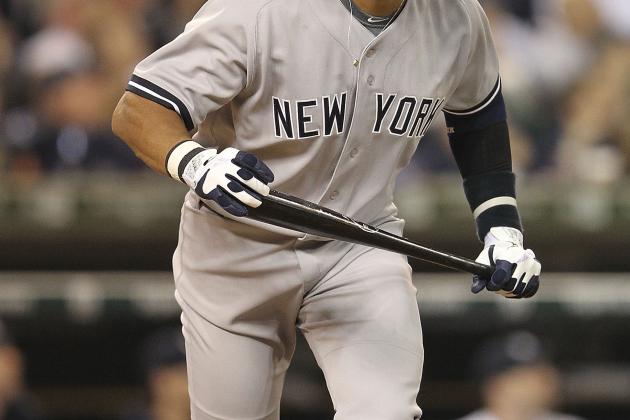 Leon Halip/Getty Images

Alex Rodriguez missed part of 2011 recovering from meniscus surgery and traveled to Germany in the offseason to receive a form of stem cell treatment. But he is still 36 years old and has battled injuries for the past three years.
That ends the negatives.
Before 2011, Rodriguez had 30 or more home runs and 100 or more RBI in 13 straight seasons—13 straight seasons. He is likely to see more time at designated hitter this season to keep the legs fresh, and in his first swing of spring training, he homered off of Roy Halladay.
Rodriguez is no longer a top-10 overall draft pick, but no one should be surprised when he goes .280/30/100 and finishes among the top five at his position. I'd begin considering him in the late second round of a standard 12-team draft.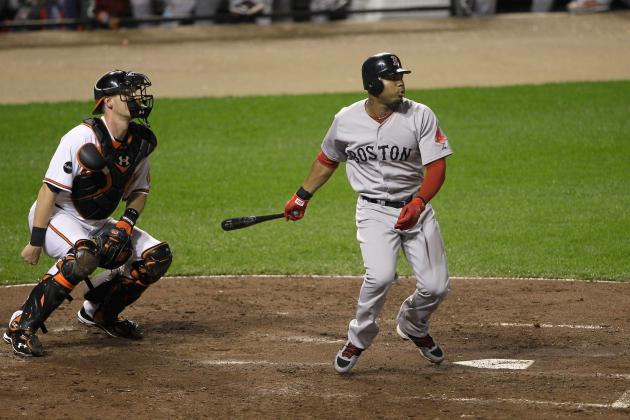 Rob Carr/Getty Images

Carl Crawford was brought into Boston to win a World Series. The combination of Crawford and fellow Boston signee Adrian Gonzalez was supposed to push them over the Yankees in the AL East. Little did they know, they wouldn't even pass Tampa Bay.
Crawford underwent surgery on his left wrist in January and appeared on track to open the season. But he had a setback in his first action of the spring, and Nick Cafardo says it is unlikely he will open the season in the lineup.
Crawford has enough talent to make an impact once fully healthy, but questions abound and there are enough options in the outfield to let someone else take on the unnecessary risk.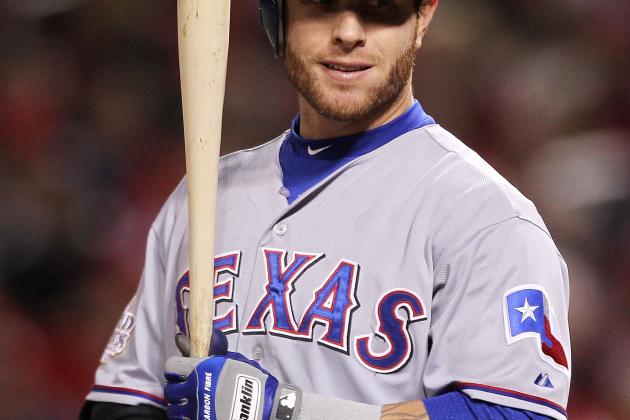 Ezra Shaw/Getty Images

When you draft a team, you attempt to project numbers for the entire season. With Josh Hamilton, you pay for elite production over 125 games; anything above that is bonus. That being said, he won the MVP with 133 games, so there is still value in that.
Now, Hamilton looks fully recovered from the sports hernia he had repaired in November, but February saw him admit to an alcohol relapse, which adds another layer of risk to an already risky pick. Unfortunately, in mock drafts to this point, he is still being taken among the top 10 to 12 outfielders.
Hamilton ownership is about value. If you can get him outside of the top 20 outfielders, then his 125-game production will be valuable. If someone drafts him comparable to the top outfielders who will play complete seasons (think Hunter Pence), then his upside is eliminated and it's all bust potential.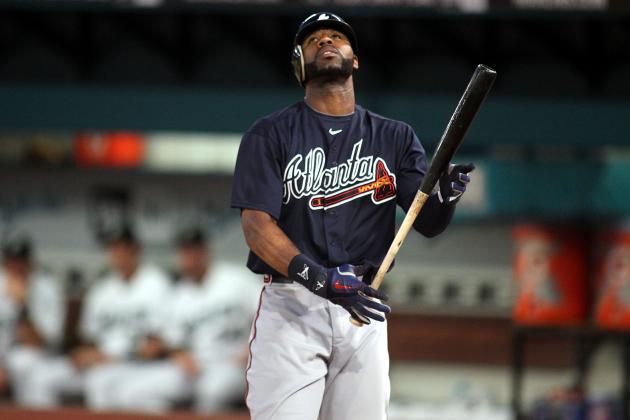 Marc Serota/Getty Images

Jason Heyward was dubbed God's gift to baseball when he came up and hit a home run in his first at-bat for the Atlanta Braves. He came into 2011 as the predominant breakout pick across baseball. He wasn't even a "sleeper" because people just assumed he'd break out.
Unlike many top prospects who go belly-up, a lingering shoulder injury explains Heyward's down year, one that he valiantly attempted to play through. Various negative tests increased the pressure on the young star to perform, and discomfort prevented results.
Heyward is just 22 years old, still has all the talent and he said he is healthy. Watch carefully in the spring to ensure his shoulder is back to full strength and if it is, pounce on the tremendous value he currently represents in drafts.
Draft Heyward expecting a slight uptick on his 2010 numbers (.277/.393/.456 slash line). Personally, I have him projected for .278, 18 home runs, 86 RBI, 13 steals and 79 runs scored, but there is obvious upside to the tune of .285, 25, 110, 20 and 90.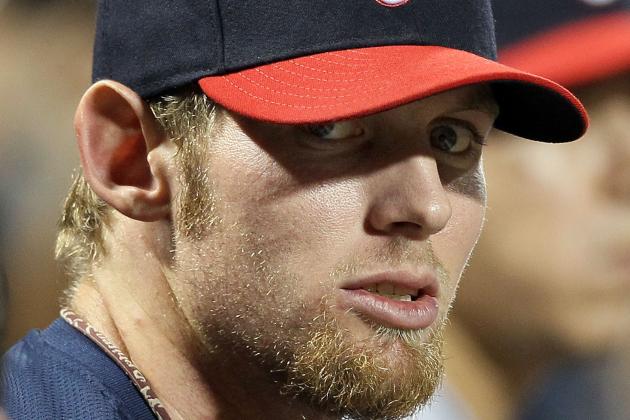 Jim McIsaac/Getty Images

Stephen Strasburg is the safest player to project of all those mentioned in this article. Tommy John recovery is extremely predictable, and the fact that Strasburg was allowed to pitch at the end of 2011 means Washington is completely comfortable with his health.
Strasburg will be limited to 160 innings, so keep that in mind, but that could also result in 10 to 12 wins and 170 to 180 K's. Strasburg will be an excellent sell-high candidate in redraft leagues because he is likely to put up elite numbers through August. For a playoff-contending fantasy team, owners would be wise to parlay that into one or two pieces likely to help in the playoff run.
For example, I traded Jordan Zimmermann for Michael Morse in an 18-team league last year, and as Zimmermann ran downhill to his eventual early end, Morse continued to hit and aided a late playoff run. Also keep in mind Strasburg is a candidate to be among the top seven or eight starters next season in fantasy.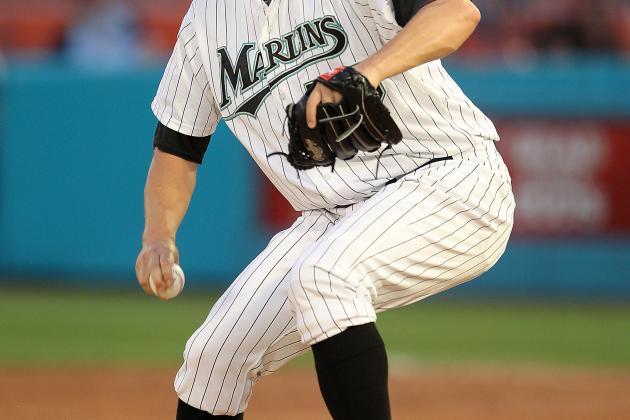 Mike Ehrmann/Getty Images

Let's just make this clear: Owning Josh Johnson will give you ulcers, because every start, every twinge in his arm and every news headline remotely involving him will make you positive he's done for the season.
Johnson is comparable to Josh Hamilton in that he produces among the best in the league when he is out there.
At some point, you will have to make a gut call either to avoid or buy. His value won't get much lower, so if you believe he will make even 20 starts, he's worth a grab. But no one can say for sure. Speaking for myself, I'll be drafting Johnson this year. I'll give him one more chance to put it all together, because the value compared to the talent is simply too good to skip over.
Make your decision and just remember: There are no guarantees. This is the Matthew Stafford of baseball, and we saw what Stafford did with his first full season.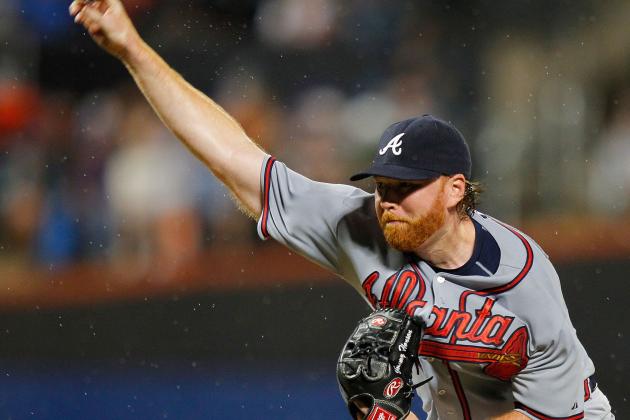 Paul Bereswill/Getty Images

Unlike Josh Johnson, Tommy Hanson had no real resolution to the injury problems of 2011 and thus enters 2012 with immense risk.
It was reported that Hanson had a small tear in his shoulder. He spent time on the DL, returned and was eventually forced out again, ending his season unceremoniously. Hanson changed his delivery to prevent future injury, but the base problem may yet remain.
Hanson is still, inexplicably, being drafted among the top 15 starters in many drafts, which means this owner won't be taking him in any league. There is simply too much pitching to invest that heavily in a guy who may be playing with an existing tear.
Hanson is great when he's on the mound, but the concerns on Hanson this year sound a lot like those on Johnson in 2011. Buyer be very aware.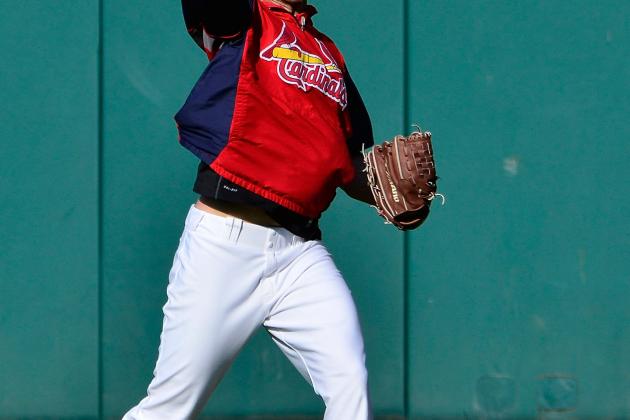 Jeff Curry/Getty Images

While Adam Wainwright is also a full year removed from Tommy John surgery, his 2012 is slightly more worrisome than that of Strasburg.
The reason is not fear of re-injury, but that the off-speed stuff is often the last to come back because it puts the most strain on the arm and the command takes time to return. Unlike the fireballer Strasburg, Wainwright has relied heavily on his curveball in his rise to baseball's elite.
Wainwright will likely return to form in 2013, but for 2012, there may be some rocky starts as he works his way back into a rhythm. That being said, the Cardinals haven't placed a hard innings limit on Wainwright, so he may get 170 to 80 innings, and one could expect at least top-30 SP production in that scenario.
Draft him expecting 12 to 14 wins, 3.30 ERA and 170 K's, and you will likely be satisfied.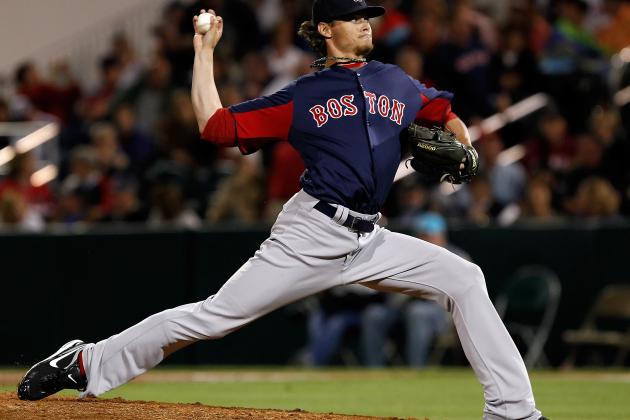 J. Meric/Getty Images

At 25 years old, Clay Buchholz went 17-7 with a 2.33 ERA, and it seemed a star was born. But after struggles early in 2011, he was diagnosed with a back problem, later called a stress fracture, and he was done for the year.
Buchholz showed up to Red Sox camp early, throwing a series of bullpen sessions and reporting no discomfort.
Buchholz might be the top bargain on this list. If he suffers no setbacks, then there's no reason he can't put up 14 wins with an ERA around 3.10 and his career 6.9 K/9. Obviously, after his 2010 season, there is upside beyond that.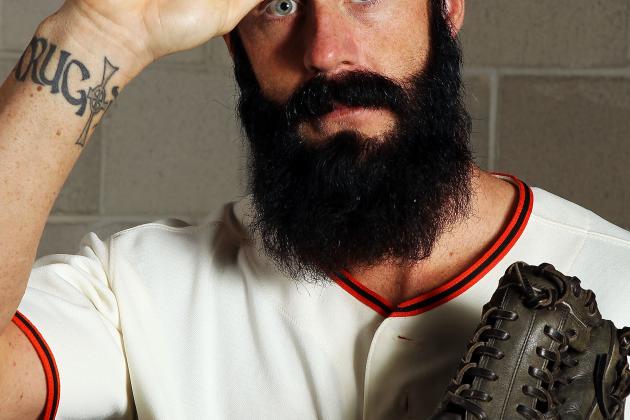 Jamie Squire/Getty Images

Brian Wilson's 48 saves with a 1.81 ERA and 11.2 K/9 made a star out of his beard. The image of his signature arms-crossed celebration at the culmination of the Giants' World Series run will dance in the memories of San Francisco fans forever.
But in 2011, after returning from back spasms in spring training, Wilson had discomfort in his elbow to the point of speaking with Dr. James Andrews. Wilson was assured the elbow was stable and continued to rehabilitate.
Wilson is in spring training with no pain and plans to be ready for Opening Day. There is some risk considering that lack of a real diagnosis for the elbow pain. When healthy, he is among the five best closers in baseball and in fantasy, so weigh the risks and draft accordingly.
Also remember that there are always saves available late.