Links to the Best in AFC North Coverage, 3/8 Edition
March 8, 2012

Mitchell Layton/Getty Images
Today's AFC North links include a look at Ravens GM Ozzie Newsome, why the Bengals' Andy Dalton could be the best passer in the division and how a Pittsburgh television station could have got something as wrong as they did.
Bleacher Report's Alan Zlotorzynski provides a thorough look at Baltimore Ravens general manager Ozzie Newsome and why he may be the best in the business.
Garrett Downing at the BaltimoreRavens.com blog examines what the future may hold for impending free agent cornerback Lardarius Webb.
Cleveland Browns defensive end Jabaal Sheared had a solid 2011 season, but he can't do it alone this year. Bleacher Report's James Dudko looks at defensive ends the Browns can add to complement him.
The Cincinnati Bengals' Ray Maualuga's assault case went to mediation today, and he and his accuser have seven weeks to come to an agreement lest it head back to open court, reports the Cincinnati Enquirer's Kimball Perry.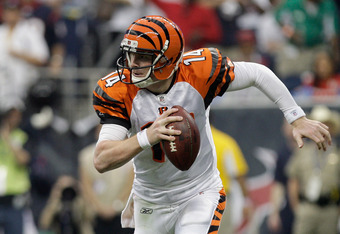 Thomas B. Shea/Getty Images
Joseph Zucker of Bleacher Report details five reasons why Bengals quarterback Andy Dalton just might be the best at his position in the AFC North.
Bleacher Report's Nick Signorelli breaks down the Pittsburgh Steelers' quarterback depth and analyzes what the team needs to do at the position in 2012.
The Pittsburgh Post-Gazette's Maria Sciullo tells the tale of the Pittsburgh news broadcast that took seriously a humorous, fake web report about former Steeler Hines Ward joining the Ravens.