Big 12 Tournament Schedule 2012: Predictions for Every Game on Day 2
March 8, 2012

Jamie Squire/Getty Images
The second day of the 2012 Big 12 tournament is Thursday, and there are some exciting matchups lined up that all college basketball fans must check out.
The Big 12 is one of the nation's best conferences and boasts national title contenders like No. 3 Kansas and No. 5 Missouri.
Let's look at the complete Big 12 tournament schedule for Day 2 and make some predictions.
Baylor vs. Kansas State: 12:30 p.m. ET on ESPN2
No. 11 Baylor is one of the most talented and athletic teams in the country and will be a challenging opponent for the Kansas State Wildcats.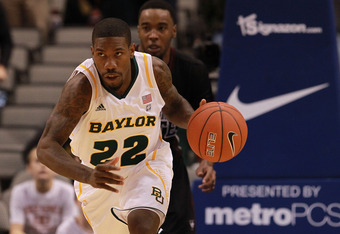 Ronald Martinez/Getty Images
KSU won the final regular season meeting between these two teams with a slim one-point triumph in Waco.
Baylor has not played well against ranked teams this season (2-4 overall, 0-4 vs. KU/MO) and hasn't played well when the pressure is on. 
With the Wildcats needing a win to help secure an NCAA tournament bid, they will come out aggressive early and upset the Bears for the second time this year.
Kansas vs. Texas A&M: 2:30 p.m. ET on ESPN2
No. 3 Kansas is the top seed in the Big 12 tournament and have the most to play for than any other team in this field.
A Big 12 title would almost certainly guarantee them a No. 1 seed in the NCAA tournament, and maybe even the tournament's top overall seed.
Against a much-inferior Aggies team that finished the season 14-17 (4-14 in Big 12 play), the Jayhawks will destroy Texas A&M with their strength and size in the paint at both ends of the floor.
Missouri vs. Oklahoma State: 7:00 p.m. ET on Big 12 Network
The Tigers need to make the semifinal to have a great shot at a No. 2 seed in the NCAA tournament, and a Big 12 title could earn them a No. 1 seed.
Missouri has had a fantastic season and have too much athleticism at the guard positions to be upset by Oklahoma State. 
The Cowboys lost to the Tigers by 18 in their final regular season meeting on February 15 and have lost five of their last eight games.
Expect Missouri to win comfortably in this matchup.
Iowa State vs. Texas: 9:30 p.m. ET on Big 12 Network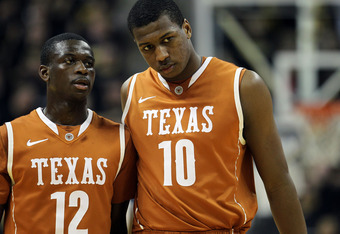 Jamie Squire/Getty Images
The Cyclones finished the season with four wins in their last five, including a season finale win against Baylor, to put themselves in a good position for an NCAA tournament bid.
However, a loss to a Texas team that struggled for stretches this season would hurt Iowa State's tournament resume and would leave them hoping other bubble teams perform poorly during conference championship week.
If the Cyclones can win the rebounding battle and dominate the paint defensively, they will have no problem winning this game. Expect Iowa State to add another win to their resume.