Detroit Tigers: Spring Squad off to Perfect Start Through Five
March 8, 2012

Spring training victories don't always amount to regular season success, so it's difficult to effectively correlate Grapefruit League winning with the potential for postseason glory.
The Tigers, however, have started off with a bang and head into the end of the week at 5-0 in early winter action.
Tigers manager Jim Leyland would much rather see his team winning now, regardless of the meaningless outcome of the games. Winning now shows that his Tigers have the right mindset going into 2012, and the distractions of high expectations for his squad haven't clouded their purpose and resolve to effectively prepare for the long haul of summer.
The most impressive statistic of Detroit's hot spring start: they've outscored their opponents 32-7.
Early pitching can often be shaky during the month of March; even teams with great staffs can take some time to develop. The Tigers seem game-ready now, a month in advance of the season. Yes, they are going to drop some winter warm-ups before it's all said and done, but a great spring start may translate to a team ready to dominate from the get-go in 2012.
Detroit has repeatedly taken out the National League's Braves this spring, pounding Atlanta 25-4 over three games in a period of five days. The Tigers have also hit double-digit numbers in the home run category against the Braves, with Miguel Cabrera sending a rocket over the left-center berm at Joker Marchant stadium during Wednesday's victory.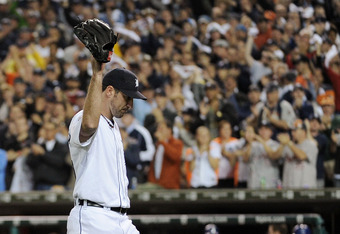 Harry How/Getty Images
Monday
A solid performance by Tigers ace Justin Verlander during his first live innings of preseason work on Monday against Toronto led to a 4-2 Tigers victory. Verlander threw two scoreless innings, showed great control and only allowed one hit over the six batters he faced. Delmon Young and Quintin Berry had extra-base hits to pace the Tigers offensively.
Detroit's new second-base hopeful, Brandon Inge, made a nifty double-play turn on a ball deep in the hole to cut down the only runner that made it safely on base against Verlander. Inge has looked solid defensively for the Tigers, and his .333 batting average is better than previous spring starts. His main competition, Ryan Raburn, has started his spring hot at the plate, hitting .600 with 2 home runs.
Tuesday
Tuesday's 3-1 victory over the Miami Marlins was yet another strong indicator of the Tigers pitching staff's successful early season venture. The Marlins' lone run was against Tigers' No. 4 starter Rick Porcello, who game up one hit over his first two innings of work this spring. Porcello's performance had positives and negatives, as he's still working on perfecting an additional pitch to complement his nasty sinker.
Also encouraging on Tuesday was the continued consistency of Austin Jackson in the Tigers' leadoff spot. In four games this spring he is hitting .444, after going 2 for 3 on Tuesday. The Tigers beat up Marlins starter Alex Sanabia for six hits and three runs over 1.1 innings.
Wednesday
Although the Tigers should be pleased with their 5-1 victory over Atlanta on Wednesday, there was a discouraging performance by star pitching prospect Jacob Turner, who was expected to contend for the final spot in the Tigers starting rotation. Turner walked four of the 10 batters he faced and loaded the bases twice in his 1.1 innings pitched.
Not the type of performance that wins points for a hotly contested roster spot.
However, another of the Tigers' contenders for the final rotation spot, Andy Oliver, threw three strong innings of relief and has looked sharp this spring.
The Tigers also got some help from Miguel Cabrera, who has been taking extra ground balls at his new third base position. He made a tough play on a slow roller against the Braves' speedy runner Tyler Pastornicky. Cabrera has seen little action at the hot corner as far as playable balls, so his efforts on Wednesday were reward for the time he's put in thus far to prepare for a big change in 2012.
Looking Ahead
Detroit will go split-squad today against the Tampa Bay Rays on the road before returning to Lakeland for Friday's contest against the Philadelphia Phillies. The Tigers will finish up the weekend with split-squad games at Joker Marchant in Lakeland on Saturday and then on the road for matchups against the Houston Astros and Phillies again.
*All pre-season statistical data provided by detroittigers.com