Derrick Rose's Courage in the Clutch Should Serve as Lesson for LeBron James
March 8, 2012

Derrick Rose isn't afraid of taking the big shot for his team with the game on the line.
He shows no fear when he's on the floor, nor hesitancy in his decision-making.
He's humble, gives credit to his teammates and rarely gives lengthy quotes to the media.
Rose isn't into being in the spotlight off the court. He's all about shining on the hardwood.
He doesn't back down when the moment arrives, and in a game where his team needed him to come through, he did exactly that.
Scoring 30 points (14-of-14 from the free throw line), dishing out 11 assists, pulling down eight rebounds and sinking one huge shot, Rose was the reason his team beat the Milwaukee Bucks.
The crossover on Brandon Jennings was devastating, and Rose delivered the dagger to successfully finish off his killer move.
Tom Thibodeau had nothing but good things to say about his star:
He took the clock down, he didn't leave any time because it was one of those games where whoever had the ball, you thought they were going to score next.
It was Rose's first career buzzer-beater, and he made sure everybody would remember it for a very long time. As Rose said, via Aggrey Sam of CSN Chicago:
I know that I'm young, like I always say, but I think about that stuff. ... When I'm done with this game, I want to be a great.
That sounds like someone thinking about how his legacy will be defined.
At the end of the day, Rose understands that he will not be judged solely by individual success, but how his team succeeds under his guidance:
It gives me a lot of confidence, man. I remember a few years back, I was missing those shots. I think it's a thing where you just learned from it, knowing what they give you.
Rose is right. He used to miss those shots, and he has no problem admitting it. But he's not missing much anymore, and it's an area of his game he's worked on relentlessly in order to evolve as a player.
As the old saying goes, "Practice makes perfect."
Rose doesn't lack confidence. He knows that he's not going to succeed on every shot or in every opportunity, but that's okay.
That's an idea LeBron James has struggled to cope with to date.
Far too concerned with public perception and how he will be perceived by the media, James needs to just play his game and not worry about what anyone has to say.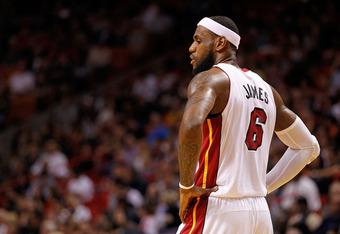 Mike Ehrmann/Getty Images
As Rose said after his game-winner, it's okay to miss with the game on the line. It's okay to make mistakes. It's a part of the process:
I remember in Miami — almost the same situation — we were down one and missing both free throws and just coming up here, that was going to be on my mind and knocked them down, and I think I was more happy I hit those free throws than that last shot.
Rose doesn't forget his shortcomings in any game. He works relentlessly to improve upon them on a regular basis, despite the unbelievable talent he harbors.
James is also a hard worker. He spent time in the offseason transforming his game, becoming a more efficient player. He's having a historic regular season, and his accomplishments certainly shouldn't be discounted.
But there has been something missing.
The "killer instinct" has been absent, and many have been left wondering whether James will ever step up with the game on the line and take the game-deciding shot.
He's passed with the opportunity to do so before, and he'll likely pass again. One of James' greatest strengths as a player is his passing ability and keen understanding of how to hit the open man on the floor.
But this is LeBron James. This is the guy people expect to step up when it matters most.
James is 27 years old, while Rose is just 23.
Despite the gap in age, there is a lot LeBron can learn from Rose in how he approaches the final minutes of a game.
These two players are viewed with a very different lens in the public sphere.
It's not hard to see why that is happening regularly.