UFC 146: Dan Hardy vs. Duane Ludwig Breakdown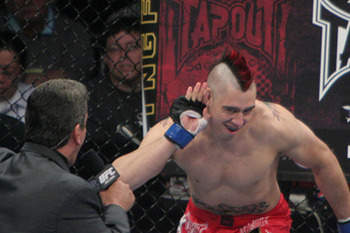 Dan Hardy/ Jeff Cain for MMAWeekly.com
In a sport built on opposing styles, it's nice to see a few of these kind of matchups every now and then.
At UFC 146, welterweight notables Duane Ludwig and former contender Dan Hardy will meet in a pivotal battle, one that will likely decide Hardy's immediate future in the sport.
In dire straits, "The Outlaw" is on a career-worst four-fight skid and will look for his first win in more than two years. Ludwig is also reeling from defeat, having suffered a submission loss to Josh Neer in his last UFC appearance.
Two heavy-handed strikers who are seeking victory—what's better than that?
Ludwig Is the More Technical Striker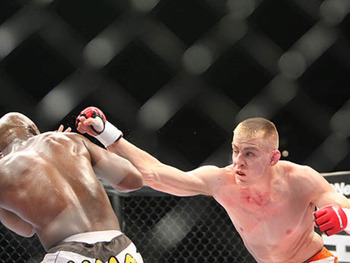 Ludwig (right)/ Laron Zaugg for MMAWeekly.com
As far as precision striking is concerned, Ludwig is among the best in the welterweight class.
Hailing from a traditional kickboxing background, Ludwig made his way all the way to the K-1 circuit, where he found some success before making the commitment to compete in MMA full time.
His mix of knees, kicks and punches makes Ludwig dangerous for every minute of the fight. Hardy holds the edge in pure one-punch knockout power, though "Bang" will be astute enough to pump out the jab, keeping himself out of harm's way when it comes to the wide-looping hooks of Hardy.
Jiu-Jitsu? Yeah, Right.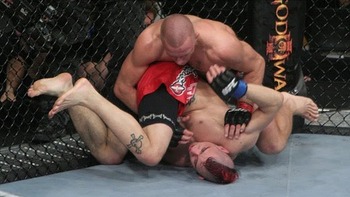 Hardy (bottom)/ Jeff Cain for MMAWeekly.com
Would it be safe to assume that this is the kind of fight where it won't reach the ground? Well, at least until somebody hits the deck.
Both men are not exactly known for their grappling acumen. Among Hardy's 23 career wins, only four have come by way of submission. Ludwig holds 21 and five in those categories, respectively.
Hardy continues to plug up the holes in his ground game by training with the likes of Roy Nelson and Eddie Bravo—two experienced Brazilian jiu-jitsu black belts who hail from prestigious academies.
However, Hardy will be wise not to do anything foolish in this fight. In his last outing, Hardy looked to take the fight to the mat in the waning moments of his bout against Chris Lytle, for which the Ultimate Fighter vet countered by locking up a fight-ending guillotine choke.
Wrestling and jiu-jitsu? Nixed.
Ludwig Wears Down Hardy for Stoppage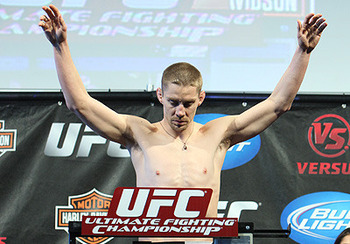 Ludwig/ Dave Mandel for Sherdog.com
This fight will be dictated by who lands that big punch first. Ludwig has faced opponents like Hardy before and the Brit's repertoire is nothing that should impose any new problems for him.
Hardy will wade forward through Ludwig's punches early, hoping to land his right to the chin.
Eventually, the mounting blows will add up and Hardy will be the worse for wear, as Ludwig continues to pile up the punches and earn the stoppage in the later moments of the fight.
Keep Reading