2012 NFL Mock Draft: The Pros and Cons of Each Pick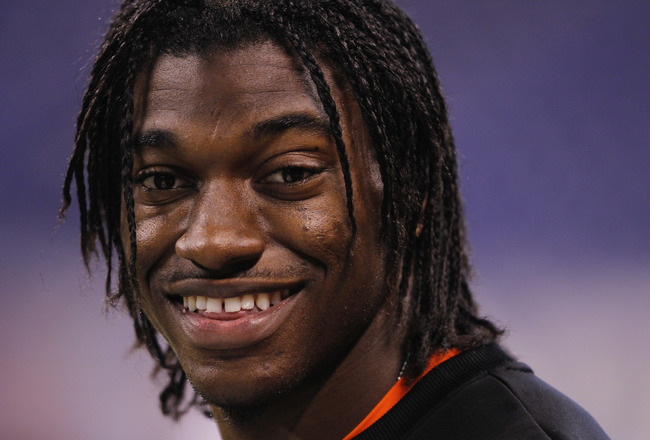 Joe Robbins/Getty Images
It seems as though I have popped out a new mock draft every week since the 2011 season ended. I can only imagine what you all are going through in searching the web and sifting through the endless cycle of mocks posted on various sites.
Since the end of the 2011 season I have had the honor of watching over 400 prospect videos, the entire combine and the Senior Bowl. While my eyes might be bleeding and the echoes of Luck take over in my head at night, this has given me an opportunity to better understand the draft process and scout each player.
This mock draft will have one caveat. I am going to give you the pro and con of each selection in the first round. While I have had nothing but great things to say about certain prospects, I will utilize my objectivity to describe the possible issues with each selection.
Note: This mock draft includes a second round. You can also find a team-team list of picks on the final slide.
1. Indianapolis Colts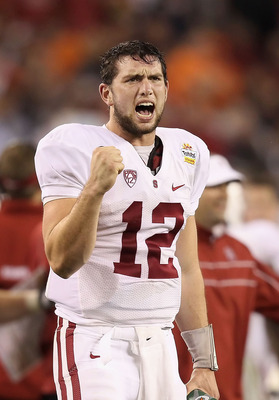 Christian Petersen/Getty Images
Andrew Luck, Quarterback, Stanford
Pros
Luck enables the Indianapolis Colts to look ahead, instead of to the past. This is something that all great teams have to do at some point, the time is now for Indianapolis. He is the best quarterback prospect to enter the NFL since Peyton Manning in 1998.
The Stanford alum can also come in immediately and be an above-average starting quarterback. He has the fundamentals and talent to be one of the best quarterbacks in the entire league in rather short order.
Cons
Luck has the unfortunate responsibility of replacing one of the greatest quarterbacks of all time. Usually this type of situation brings mixed results. He also doesn't have the talent on offense that Andy Dalton and Cam Newton had in their successful rookie seasons.

2. Cleveland Browns (Via St. Louis Rams)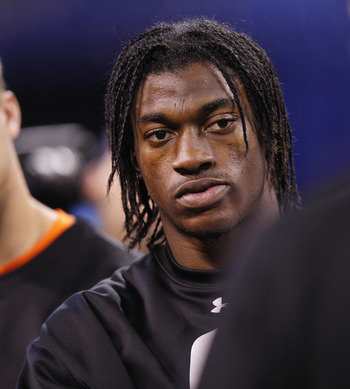 Joe Robbins/Getty Images
Projected trade with the St. Louis Rams
Robert Griffin III, Quarterback, Baylor
Pros
The Heisman Trophy winner gives Cleveland a face of the franchise, somewhat like what we saw with Cam Newton last season. He would be the No.1 overall pick in most drafts over the last decade.
Griffin III possesses exceptional athleticism and is already pro-ready in terms of accuracy and technique in the pocket. He is also one of the most genuine NFL prospects that I have come across.
Cons
Not really a position of need with Colt McCoy on the roster. The Cleveland Browns have a lot of different holes they must fill on offense in order to contend in the AFC North.
3. Minnesota Vikings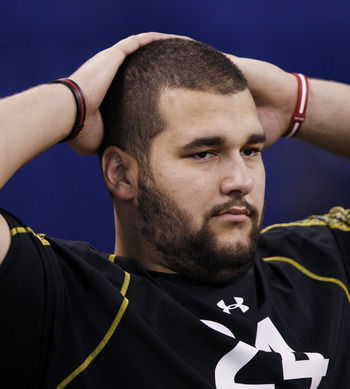 Joe Robbins/Getty Images
Matt Kalil, Offensive Tackle, Southern California
Pros
Matt Kalil might be the best tackle prospect to enter the draft since Jake Long and Joe Thomas entered the league in consecutive years. He will help the development of Christian Ponder as his blindside protector.
The USC alum is a sure bet to be a perennial Pro Bowl performer.
Cons
The Minnesota Vikings could use an upgrade at the wide receiver position, which leads some to believe they will go with Justin Blackmon here.
Kalil needs to add some bulk to his frame as well.
4. St. Louis Rams (Via Cleveland Browns)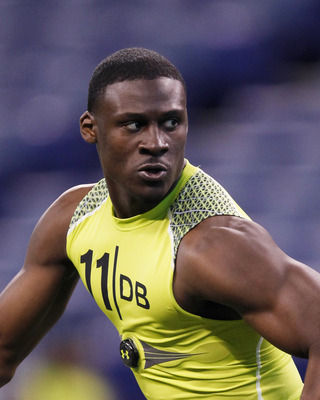 Joe Robbins/Getty Images
Projected to be acquired from the Cleveland Browns in trade.
Morris Claiborne, Cornerback, Louisiana State
Pros
Claiborne is a gifted cover man who will immediately become the St. Louis Rams' No. 1 corner. While drafting a corner this high is questionable—especially in such a deep class—he is the consensus best player at this position.
The LSU product fits Jeff Fisher's plan of building a team through elite talent on defense. This also enables the Rams to move down in the draft, while still picking a player they coveted.
Cons
The Rams need a lot of help on the offensive side of the ball. Only five corners have gone in the top-five of the NFL draft since the Atlanta Falcons took Deion Sanders at that position in 1989. There is a reason for this, you can find great players at this position later in the draft.
In regard to Claiborne as a player, I don't see any glaring weaknesses.
5. Tampa Bay Buccaneers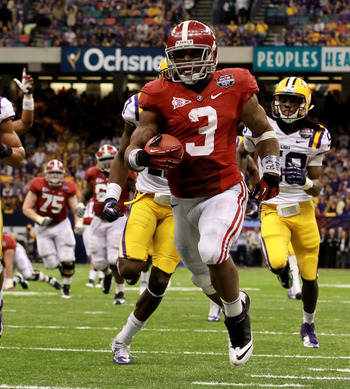 Ronald Martinez/Getty Images
Trent Richardson, Running Back, Alabama
Pros
Richardson could be a once-in-a-generation type of running back. In fact, I have him as the best prospect at this position since Adrian Peterson went to the Minnesota Vikings in 2007. The former Alabama star will also help shoulder the load for a Tampa Bay offense that was relying too much on Josh Freeman last season.
The running back is also gifted in pass protection and possesses soft hands in the backfield, two things that are underrated in his game.
Cons
The Tampa Bay Buccaneers already have LeGarrette Blount, who has proven he can be an every-down back when given the opportunity. Blount has averaged well over 100 yards in games which he rushed the ball 20 times or more.
You are not getting great value with this pick. Running backs selected in the top five of the draft have had mixed results over the course of the last two decades.
Tampa Bay also has a bunch of other needs they could address with this pick, mainly on the defensive side of the ball.
6. Washington Redskins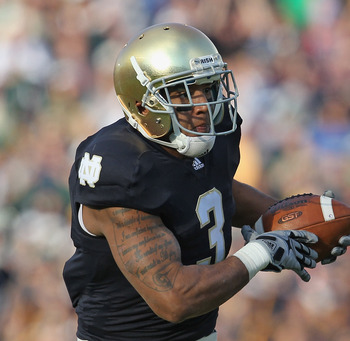 Jonathan Daniel/Getty Images
Michael Floyd, Wide Receiver, Notre Dame
Pros
Floyd gives the Washington Redskins a true No. 1 wide receiver, something they have been missing a great deal recently. He has the ability to dominate on the outside and be a playmaker in the red zone. Washington also has tremendous talent in the running game and at tight end, which would help Floyd's chances on the outside.
Whoever their next quarterback is, Washington must find him a young receiver to gel with. They get this in Floyd.
Con
Could be seen as a little bit of a reach. Most experts don't have Floyd as their No. 1 wide receiver, that distinction goes to Justin Blackmon.
Floyd was nearly kicked off of Notre Dame's football team for a myriad of alcohol related incidents. Teams tend to stay away from prospects with character concerns in the top 10.
The Redskins still need a quarterback to actually throw the ball.
7. Jacksonville Jaguars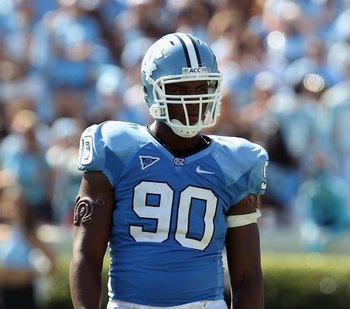 Streeter Lecka/Getty Images
Quinton Coples, Defensive End, North Carolina
Pros
Coples has the highest ceiling of any defensive player in the draft. When his heart is in it, the North Carolina product can absolutely dominate opposing offensive lines. He has a major burst at the point of contact, establishing himself as a premiere pass-rush threat.
The Jacksonville Jaguars lack that truly dominating figure in the front seven. Getting a player of Coples' caliber would make their defense that much more dangerous.
Cons
As much as Coples might have a high ceiling, he also has the highest "bust" possibility of any player in the 2012 NFL draft. This is someone who has questionable work ethic and doesn't give it 100 percent all the time.
Its' a risky proposition considering that the Jaguars are selecting in the top 10.
8. Miami Dolphins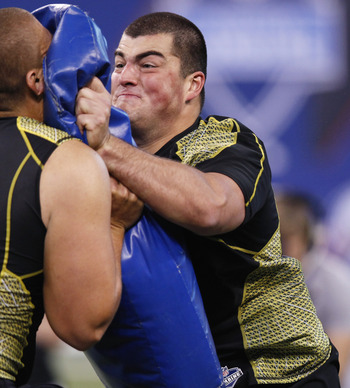 Joe Robbins/Getty Images
David DeCastro, Guard, Stanford
Pros
DeCastro is the best guard prospect to enter the NFL over the course of the last two decades. He absolutely dominates opposing defensive lines between the hashes, creating a huge pocket for his quarterback to throw the ball into. He is as sure of a pick that you will get in the 2012 NFL draft.
Just imagine Jake Long and DeCastro lining up next to one another along the Miami Dolphins offensive line. This would have the makings of one of the best offensive line tandems in the modern history of the league.
Cons
Guards just don't go this high in the NFL draft. The last interior lineman to go in the top 10 of the draft was Chris Naeole in 1997. The highest a guard has gone in the draft in the new millennium was Mike Iupati and Steve Hutchinson at 17.
The Miami Dolphins could also use upgrades on defense in order to fit their newly installed scheme. There are a lot of difference makers on that side of the ball available here.

9. Carolina Panthers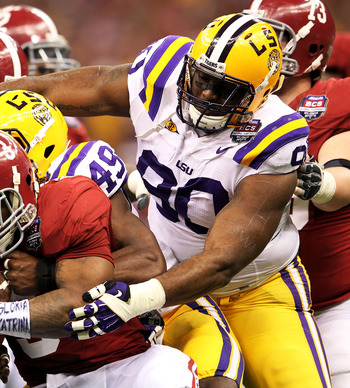 Andy Lyons/Getty Images
Michael Brockers, Defensive Line, Louisiana State
Pros
The redshirt junior has the highest upside of any defensive player in the 2012 NFL draft. He has a massive frame (6'5", 322 lbs) and the time to even add on to that. Brockers has the ability to dominate in the trenches, taking up double-teams a majority of the time.
The Carolina Panthers are in desperate need of adding talent to their front four. This is a team that failed to get consistent pressure from that unit and were run on at will throughout the most of the 2011 season.
Cons
Many people expected Brockers to be a workout warrior at the combine, but that did not happen. Instead, he had a pedestrian performance. That coupled with the fact that his game is still in the raw stages will lead some to pass up on him in April.
While Brockers does have the athletic ability to be a tremendous player, it will take him time to get acclimated to the next level.
10. Buffalo Bills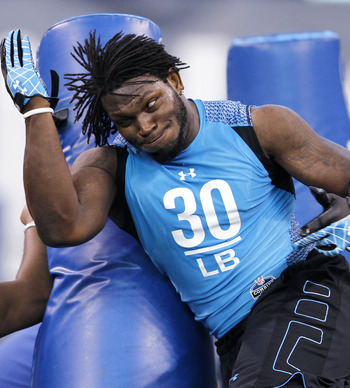 Joe Robbins/Getty Images
Courtney Upshaw, Outside Linebacker, Alabama
Pros
Upshaw is not a scheme-specific player, which means he can play in both the 4-3 and 3-4. The Alabama product has the strength to play with his hands down at the line and the athletic ability to drop back as an outside linebacker. This is a player I project to consistently accumulate double-digit sacks at the next level.
If the Buffalo Bills defense was even mediocre last season, they might have contended for a playoff spot till the end. This is a team that has a tremendous amount of talent on the offensive side of the ball, they just need to start building the defense. Upshaw should make a difference immediately.
Cons
While I did state that Upshaw wasn't a scheme-specific player, he does seem to fit better on the outside as a 3-4 linebacker. This is where a team is probably going to get the biggest bang for their buck.
There was also a ton of talent surrounding Upshaw at Alabama. Teams were not able to primarily focus on him coming in from the edge. This will change in short order at the next level if he has immediate success. You will see teams sending double-teams his way, something that I have seen him have to deal with a great deal as of yet.
11. Kansas City Chiefs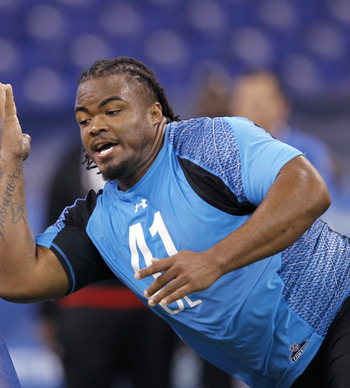 Joe Robbins/Getty Images
Dontari Poe, Defensive Tackle, Memphis
Pros
Poe blew everyone away by benching 44 reps at the combine in Indianapolis. This just goes to show you exactly how strong of a player that he is. Seriously, he is probably one of the strongest prospects I have seen come down the pike in a generation.
Despite weighing in the 340 range, Poe is also surprisingly agile for such a massive man. He actually ran the 40-yard in less than five seconds.
This is a player who will clog the middle for a defense over the course of the next decade. He reminds me a great deal of Haloti Ngata.
Cons
Fits much better in a traditional 3-4 defensive scheme as a nose tackle, something that the Chiefs don't run a majority of the time.
I really don't see a major weakness in his game, but will say that selecting a nose tackle this high could be considered somewhat of a reach.
12. Seattle Seahawks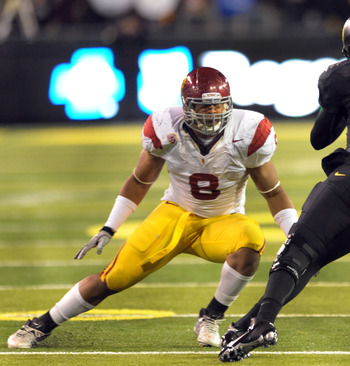 Steve Dykes/Getty Images
Nick Perry, Defensive End/Outside Linebacker, Southern California
Pros
Perry is an athletic freak, running a 4.54 40-yard at the combine—you just don't see that from defensive ends a lot. He also provides a couple pro-ready pass rush moves and showed flashes of greatness on the outside at USC.
The Seattle Seahawks could use a truly dominating pass-rushing defensive end in their system. With the success of individuals like Alan Branch and Brandon Mebane along the interior of the line, Perry would have an immediate impact.
Cons
Strictly a 4-3 defensive end at this point, though he could transition to a linebacker role after some seasoning at the next level. Seattle could also use a couple different upgrades on the offensive side of the ball, but there weren't a lot of options here.
Perry doesn't have as high of a ceiling as other defensive players in the draft. It is pretty much you get what you see.
13. Arizona Cardinals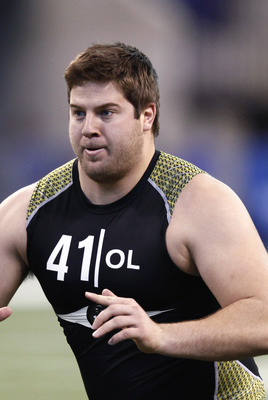 Joe Robbins/Getty Images
Riley Reiff, Offensive Tackle, Iowa
Pros
Riley Reiff would come in and immediately become the Arizona Cardinals' best pass-protecting offensive tackle. He already has pro-ready technique and can handle one-on-one situations with the best of them. This is a player who has gone up against top-level competition in the Big Ten, coming out on top more often than not.
The Cardinals yielded a league-high 54 sacks last season, which had a major impact on their ability to do damage through the air. It also caused Kevin Kolb to miss multiple games due to injury. This is a value pick at a need position.
Cons
Riley Reiff doesn't have a glaring weakness to his game. This would also represent great value for the Cardinals. He doesn't have as much upside as other tackles in the draft, but is already damn good. Arizona might want to kick the tires on Justin Blackmon as a complementary guy to Larry Fitzgerald.
14. Dallas Cowboys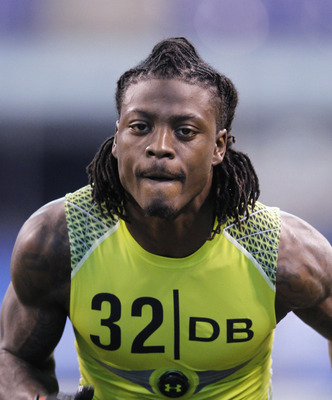 Joe Robbins/Getty Images
Dre Kirkpatrick, Cornerback, Alabama
Pros
The Dallas Cowboys are in desperate need of some new blood in the secondary. Terence Newman is going to be released, while Mike Jenkins continues to struggle with injuries. After that they really don't have too much.
Dre Kirkpatrick has gone up against top-level competition in the SEC, usually shutting down opposing wide receivers. He is an extremely gifted athlete who could play either corner or safety.
Cons
Kirkpatrick lacks the fundamentals to be a successful starter immediately, something you definitely look for in the first round. His hips are too tight on the outside, he gets turned around too much and isn't a great cover guy.
The former Alabama star does not represent tremendous value as I have him ranked lower than other corners who are going to go towards the bottom of the first round.
15. Philadelphia Eagles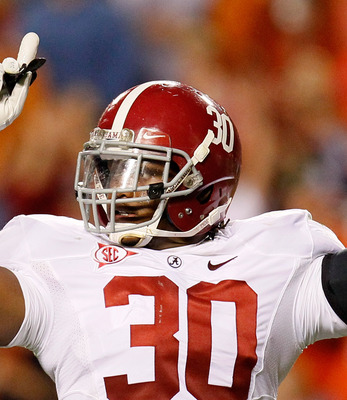 Kevin C. Cox/Getty Images
Dont'a Hightower, Inside Linebacker, Alabama
Pros
To say that the Philadelphia Eagles need help tackling would be a gross understatement. They were absolutely dreadful in this category last season and it cost them multiple games.
Dont'a Hightower is probably the surest tackler of any linebacker in the 2012 NFL draft. He also has the ability to play sideline-to-sideline, shutting down the edges in the running game. Athletically gifted as they come, the Alabama product will pay immediate dividends for Philadelphia.
Cons
There have been a lot of injury concerns throughout his career at Alabama. This will turn some teams off and may cause him to drop. He also played beside extremely good talent in college, which makes me wonder how good he would be as the top dog in the Eagles' front seven.
16. New York Jets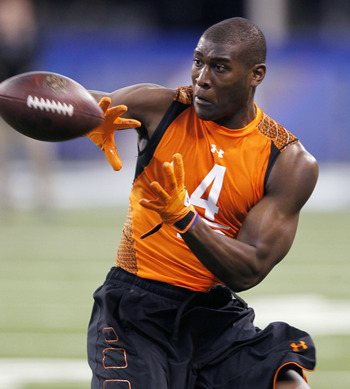 Joe Robbins/Getty Images
Justin Blackmon, Wide Receiver, Oklahoma
Pros
Tremendously successful college career at Oklahoma State, Blackmon was a two-time All-American and two-time Biletnikoff award winner.He possesses great hands, dominates on the outside against smaller corners and is able to make plays down field.
The New York Jets are all of a sudden thin at the wide receiver position. It doesn't look like Plaxico Burress isn't going to return and Santonio Holmes seemed to have his issues getting involved last season. This pick would represent great value for the Jets.
Cons
Blackmon struggles getting separation at the line against press coverage, is inconsistent in his route-running and may have topped out in college in terms of a ceiling.
He doesn't have as much upside as some of the other receivers in the draft and was just surpassed as the No. 1 receiver on my list by Michael Floyd.
17. Cincinnati Bengals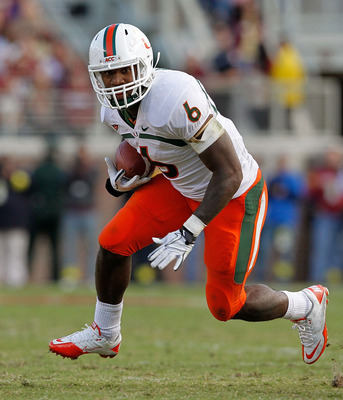 Mike Ehrmann/Getty Images
Lamar Miller, Running Back, Miami (F)
Pros
Probably the biggest area of need for the Cincinnati Bengals as it appears Cedric Benson will not return to the team in 2012. If they are able to get a young running back, the Bengals offense is going to be extremely dangerous moving forward with the weapons they have in the passing game.
Lamar Miller is an incredibly underrated player who would probably have been the top running back in each of the last three drafts.
Cons
Miller will struggle in pass protection, which could be alarming for a team with a young quarterback. He really needs to pick up that aspect of his game in order to become a great all-around back.
He isn't going to be a threat in the passing game. This is evidenced by the fact that Miller had a total of 28 receptions in the last two seasons.
18. San Diego Chargers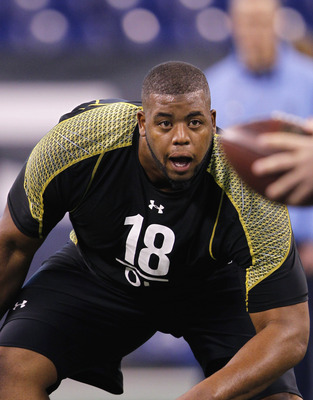 Joe Robbins/Getty Images
Cordy Glenn, Offensive Line, Georgia
Pros
Glenn is a massive individual who has rare athleticism for someone carrying 345 pounds. He has the ability to play both guard and tackle at the next level, which gives the team that drafts him much more flexibility along the offensive line.
The San Diego Chargers are going to be looking for a guard after the retirement of Chris Dielman. This position takes on an added importance in their offensive scheme.
Cons
Would be drafted solely to play the guard position with San Diego. If that is the case, they aren't getting tremendous value at this position.
The Chargers could also use help at multiple linebacker positions and at corner. So, this isn't a tremendous need pick.
19. Chicago Bears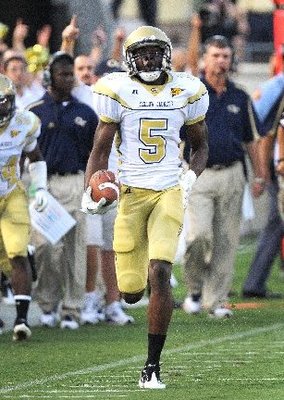 Courtesy of www.ajc.com
Stephen Hill, Wide Receiver, Georgia Tech
Pros
You just don't see talent like this make a presence in the draft too often. Stephen Hill possesses an ideal 6'4"and 215-pound frame, which makes him incredibly hard to cover on the outside. He probably has more upside than the two receivers who went before him in this mock draft.
The Chicago Bears need this type of weapon for Jay Cutler. It is something that they have missed over the course of the last couple of seasons. Much more upside and value than going with the more popular Alshon Jeffery pick.
Cons
Not a whole bunch of game tape out there for Stephen Hill because of the run-happy offense he played in at Georgia Tech. You also have to be incredibly weary of ranking a go so high because of a good combine performance. We have seen this song and dance in the past.
20. Tennessee Titans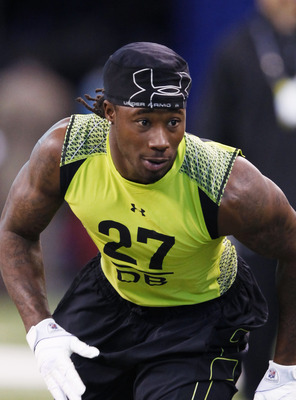 Joe Robbins/Getty Images
Janoris Jenkins, Cornerback, North Alabama
Pros
The former Florida Gator has all the tools you look for in a shutdown corner. He is extremely good in press coverage at the line, plays with fluid hips and has great feel for the outside. Jenkins has the ability to read the quarterback, stay with the receiver and jump the route. These are three skills that are really hard to find in a young cover guy.
It really doesn't matter if Cortland Finnegan returns to the Tennessee Titans in 2012, they need to get more talented in the secondary.
Cons
It isn't just conjecture on my part, Janoris Jenkins is a troubled asset at this point. There are some teams that will assuredly have him completely off their board in April. If it was just one single off-field incident, teams would look past it, but he has an extensive track record.
This is the only downfall I see in Jenkins, but it is a huge one.
21. Cincinnati Bengals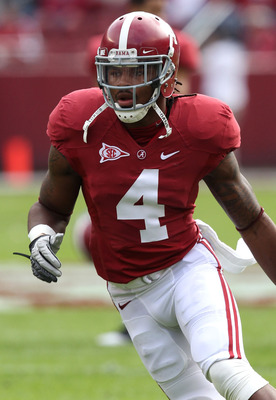 Mike Zarrilli/Getty Images
Mark Barron, Safety, Alabama
Pros
Barron is the consensus No. 1 safety in the NFL draft and to get that type of player in the 20s is pretty darn good.
No matter the situation with Reggie Nelson, Cincinnati needs to find another safety who can dart into the box and drop back into coverage. Barron is definitely a player who can utilize his talents in both run and pass defense.
Cons
He is the No. 1 safety in an incredibly weak draft class, which should worry some teams. The Bengals could go with their current safety rotation and be okay moving into 2012. I could actually see them going for more value at a different position of need on the defensive side of the ball.
22. St. Louis Rams (Via Cleveland Browns)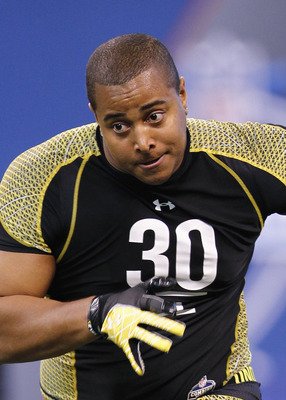 Joe Robbins/Getty Images
Jonathan Martin, Offensive Tackle, Stanford
Pros
You are not asked to protect the blindside of Andrew Luck for multiple seasons if you don't have great pass-protecting ability. This is what was asked of Martin over the course of the last three seasons and he came through it aces.
The St. Louis Rams have not had extraordinary success drafting tackles since Orlando Pace was taken well over a decade ago. This is a slot where they find value at a need position. Martin was a top 10 player on my big board just a few weeks back.
Cons
Martin struggled at the combine and was extremely pedestrian in the generic skills, which worries me a great deal. The Rams could also use this pick on a wide receiver in order to give Sam Bradford some more weapons in the passing game.
23. Detroit Lions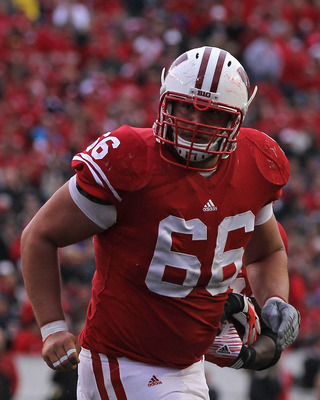 Jonathan Daniel/Getty Images
Peter Konz, Center, Wisconsin
Pros
You can slot Konz in as the Detroit Lions' starting center for the next decade. This is something that will be incredibly hard for them to pass up on. It isn't too often when you can acquire a sure-fire Pro Bowl player this late in the first round.
Cons
Detroit probably has more pressing needs here. They have had struggles in protection at the tackle position and were extremely poor in pass coverage last season.
24. Pittsburgh Steelers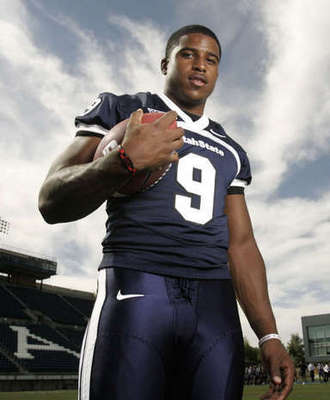 Bobby Wagner, Linebacker, Utah State
Pros
Wagner stands out on tape as one of my favorite defensive prospects in the entire draft. He can go sideline-to-sideline in the beat of the heart, reads out plays extremely well for such a young player and is as athletic as I have seen. This is a player who projects to be a dominating force at the next level.
The Pittsburgh Steelers are going to look for a replacement in the middle of the linebacker corp. James Farrier was recently released, which leaves them a glaring hole at this position.
Weakness
This would probably be one of the least popular picks in the first round solely due to the fact that Wagner doesn't have name recognition. He also played against less-than-stellar competition at Utah State, which will scare some teams off.
Pittsburgh also needs to find help at nose tackle as well offensive tackle.
25. Denver Broncos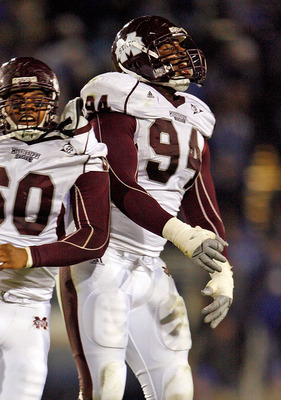 Andy Lyons/Getty Images
Fletcher Cox, Defensive Line, Mississippi State
Pros
Cox continues to impress me on tape. He has the ability to play both inside and outside along the defensive line. His combination of strength and athleticism is something you don't find in a player this size far too often.
The Denver Broncos have preached flexibility in their front seven over the course of the last few seasons, which has led to continued progression in terms of their success as a unit. This pick fits that model to a tee.
Con
The former Mississippi State star will not be seen as a "sexy" pick in Colorado. He doesn't have the upside that other defensive players in this draft might have.
Additionally, the Broncos are in need of help in the secondary. Passing on a corner here might seem a little foolish.
26. Houston Texans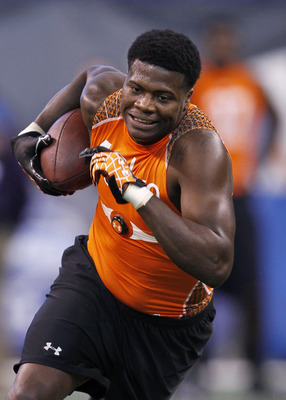 Joe Robbins/Getty Images
Kendell Wright, Wide Receiver, Baylor
Pros
This would be the ideal scenario for the Houston Texans. First, they get a nice complementary receiver opposite Andre Johnson. Secondly, they get a player who fits exactly what this team is looking to build on the offensive side of the ball.
Wright can stretch the field, which will create tremendous matchup problems for teams going up against the Houston Texans.
Cons
Ran a limited route tree at Baylor. This could lead to a much longer learning curve than most people would expect from a first-round pick. The Houston Texans are probably still holding out hope that Dontari Poe falls to them here, but that is unlikely to happen.
Would probably get better value waiting until the second round to grab a receiver.
27. New England Patriots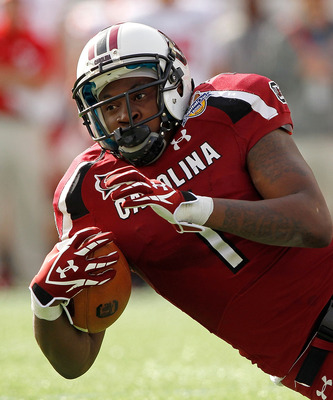 Mike Ehrmann/Getty Images
Alshon Jeffery, Wide Receiver, South Carolina
Pros
The former SEC receiving leader can stretch the field with the best of them and is a physically imposing wide receiver, two things that the New England Patriots are missing on offense.
He has a tremendous amount of upside and could conceivably turn into a No. 1 receiver if everything plays out right.
Cons
Extremely overrated by most draft "experts" and it seems that Jeffery has overplayed that hand with disastrous decisions during the offseason, like not running at the NFL Scouting Combine. He struggles against press coverage, isn't the greatest route runner and has issues with technique on the outside.
The Patriots need help on all three levels of their defense, which makes this pick questionable. The good news is that they have three more picks in the first two rounds to go in that direction.
28. Green Bay Packers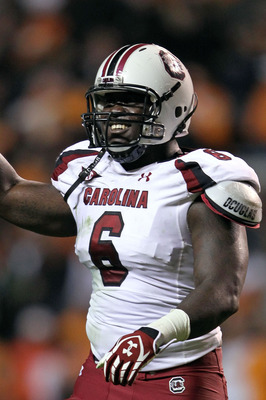 Andy Lyons/Getty Images
Melvin Ingram, Defensive End/Outside Linebacker, South Carolina
Pros
Incredible value here with Melvin Ingram, who I have as a top 15 player. Circumstances leading up to the Green Bay Packers pick enables him to fell to the 20s.
Was a difference maker against top level competition in college, consistently dominating opposing offensive lines. He has the ability to play with his hands down at the line or as an outside linebacker in 3-4. Definitely not a scheme-specific player.
Cons
I don't see many holes in Ingram's game. His rather short wingspan could be seen as the primary issue moving forward.
Green Bay also needs to address the running back, cornerback and safety positions in the offseason. So, this pick is based more on value than need despite the fact that pass rush was an issue in 2011.
29. Baltimore Ravens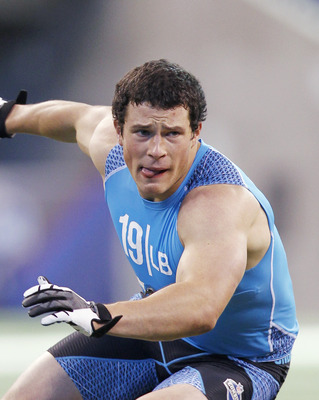 Joe Robbins/Getty Images
Luke Kuechly, Inside Linebacker, Boston College
Pros
The Baltimore Ravens are going to look at inside linebacker in one of the next two drafts, that much is assured. Ray Lewis just isn't getting any younger and only has a couple solid seasons left in those tires. They could wait until Manti Te'o and Kevin Reddick come out in 2013, but I see them going in this direction instead.
Luke Kuechly is a tackling machine. He holds the line between the hashes and has tremendous lateral movement to play sideline-sideline. He is a perfect fit in their 3-4 system.
Cons
You will not see Kuechly make a lot of plays in the backfield and he does struggle putting pressure on the quarterback. He also wouldn't be brought in to replace Lewis because that is nearly impossible. Ravens fans might be spoiled, which could lead to a strained relationship early.
30. San Francisco 49ers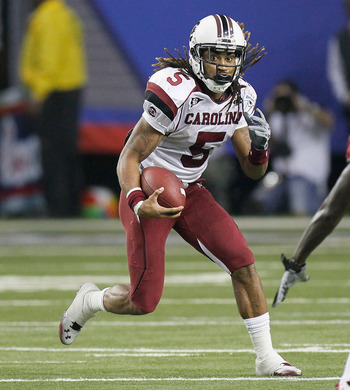 Kevin C. Cox/Getty Images
Stephon Gilmore, Cornerback, South Carolina
Pros
Gilmore seems to fit exactly what the San Francisco 49ers like to do on defense. They are one of the most physical at the point of contact, something that the South Carolina product is really good at. He is extremely strong in press coverage and has pro-ready fluidity on the outside.
San Francisco could also have major needs at both corner and kick returner.
Cons
The 49ers must address the wide receiver position in both the draft and free agency. Going in a different direction in the first round could be problematic.
31. New England Patriots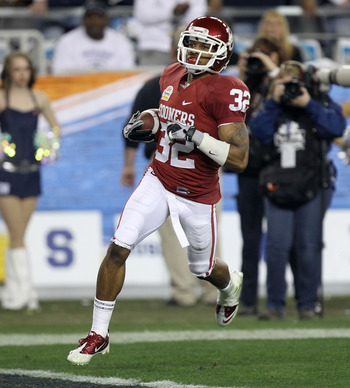 Ronald Martinez/Getty Images
Jamell Fleming, Cornerback, Oklahoma
Pros
Fleming is one of my favorite players in the entire draft. He has the ability to be a true shutdown corner at the next level. He would be major upgrade for a lackluster New England Patriots secondary. While some may say this pick is a reach, I have Fleming as the third-best corner in the entire draft.
Cons
Some would conclude that Fleming is somewhat of a workout warrior. We didn't hear a lot about him prior to the Senior Bowl and NFL Scouting Combine.
32. New York Giants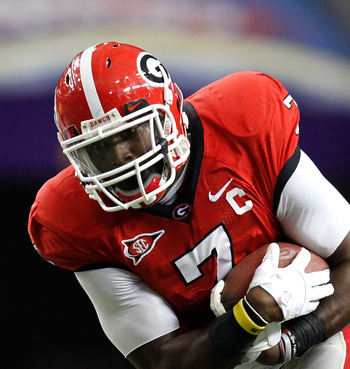 Kevin C. Cox/Getty Images
Orson Charles, Tight End, Georgia
Pros
Fits a definite need for the New York Giants. Orson Charles can stretch the field between the hashes and would be a great complement to what they have on the outside at the wide receiver position.
Charles can come in and contribute immediately. He is also my No. 1 tight end in the draft, not a bad value with the final first-round pick.
Cons
Charles lacks the size that most of the top tight ends in the NFL have. He doesn't have the greatest hands and tends to struggle a bit in route running right now.
Second Round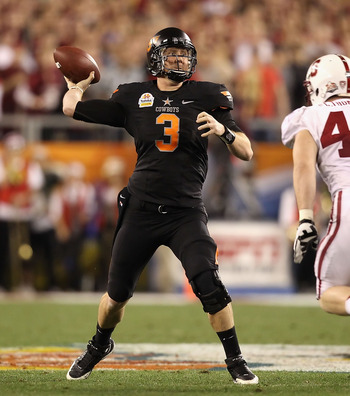 Christian Petersen/Getty Images
33. St. Louis Rams: Mohamed Sanu, Wide Receiver, Rutgers
34. Indianapolis Colts: Whitney Mercilus, Defensive End, Illinois
35. Minnesota Vikings: Rueben Randle, Wide Receiver, Louisiana State
36. Tampa Bay Buccaneers: Alfonzo Dennard, Cornerback, Nebraska
37. Cleveland Browns: Doug Martin, Running Back, Boise State
38. Jacksonville Jaguars: Chase Minnifield, Cornerback, Virginia
39. Washington Redskins: Devon Still, Defensive Tackle, Penn State
40. Carolina Panthers: Andre Branch, Defensive End, Clemson
41. Buffalo Bills: Mike Adams, Offensive Tackle, Ohio State
42. Miami Dolphins: Dwayne Allen, Tight End, Clemson
43. Seattle Seahawks: Ryan Tannehill, Quarterback, Texas A&M
44. Kansas City Chiefs: Kevin Zeitler, Guard, Wisconsin
45. Dallas Cowboys: Harrison Smith, Safety, Notre Dame
46. Philadelphia Eagles: Zach Brown, Linebacker, North Carolina
47. New York Jets: Kelechi Osemele, Offensive Line, Iowa State
48. New England Patriots: Jerel Worthy, Defensive Tackle, Michigan State
49. San Diego Chargers: Vinny Curry, Defensive End/Outside Linebacker, Marshall
50. Chicago: Vontaze Burfict, Linebacker, Arizona State
51. Philadelphia Eagles: Mitchell Schwartz, Offensive Tackle, California
52. Tennessee Titans: Chandler Jones, Defensive End, Syracuse
53. Cincinnati Bengals: Brandon Thompson, Defensive Tackle, Clemson
54. Detroit Lions: Josh Robinson, Cornerback, Central Florida
55. Atlanta Falcons: Coby Fleener, Tight End, Stanford
56. Pittsburgh Steelers: Alameda Ta'amu, Nose Tackle, Washington
57. Denver Broncos: David Wilson, Running Back, Virginia Tech
58. Houston Texans: Kendall Reyes, Defensive Line, Connecticut
59. New Orleans Saints: Sean Spence, Linebacker, Miami (F)
60. Green Bay Packers: Chris Polk, Running Back, Washington
61. Baltimore Ravens: Markelle Martin, Safety, Oklahoma State
62. San Francisco 49ers: Brian Quick, Wide Receiver, Appalachian State
63. New England Patriots: Ronnell Lewis, Outside Linebacker, Oklahoma
64. New York Giants: Brandon Washington, Guard, Miami (F)
Team-Team Picks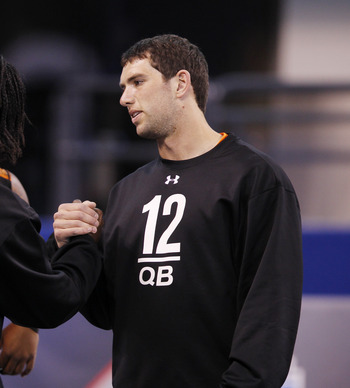 Joe Robbins/Getty Images
Denver Broncos
1. Fletcher Cox, Defensive Line, Mississippi State
2. David Wilson, Running Back, Virginia Tech
San Diego Chargers
1. Cordy Glenn, Offensive Line, Georgia
2. Vinny Curry, Outside Linebacker, Marshall
Kansas City Chiefs
1. Dontari Poe, Defensive Tackle, Memphis
2. Kevin Zeitler, Guard, Wisconsin
Oakland Raiders
No Picks
Baltimore Ravens
1. Luke Kuechly, Inside Linebacker, Boston College
2. Markelle Martin, Safety, Oklahoma State
Pittsburgh Steelers
1. Bobby Wagner, Inside Linebacker, Utah State
2. Alameda Ta'amu, Nose Tackle, Washington
Cincinnati Bengals
1. Lamar Miller, Running Back, Miami (F)
1. Mark Barron, Safety, Alabama
2. Brandon Thompson, Defensive Tackle, Clemson
Cleveland Browns
1. Robert Griffin III, Quarterback, Baylor
2. Doug Martin, Running Back, Boise State
Houston Texans
1. Kendall Wright, Wide Receiver, Baylor
2. Kendall Reyes, Defensive Line, Connecticut
Tennessee Titans
1. Janoris Jenkins, Cornerback, North Alabama
2. Chandler Jones, Defensive End, Syracuse
Jacksonville Jaguars
1. Quinton Coples, Defensive End, North Carolina
2. Chase Minnifield, Cornerback, Virginia
Indianapolis Colts
1. Andrew Luck, Quarterback, Stanford
2. Whitney Mercilus, Defensive End/Outside Linebacker, Illinois
New England Patriots
1. Alshon Jeffery, Wide Receiver, South Carolina
1. Jamell Fleming, Cornerback, Oklahoma
2. Jerel Worthy, Defensive Tackle, Michigan State
2. Ronnell Lewis, Outside Linebacker, Oklahoma
New York Jets
1. Justin Blackmon, Wide Receiver, Oklahoma State
2. Kelechi Osemele, Guard, Iowa State
Miami Dolphins
1. David DeCastro, Guard, Stanford
2. Dwayne Allen, Tight End, Clemson
Buffalo Bills
1. Courtney Upshaw, Outside Linebacker, Alabama
2. Mike Adams, Offensive Tackle, Ohio State
San Francisco 49ers
1. Stephon Gilmore, Cornerback, South Carolina
2. Brian Quick, Wide Receiver, Appalachian State
Arizona Cardinals
1. Riley Reiff, Offensive Tackle, Iowa
Seattle Seahawks
1. Nick Perry, Defensive End/Outside Linebacker, Southern California
2. Ryan Tannehill, Quarterback, Texas A&M
St. Louis Rams
1. Morris Claiborne, Cornerback, Louisiana State
1. Jonathan Martin, Offensive Tackle, Stanford
2. Mohamed Sanu, Wide Receiver, Rutgers
Green Bay Packers
1. Melvin Ingram, Defensive End/Outside Linebacker, South Carolina
2. Chris Polk, Running Back, Washington
Detroit Lions
1. Peter Konz, Center, Wisconsin
2. Josh Robinson, Cornerback, Central Florida
Chicago Bears
1.Stephen Hill, Wide Receiver, Georgia Tech
2. Vontaze Burfict, Linebacker, Arizona State
Minnesota Vikings
1. Matt Kalil, Offensive Tackle, Southern California
2. Rueben Randle, Wide Receiver, Louisiana State
New Orleans Saints
2. Sean Spence, Linebacker, Miami (F)
Atlanta Falcons
2. Coby Fleener, Tight End, Stanford
Carolina Panthers
1. Michael Brockers, Defensive Tackle, Louisiana State
2. Andre Branch, Defensive End, Clemson
Tampa Bay Buccaneers
1. Trent Richardson, Running Back, Alabama
2. Alfonzo Dennard, Cornerback, Nebraska
New York Giants
1. Orson Charles, Tight End, Georgia
2. Brandon Washington, Guard, Miami (F)
Philadelphia Eagles
1. Dont'a Hightower, Inside Linebacker, Alabama
2. Zach Brown, Linebacker, North Carolina
2. Mitchell Schwartz, Offensive Tackle, California
Dallas Cowboys
1. Dre Kirkpatrick, Cornerback, Alabama
2. Harrison Smith, Safety, Notre Dame
Washington Redskins
1. Michael Floyd, Wide Receiver, Notre Dame
2. Devon Still, Defensive Tackle, Penn State
Keep Reading