Analyzing Arsenal's Summer Transfer Buys: Per Mertesacker
March 8, 2012

Clive Mason/Getty Images
Chris Samba?  Nope, headed to Russia. 
Gary Cahill?  Not a chance, wanted to play for AVB (oops). 
Phil Jones?  Sorry, Fergie called. 
Sol Campbell?  Thank god, no. 
All rumored with moves to Arsenal during the summer, it was the BFG (Big F#$%ing German)—Per Mertesacker who finally got the call on deadline day. 
It was no surprise that Wenger moved for a center-back given Arsenal's defensive struggles at times last year.  Coupled with Vermaelen's long-term injury, it seemed certain that the boss would bring in defensive reinforcements.  
While Gary Cahill appeared to be the most likely option, Wenger—as he always does—went another direction.  And, since the German is now out for the rest of the year, it is worth evaluating how his first year turned out.  
Per Mertesacker, a towering 6'6" German international, was brought in for a fee rumored to be 8 million pounds.  The center-back is a lumbering figure, with questionable pace, and less aerial ability than his height would suggest.  He loses headers to smaller attackers, which is frustrating.  Moreover, he seems to fall over his own feet sometimes (exemplified by his fall and subsequent season-ending injury at Sunderland).
Due to some of these faults, many were skeptical of the move to buy Mertesacker.  Yet, in hindsight, it's been a strong move.
Mertesacker is what he is.  He doesn't possess the pace necessary to run stride for stride with quick attackers.  He won't chase people down.  He won't even score headers, despite the imposing presence.  
However, Mertesacker is a calm, intelligent, positionally acute defender.  His greatest assets are his ability to read the game and organize a defense.  He is the Ying to Koscielny and the Verminator's ball-winning Yang.  While the more attacking centerbacks stride forward, Mertesacker hangs back effectively. 
This is especially important as the other CBs have been caught out of position following their marauding runs.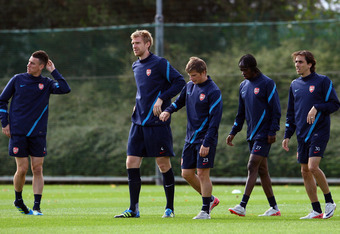 Julian Finney/Getty Images
While his style has found many detractors, and his early form didn't help his case (see Norwich goal), Mertesacker settled in over the past few months.  Alongside Koscielny—his partner for much of the season—Mertesacker was becoming a formidable partner before the injury.
He cuts out numerous balls with his big frame and positional awareness.  And, although he doesn't win as many headers as expected, Mertesacker is becoming more adept in the air. 
This improvement likely came about as he adjusted to the strength of the Premier League. 
Moreover, the German has added a wealth of experience to the young side.  With over 70 caps for the national team at only 26, Mertesacker is a calming presence.  Thrown into the Arsenal starting line-up almost immediately, he performed admirably in big ties—like Dortmund away and Marseille at home.  Additionally, having someone like Mertesacker in the lockerroom has an influence that shouldn't be measured. 
One final point regarding Mertesacker: I love that he loves the club.  He has spoken multiple times about how he was an Arsenal fan as a boy.  The German idolized Tony Adams, and has inspired to have a similar impact with the Gunners. 
We need more players at the club who feel this way. 
Most recently, Mertesacker discussed on German television that he's been in contact with Podolski.  The German striker is looking to leave Cologne and—according to Per—has been texting the centerback asking about Arsenal. 
Now, if the Daily Mail's story is correct, Podolski has agreed to join Arsenal in the summer.  Although we don't know what effect Mertesacker's communications might have had, it was likely positive. 
Podolski is a world class striker, and if Per played a role in him joining then it adds to the centerback's value.  God knows we need new strikers. 
Overall, Mertesacker's presence has been a positive one.  He won't ever outrun a forward, or beat them off the dribble.  He can, however, add to the spine and experience of the defense.  His play remains a work in progress, as his adjusts to the league's speed and strength. 
Still, Wenger seems to have made the right choice.  Phil Jones wasn't an option.  Samba has Per's same deficiencies, without the experience.  And Cahill has shown in his brief Chelsea spell that he is prone to big errors. 
Mertesacker isn't the perfect centerback.  But maybe he is the perfect compliment to his world-class partners – Vermaelen and Koscielny. 
At a time when Arsenal was crying out for stability, Mertesacker offered it in bundles.