Miami Dolphins: Reggie Wayne and Brandon Marshall, a Dynamic Receiving Tandem
March 8, 2012

Joe Robbins/Getty Images
The biggest news surrounding the NFL this far has been centered around the release of Peyton Manning from the Indianapolis Colts.
For quite a while now, Miami has been rumored as a solid and potential landing spot. Of course this headline is predicated on Manning signing with Miami, but it's an interesting pairing even if he doesn't choose the Dolphins.
Reggie Wayne is a terrific wide receiver and for obvious reasons, would love to return to Miami. It's a 'Canes thing.
The former Miami Hurricane would love to return to his home state to finish his career and what would please him even more is if Manning was along for the ride. I'm sure Wayne has already texted Manning about  the possibility, where they could instantly turn the Dolphins into contenders.
What's been missing from the Miami offense, or from the team as a whole, has been a legitimate second pass catching option at the receiver position outside Brandon Marshall. They've rotated sub-par receivers looking for the next Wes Welker, but it never happened. Brian Hartline had a few highlights in his time with the Dolphins, but he is in no way a long term solution.
Hypothetically, Wayne and Marshall without Manning are lethal. But with him, Miami is winning the AFC East and making a Super Bowl run.
Both Marshall (1,214 yards, 6 touchdowns) and Wayne (960 yards, 4 touchdowns) had 2,000+ yards and 10 touchdowns combined last season when catching balls from the likes of Matt Moore, Chad Henne, Dan Orlovsky and Curtis Painter.
This merry-go-round of quarterbacks still did them no justice even though they had very respectable seasons.
With Manning at the helm, Wayne and Marshall are instantly the most dynamic pass-catching tandem in the league.
They would complement each other extremely well based on their physical attributes and the way they play the game. Marshall can take the top off the defense and Wayne can take a crossing route the distance.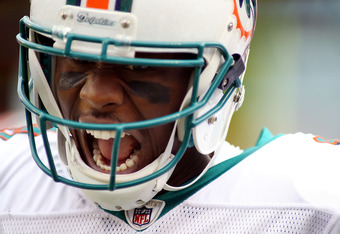 Marc Serota/Getty Images
I like how enthused Wayne is about the possibility of returning to Miami and I hope it happens with or without Manning, but preferably with. It wouldn't surprise me if they both made the Pro Bowl under those circumstances, and if Manning didn't throw near 15 touchdowns to each of them.
It's a very intriguing possibility and hopefully Wayne is serious about the matter.
If he means business, hopefully he can help the Dolphins recruit Manning or at least provide an outside voice of reason in his decision making. But look for Wayne to shake things up, and if he lands in Miami with Marshall, the AFC East defenses don't stand a chance.
Follow me on Twitter: @DeSimone80