UVA Basketball
ACC Tournament 2012: For Virginia, What a Long, Strange Trip It's Been

A first team ACC member, Mike Scott has put his wounded Virginia team on his back and carried them to an ACC tourney bye.
Jeff Zelevansky/Getty Images
March 8, 2012
Just before Christmas, the Virginia Cavaliers and their fans were looking forward to ACC play with high hopes.
Coach Tony Bennett appeared to have an excellent blend of senior leadership, experience in the backcourt and talented newcomers ready to make a run at the ACC crown and their first NCAA tournament bid in five years.
Then, on back-to-back days, two of Bennett's much-heralded recruits from the previous season, dubbed the "Six-Shooters," announced they were transferring.
One was KT Harrell, who had started the first half-dozen games of the season, but had more recently seen his minutes decline. 
The other, James Johnson, had seen limited playing time.
The Cavs hardly missed a beat, in part due to the much-improved play of seven-foot center, Assane Sene, and in part from a solid contribution from true freshman, Malcolm Brogdon.
Virginia began ACC play with a win against Miami and a narrow defeat at Duke.  In the first half of their third game, Sene went down with what appeared at the time to be a minor ankle injury.  He was held out of the second half of a blow-out win over Georgia Tech, but said afterwards he fully expected to play three days later against Virginia Tech.
It was not to be.
The following morning it was discovered Sene had fractured a bone in his foot and surgery was performed.  Rehabilitation from such injuries varies, but the prognosis was that UVA's big man in the middle would return in the last week of the regular season.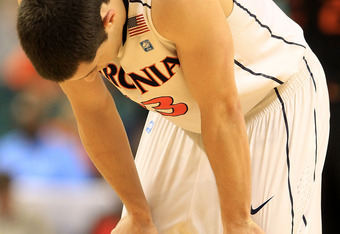 Sammy Zeglinski has played 83 of a possible 85 minutes in the Cavaliers' last two games.
Streeter Lecka/Getty Images
The Cavaliers didn't immediately adjust well to the loss of Sene, falling to arch rival Virginia Tech, 47-45, in their first game without him.
But the 'Hoos regrouped and went 4-1 over their next five games.
Then, at North Carolina, in their first loss by more than three points all year, they received another bad break. 
Joe Harris, the team's second-leading scorer, suffered a first-half injury to his left, non-shooting hand.  He came out for the second half with the hand wrapped, but continued to play.
Again, the next day, it was discovered that he had a small fracture.
It was determined that Harris could do no further damage to the injury, and a protective device was designed so he could continue playing.
For the following game, against Clemson, Harris began on the bench, giving Brogdon his first start as a Cavalier.
The initial protection for the hand made it look like Harris was preparing for an MMA cage match rather than a college basketball game.  Unaccustomed to the apparatus, he was clearly hampered, scoring just two points, and the Cavaliers struggled, dropping their second straight game.
The 'Hoos regrouped once more.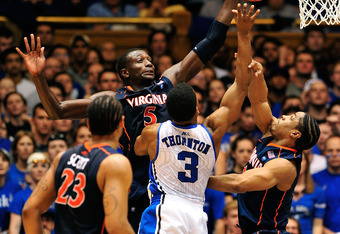 Assane Sene's Virginia career has come to an end with his suspension.
Grant Halverson/Getty Images
Getting major contributions from Brogdon as his minutes increased, and with Harris adjusting to a smaller protective device, Virginia won their next two games before losing a heartbreaker to North Carolina in the rematch.
However, between the Clemson loss and the next three-game stretch, Brogdon reportedly injured his foot.  It limited his playing time somewhat, but he continued to play.
With fourth place, and the last coveted bye in the ACC tourney at stake in their final two games, Virginia played without Brogdon.  There was no official comment as to his status.
Down to just seven scholarship players, UVA's starting five did yeoman's work in both games. 
Against Florida State the quintet played 178 of a possible 200 minutes.  Sammy Zeglinski, Mike Scott and Jontel Evans were off the floor for only one, two and three minutes respectively.  In addition, the first five scored all but two of the team's 60 points, but was outscored 16-2 in the final 4:10 of a three-point loss.
On the final day of the regular season, with a victory assuring Virginia fourth place, the starters scored all 75 points in an overtime victory at Maryland.  Scott and Zeglinski played 44 of the 45 minutes, and Evans played 42.
With "mission accomplished," the Cavaliers and their fans looked forward to the return of Sene and Brogdon to help them make a run at the tournament title.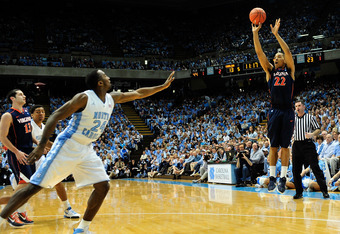 Malcolm Brogdon was Virginia's only true triple-threat offensive player.
Grant Halverson/Getty Images
But not for long.
The following day Bennett announced that Sene's physical condition was no longer an issue because he was suspending the Senegalese center for the remainder of the season for violation of team rules.
On Tuesday the other shoe dropped.
The university announced that Brogdon's season was over due to a broken bone in his left foot.  Surgery was performed on Wednesday.
That means that UVA awaits the winner of the NC State-Boston College game with only the contingent that finished the season. 
(Note to readers:  Ten days ago I was given the assignment by my editor to write, "Why UVA Will Shock the World and Win the ACC Tourney" for publishing today.  At the time I considered it at least a possibility.  But, with the events of the past few days I believe it would be just this side of a miracle.  Or maybe the other side.  Under the circumstances, he suggested this recounting of their journey instead.) 
The Cavs have proved themselves an incredibly resilient bunch.  But three wins in three days against the ACC's best would seem an unlikely next step in this long, strange trip of a season.         
Three broken bones, two defections and one suspension later, these battle-tested Cavaliers soldier on.
The only thing that's remained constant is, they won't go quietly.  This weekend in Atlanta and wherever their NCAA tournament destination may be, these guys will be the proverbial "tough out."
Like the new article format? Send us feedback!