Top 15 Fan Favorites in Los Angeles Angels History
March 8, 2012

Stephen Dunn/Getty Images
It's admittedly difficult to rank the team's fan favorites because of the way the game has evolved from a fan standpoint. 
You could watch a handful of games on television back in the '60s and '70s and a few more than that in '80s, and that was only if you were fortunate enough to live in their coverage area. 
Compare that to now, when you can watch every single game no matter where you are.
Consequently, how fans feel about their favorites might have more to do with when they played as opposed to what they did to earn that affection on the field. 
To be fair, I tried not to let the current media/fan saturation affect the rankings too much but in order to do that I had to interject many of my own experiences as a fan going back to the late '70s. 
Also, while I recognized the magnitude of love might've been greater at a particular time for a particular player, I gave more weight to consistent love from fans over a sustained period of time when assembling the rankings.
To that end, here is one man's ranking of the top 15 fan favorites in Angels History.  Please chime in below with your thoughts, comments, and suggestions.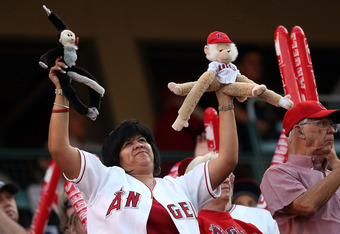 Stephen Dunn/Getty Images
15 (Tie).  The Rally Monkey
Introduced in 2000, one could argue the Rally Monkey deserves as much as credit as any player, coach, or front office person for the Angels' sustained success in the 2000's.  Guess who was on the scoreboard video screen when Scott Spiezio hit that momentous home run in game six of the 2002 World Series? 
He remained a fan favorite for several years after, jump-starting comebacks left and right and because of his mystical powers, he'll never have to buy another beer in this town.  You know, assuming he drank beer…  
15 (Tie).  Scott Spiezio
Spiezio is the author of the greatest swing in franchise history and for that, he makes this list.  Shall we journey back in time? 
2002 World Series, Game Six, Giants lead the series 3-2, and the Angels are clinging to their postseason lives, down 5-0 in bottom of the seventh inning.  Back-to-back singles by Troy Glaus and Brad Fulmer bring Spiezio to the plate with one out.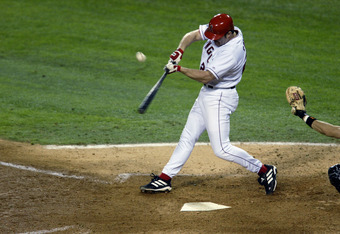 Brian Bahr/Getty Images
Giants manager Dusty Baker heads to the mound to pull Ortiz and hands him the game ball, a practice that 99.9999999999999 percent of the time is done AFTER the game is won. 
Spiezio, for his part, refuses to concede that the game is over, and after fouling off four pitches and working the count to 3-2, he connects on a three-run homer that makes the game 5-3 and breathes life into Angel Stadium and everyone in it, players and fans alike. 
The Angels pull ahead for good in the 8th and the rest, as they say, is history.
14.  Wally Joyner
The Dodgers may have once come down with a case of "Fernando Mania", but Angel fans had their own version when "Wally World" hit town in 1986. 
As a 23-year-old rookie, Joyner took the baseball world by storm, blending power and average with a flair for the dramatic as he helped the Angels win the American League West for only the third time in franchise history.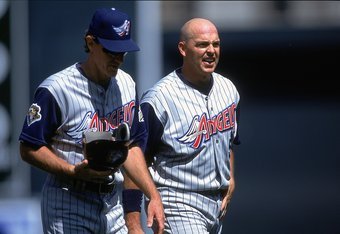 Matthew Stockman/Getty Images
Chants of "Wally! Wally!" routinely rained down from the Anaheim faithful that year, and he became the first rookie to be voted by the fans to start the All-Star game. 
He faded a bit down the stretch and a leg infection, coupled with the team's devastating loss to the Red Sox in the ALCS, definitely ended his rookie campaign on a down note.  He played five more seasons with the Angels before moving on to Kansas City and then San Diego. 
He would play on the Padres' pennant-winning 1998 team that lost to the Yankees in the World Series. Joyner remains a cherished figure to any Angels fan who was around then and would still get a loud ovation today from Angels fans.
13.  Bobby Grich
Joined the Angels as a free agent in 1977 and played 10 seasons in Anaheim, infusing the team with a sense of toughness and grit that would help them win three division titles during his time there.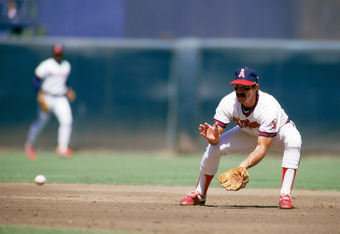 Rick Stewart/Getty Images
He had power at the plate, uncommon for a second baseman back then, and was usually the first guy to the action when a brawl broke out.  The man loved a good donnybrook, no doubt, so much so that I used to joke the glove he took out to second base with him was made by Everlast. 
Fans loved his take-no-bull attitude, which he displayed right up until the very end.  One of my most vivid memories of the '86 season was Grich's retirement speech, if you could even call it that. 
He was so despondent over the loss, and the way they lost, that in the locker room after Game 7 he just quietly told a television reporter he was done.  He never played again. 
12.  Rod Carew
The last seven years of his 19-year Hall-of Fame career were spent in Anaheim, where he made six All-Star teams and was an integral part of the team winning two division titles in that
span. 
He had some great moments as an Angel, none greater than when he collected his 3,000th hit in 1985.  He had one of the smoothest swings in baseball and used it to slap the baseball all around the field like it owed him money.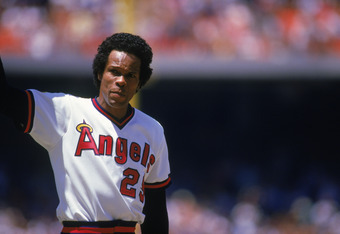 Getty Images/Getty Images
He was Tony Gwynn before Tony Gwynn and had few peers when it came to hitting a baseball.  For that, and his easygoing demeanor, he was a fan favorite.  The Angels retired his jersey in 1986.
11.  Jim Fregosi
Debuted during team's inaugural season at age 19 and played 11 seasons.  A six-time All-Star, he was traded to the Mets in 1972 for, among others, Nolan Ryan. 
He became the Angels manager in 1978 after retiring and led them to the AL West title the following year.  His number was retired by the Angels in 1998.
10.  Reggie Jackson
Reggie had one more "Reggie-caliber" year left when he got to Anaheim in 1982 and Angel fans got to see it up close.  His tape-measure home runs were a crowd pleaser and even his mighty swings and misses drew oohs and aahs.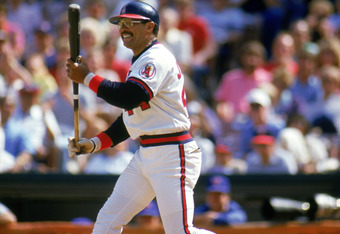 Getty Images/Getty Images
We got to see plenty of both that season as Jackson led the league in both home runs and strikeouts.  He played four more seasons with the Angels before returning to Oakland in 1987.  He inspired many "Reg-gie!" chants along the way and Angels fans were proud to call him one of their own.
9.  Vladimir Guerrero
Garrett who?
An earlier version of this column had Garrett Anderson listed here but the writer has since returned to his senses and given Vlad the Impaler his just due.
With a right arm more powerful than some handguns, coupled with an ability to hit anything thrown his way, from his shoetops to his eyeballs, Guerrero thrilled Angels fans for six wonderful seasons.
He was the anchor during the team's five playoff runs in that six year span, including winning the MVP in 2004 and finishing third in two other seasons. 
Fans loved his smile, carefree attitude, and Hall-of-Fame caliber skills.  We got to see Vlad at his best and when he was on, there was none better.  And no one, I mean NO ONE, used more pine tar on his helmet...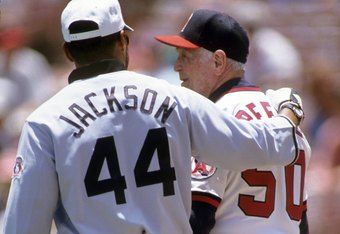 Jed Jacobsohn/Getty Images
8.  Jimmie Reese
Hired by the Angels in 1972 as a conditioning coach at the spry age of 71, Reese became sort of a team mascot, our version of Dom Zimmer, if you will. 
Fans used to love seeing Reese hit fungoes to players before games, and he always seemed to make time for children, making him one of the Angels' most beloved figures in the franchise's history.  The team retired his No. 50 jersey in 1995.
7.  Jim Abbott
A fan favorite for overcoming incredible physical odds to be a major league pitcher, Abbott was also a great ambassador for the team.  After winning an Olympic Gold Medal in 1988, Abbott joined the Angels as their first-round draft pick.  
He never achieved superstar status from a statistical standpoint in the big leagues but he was, and still is, loved by not only fans of baseball but fans of humanity and courage.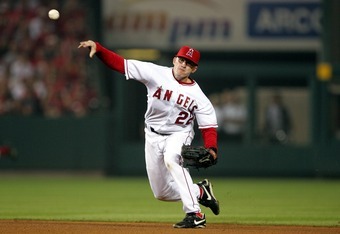 Stephen Dunn/Getty Images
6.  David Eckstein
If they ever made a baseball version of the movie "Rudy", they might as well call it "David." 
I can see it now.  An Angels clubhouse attendant, played by Charles S. Dutton, of course, would stop Eckstein from trying to get on the field and say something like, "Look at you!  You're five foot nothin', a hundred and nothin', and you got no business being on that field!" 
In real life, the diminutive Eckstein not only managed to get on the field but ended up becoming the spark plug to the Angels high-octane offense during their magical run to the title in 2002. 
Whether you preferred his crazy gyrations in the on-deck circle or the fact that he would putting every ounce of energy he had into getting the ball over to first base from his shortstop position, you got a feeling you were watching a real-life version of "The Little Engine That Could."
If you were an Angel fan, you were a fan of David Eckstein.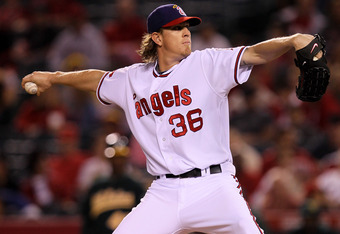 Stephen Dunn/Getty Images
5.  Jered Weaver
Another hometown product, Weaver is a fan favorite because he brings it every single time he takes the mound, because he's one of the best pitchers in all of baseball, and most
importantly, because he's a Scott Boras client who refused to follow the Boras playbook and head for free agency.
Instead, he opted to sign an extension with the Angels for significantly less than he would've gotten on the open market.  For that, he earned the eternal love of Angels fans.
4.  Nolan Ryan
The greatest pitcher in franchise history, Ryan was a memory waiting to happen for any Angel fan back then.  You didn't know what he was fully capable of when he took the mound, but each time he did you knew it had the chance to be something special. 
Will he throw a no-hitter?  Strike out 18?  Top 100 on the radar gun?  All of the above???  Ryan drew a crowd every time he pitched, at home or on the road. 
He didn't start with us, and he didn't end with us, but unlike other marquee imports, we had him during arguably the best stretch of his career so that makes him one of us, even if he is a Ranger now…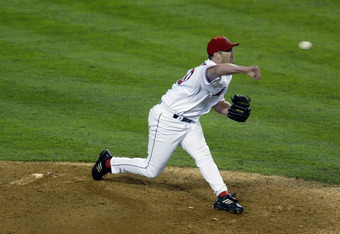 Donald Miralle/Getty Images
3.  Troy Percival
He was on the mound when the Angels got the final out to win the 2002 World Series, and for his on-field contributions alone, he would make this list. But Percival was about so much more than that.  He was a leader in the clubhouse and on the field.
He oversaw the team's Kangaroo Court, meting out fines for ridiculous transgressions, and he also broke in the rookies.  Those Angels teams were as tight a group as you could get, and Percival had a lot to do with that.  Fans knew it, and they loved him for it.  
2.  Darin Erstad
If Percival was the heart of the Angels back in the 2000s, then Darin Erstad was the soul.  Seeing him grow from a fresh-faced Midwestern rookie in 1996 into the unquestioned leader of the team was one of the great joys for any Angel fan to behold.
I remember his first appearance in front of the team, back in 1995, shortly after they had used the number one overall pick to draft him.  His tie was comically long, something veterans made sure to let him know about.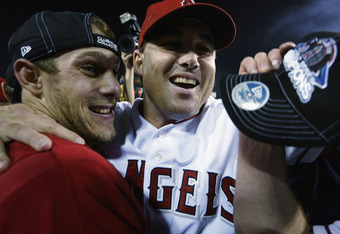 Al Bello/Getty Images
Of course, it wasn't long thereafter that he was not only among those veterans but leading them, mostly by example with the hard-nosed way he played the game.  But he was also not shy about calling people out when it needed to be done. 
Stat heads always thought he was overpaid, but they failed to comprehend the intangibles he brought to the team that don't show up in the box score. 
Show me the stat that has Erstad pacing back and forth in the dugout during Game 6 of the 2002 World Series, repeatedly clapping his hands and saying over and over again, "It's not over, it's not over…" when the team was down 5-0. 
Yes, he hit a key home run to help complete the comeback that night and he also caught the final out in Game 7, but I believe it was his sheer will that put the team over the top that season. 
1.  Tim Salmon
Prior to the 1990s, the Angels hadn't had too many homegrown success stories.  Instead they relied a lot (some would say too much) on acquiring talent through trade and free agency.  Salmon's arrival changed all that. 
Drafted in the third round in 1989, The Long Beach native broke in with the big club late in 1992 and won A.L. Rookie of the Year the following season.  He survived the collapse of 1995 and kept plugging away, putting up more than respectable numbers but never making an All-Star team. 
No matter, because Salmon was always all about the team, and he got his ultimate reward when the Angels won it all in 2002. 
During that World Series against the Giants, he batted .346 with 2 HRs, one of which proved to be the game winner in Game 2.  He played parts of three more seasons before injuries forced him to hang it up.