Carl Nicks to Rams: Why Guard Would Help St. Louis
March 8, 2012

Streeter Lecka/Getty Images
The St. Louis Rams signed guard Jacob Bell to a three-year, $36 million contract in 2008, while they brought in center Jason Brown a year later with a five-year deal worth $37.5 million.  
On top of that, they signed former No. 2 overall pick Jason Smith to an enormous six-year deal in 2009 worth $61.775 million just two years before the rookie wage scale was put in place. 
All three players have been highly disappointing. 
In fact, the two cheapest starters on the line—tackle Rodger Saffold (four years, $6.3 million) and guard Harvey Dahl (four years, $16 million)—have clearly been the most productive. 
With such disgusting amounts of money being flushed on offensive line acquisitions, the average Rams fan is likely to hurl at the thought of offering another major contract to yet another lineman. 
But Rams writer Jim Thomas concurs—guard Carl Nicks would be an extremely valuable acquisition for St. Louis.
However, how can we guarantee that Nicks won't produce the same end result as Bell or Brown? 
Well, that can't be guaranteed, because nothing is a guarantee in the NFL. 
However, Nicks is a 26-year-old who is already a two-time All Pro, whereas Bell and Brown were considered "up-and-comers" who had (and still have) zero combined Pro Bowls between the two of them.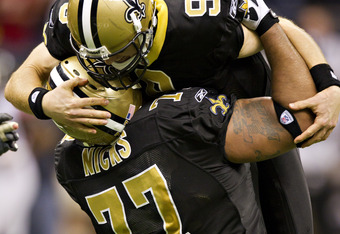 Wesley Hitt/Getty Images
Bell and Brown were signed for their potential (for what they might do someday). On the other hand, Nicks would be signed for what we know he can do and for what he's already accomplished.
What Can Nicks Do for the Rams? 
The Rams gave up 55 sacks in 2011 (most in the NFL), as well as 114 quarterback hits (tied for most in the NFL). 
Also, they ranked just 23rd in the NFL in total rushing yards (1,667) despite having one of the best running backs in the game (Steven Jackson). 
However, Nicks played on a Saints team that surrendered just 24 sacks (second fewest in the NFL) and 51 quarterback hits (fewest in the NFL). 
Some of those numbers can be credited to his fellow offensive linemen, as well as elite quarterback play from Drew Brees. 
But regardless, Nicks played a vital role in what was arguably the best offensive line in football last season. The addition of Nicks would be monumental in providing Sam Bradford with comfort in the pocket, as well as the necessary protection required to make big plays.
The Cost
Unfortunately for the Rams, signing a 26-year-old lineman who is one of the best at his position is not an easy task. 
First of all, they need to convince Nicks that coming to a 2-14 Rams team would be beneficial to his career. However, players tend to look on the bright side if the paycheck contains enough digits. 
But that's the problem—money. 
The amount of cap room for the Rams has been estimated at less than $12 million, or as high as $16 million depending on various factors.
According to Spotrac.com, the top three average salaries for guards belong to Logan Mankins ($8.5 million), Jahri Evans ($8.1 million) and Davin Joseph ($7.5 million).
Assuming Nicks makes approximately $8 million in 2012, that could potentially take up well over half of the Rams' remaining cap space. 
Conclusion
Bell's contract is up, so he's now a free agent and counts nothing against the Rams' cap. Brown and Smith are both under contract and due to make a combined $15 million in 2012, but it would not be outrageous for the Rams to restructure both their contracts. 
If that's the case, then Dahl could potentially be their highest-paid offensive lineman with a modest four-year contract worth $16 million.
With all of that considered, it would not be out of the realm of possibility for the Rams to clear up $8 million in cap space for 2012. 
However, there's still the obstacle of convincing Nicks that St. Louis is right for him. 
Rams defensive coordinator Gregg Williams, who spent the last three seasons in New Orleans, could have been pivotal in accomplishing that task. 
But thanks to the "bounty gate" allegations, there's a good chance that Nicks wants nothing to do with Williams, which could ultimately dissolve any slither of hope that the Rams had. 
Nicks is an attractive option, but the Rams will more than likely look to the draft for offensive line reinforcements.