Big East Tournament 2012 Schedule: Top Players to Watch in Quarterfinals
March 8, 2012

Andy Lyons/Getty Images
Ladies and gentleman, we've arrived at the meat of the 2012 Big East Tournament. The quarterfinals are set to tip off at Madison Square Garden on Thursday, giving some of the top players in college basketball a chance to strut their stuff under the bright lights at one of the true meccas of hoops.
These three studs, in particular, figure to put on a show for the crowd in New York City and the folks watching at home.
Jae Crowder, Marquette
Picking one out of Marquette's dynamic duo of Jae Crowder and Darius Johnson-Odom is no easy task, though Crowder gets the nod here on account of his being named the Big East Player of the Year.
The senior forward from Georgia averaged 17.6 points, 7.9 rebounds, 2.1 assists, 2.4 steals and 1.0 blocks for the seventh-ranked Golden Eagles this season while holding down the front court for Buzz Williams' guard-centric squad.
He'll have his work cut out for him against Kyle Kuric and Louisville's hefty forward combo of Gorgui Dieng and Chane Behanan, though if Crowder's 14-point, 11-rebound, six-steal performance against the Cardinals this year is any indication, he should be just fine.
Jeremy Lamb, UConn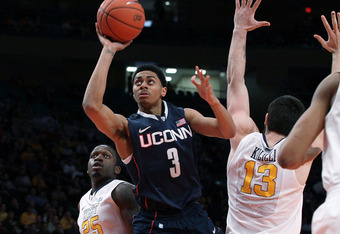 Jim McIsaac/Getty Images
Disappointing as they've been this season, the Huskies still rank as one of the most talented teams in the country, with Jeremy Lamb as perhaps their most important player.
The 6'5" wing has stepped up his game considerably in the wake of Kemba Walker's early departure to the NBA, increasing his scoring average from 11.1 per game as a freshman to 17.8 as a sophomore.
Lamb has been particularly prolific in the Big East tourney. He poured in 25 points, five rebounds and four assists against DePaul on Tuesday before adding another 22 points and eight rebounds in UConn's overtime win against West Virginia on Wednesday. 
Kris Joseph, Syracuse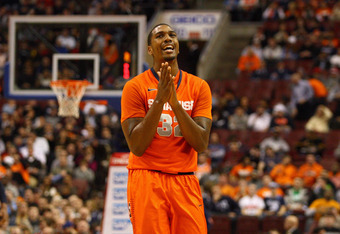 Chris Chambers/Getty Images
You could pick out any one of Syracuse's top seven players on a given night and get an entertaining display of basketball in return, but if there's any one guy who's a good bet to come up aces, it's Kris Joseph.
The 6'7" forward (and older brother of San Antonio Spurs rookie Cory Joseph) leads the Orange in scoring at 14.1 points per game to go along with 5.0 rebounds and 1.7 assists.
Joseph is averaging 16.2 points over his last five games against UConn, which he and Syracuse will face at MSG on Thursday in the latest edition of their long-running league rivalry.