2012 NFL Free Agents: Breaking Down Best Free Agents Available
March 8, 2012

Joey Foley/Getty Images
This year's NFL free-agent frenzy is going to be absolutely nuts.
The league's free-agent signing period doesn't begin until March 13th, but we already have a solid list of names who are going to be up for grabs once it begins. There are going to be some true stars on the open market, and we're going to see some big numbers thrown around.
For kicks, I've put together a list of the best of the best and outlined what makes them worth big bucks and why they're going to get paid. 
You're welcome.
7. Matt Flynn, QB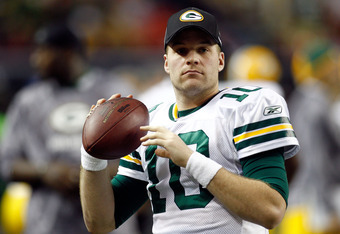 Chris Graythen/Getty Images
Once upon a time, it looked like Matt Flynn was going to be the top quarterback on the market this year, but that all changed with Wednesday's huge Peyton Manning announcement.
Regardless of what happens with Manning, Flynn is going to get a lot of looks. He's still largely unproven as an NFL quarterback, but after the flashes of brilliance he showed in his two starts with the Green Bay Packers, some team will roll the dice on him. 
You probably know all about Flynn's two career starts. He torched the New England Patriots for 251 yards and three touchdowns in 2010, and threw for 480 yards and a franchise-record six touchdowns against the Detroit Lions in the final week of the 2011 season.
We have a small sample size with which to judge Flynn, to be sure, but one look at his track record will reveal that he's been successful everywhere he's gone.
Flynn has been mentioned as this year's Kevin Kolb, but I don't think that's doing Flynn justice. Kolb was all promise and no substance. Flynn is promise and a little bit of very impressive substance.
6. Michael Bush, RB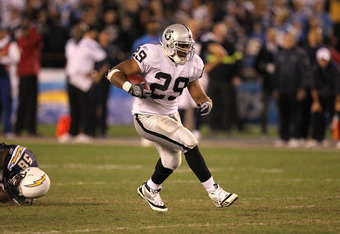 Stephen Dunn/Getty Images
Matt Forte and Ray Rice both got franchised and Marshawn Lynch got an extension, so Michael Bush is the top running back on the market by default.
Yes, Michael Bush. Not Peyton Hillis. Bush has a better track record than Hillis, and doesn't have the Madden cover boy's butterfingers.
Bush has done enough to prove he's ready to be a No. 1 running back, and he definitely proved the point with his work in 2011. Thanks in large part to Darren McFadden's foot injury, Bush carried the ball a career-high 256 times and gained a career-high 977 yards.
Any team looking for a tough-as-nails running back who can carry the ball upwards of 20 times a game should give Bush a look. His best fit would be with a team that already has a speedy running back on its payroll, as signing Bush would create a thunder-and-lightning dynamic.
Bush is due for plenty of work wherever he ends up signing, and he's earned it.
5. Cortland Finnegan, CB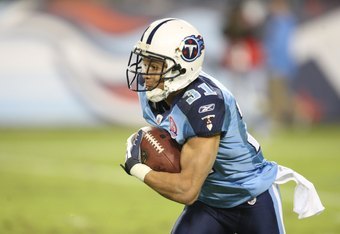 Streeter Lecka/Getty Images
2011 Pro Bowler Carlos Rogers is also a free agent, but if it's between him and Cortland Finnegan as the best cornerback on the free-agent market, you have to give the nod to Finnegan.
Finnegan is best known for his ability to get inside the opposition's head, but he deserves more credit than that. He's one of the top cover men in the business, and a former Pro Bowler and All-Pro selection.
There are a lot of teams who should be in the market for a No. 1 corner. Some of them are in a position to solve that problem in the draft, but others would be wise to solve their problem by making Finnegan an offer.
According to Gregg Rosenthal of Pro Football Talk, the Dallas Cowboys, Tampa Bay Buccaneers, Chicago Bears and Minnesota Vikings are all already circling Finnegan, which makes sense given the issues the four of them have had with their corners.
It looks like a bidding war situation. Good for Finnegan.
4. Carl Nicks, OG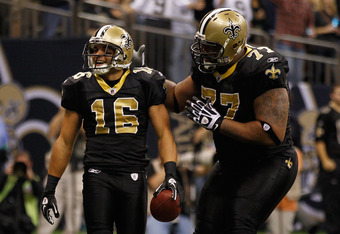 Chris Graythen/Getty Images
The top offensive lineman on the market this year is undoubtedly Carl Nicks, who has spent the first four seasons of his career keeping Drew Brees on his feet.
Nicks is at the point in his career where he's starting to rack up accolades. He's made two straight Pro Bowls and has been named to two straight All-Pro teams. He's established himself as one of the top interior offensive linemen in the game.
Exactly what happens next with Nicks is a little fuzzy. The New Orleans Saints could have tagged him, but they had to save their tag for Drew Brees. Mike Triplett of The Times-Picayune has reported that Nicks is open to re-signing with the Saints, but he'd probably have to take a discount to do so.
If Nicks would rather go for the money, he won't have any trouble doing so. A number of teams out there will be willing to pay top dollar for an elite guard.
3. Vincent Jackson, WR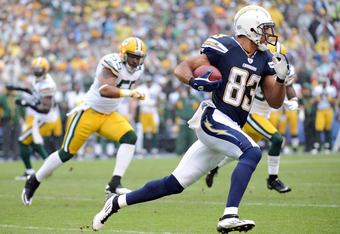 Harry How/Getty Images
Focusing solely on unrestricted free agents, Vincent Jackson takes the prize as the best wide receiver on this year's free agent market.
When he's healthy, Jackson is a game-changer. His size and speed make him a killer deep threat, and he's coming off a season in which he averaged 18.4 yards per reception. That was good for sixth in the league.
It comes as no surprise that the Chicago Bears are very interested in signing Jackson, according to Jay Glazer of FoxSports.com. They've needed a bigger wide receiver with game-breaking ability for several seasons now. Jackson fits that bill to a tee. 
Other teams will be in on Jackson, make no mistake about that. He's a true No. 1 wide receiver and he has the physical tools and skill set that few other receivers can match.
2. Mario Williams, OLB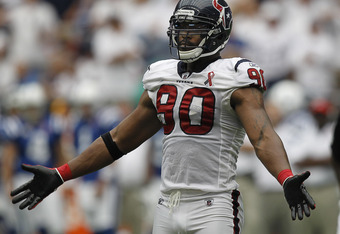 Bob Levey/Getty Images
Mario Williams is coming off a season that was cut short by an injury, but there's no question he's the top defensive player on the market this offseason. 
Williams will draw plenty of attention because there are a lot of things he can do. He came into the league as a defensive end and quickly established himself as an elite pass-rusher. This past season, he shifted to outside linebacker and was playing very well before his season was ended after a mere five games.
Kevin Acee of the San Diego Union-Tribune wrote recently that it's "practically a given" that Williams won't be back with the Houston Texans in 2012. He will be pursued by any team looking for a difference-making defender who can rush the passer, and that apparently includes the Chargers.
The Chargers won't be alone in the hunt. Whoever cuts Williams the biggest paycheck is going to get him.
1. Peyton Manning, QB
Jed Jacobsohn/Getty Images
I'm putting Peyton Manning at No. 1 on this list with one caveat.
If he's not healthy, he's not going anywhere. Teams are only going to pursue him if Manning gets a clean bill of health.
If Manning does get a clean bill of health, the bidding war that will take place over him will be insane, and the stakes will be high. 
Manning is only going to get looks from teams that are in a position to win now, and he's only going to look at teams that are in a position to win now. He only has a few years left to play, and he's going to make the most of them.
Manning has been linked to numerous teams, and Jason La Canfora of the NFL Network reported on Wednesday that the Arizona Cardinals, Seattle Seahawks, Washington Redskins, Denver Broncos and Miami Dolphins have already "expressed interest."
There will be others. It's just not every day a legendary quarterback hits the free-agent market.