2012 NFL Draft: Illinois Linebacker Ian Thomas Blows Up His Pro Day
March 7, 2012

Dilip Vishwanat/Getty Images
Ian Thomas, Linebacker, University of Illinois
Ian Thomas is a very physical, versatile linebacker coming out of the University of Illinois.  Thomas is a physical force who played in the middle of the Fighting Illini defense where he was tasked to take on bigger offensive linemen in the Big Ten.  Thomas is a fighter and a person that is not going to shrink from a challenge.
Thomas earned All-Big Ten honorable mention for the 2011 season as voted on by conference coaches.  He is a productive player as evidenced by the numbers, but Thomas needed to make an impression during his pro day, which took place on March 6th in Champaign.  To say that he made an impression is an understatement, as he crushed his workout.
Here are his numbers from his pro day, and where they would rank with the linebackers that participated in the combine in Indianapolis in late February.
·         32 repetitions at 225 lbs. on the bench press, tying him for 1st among LBs.
·         37.5" vertical jump, tying him for 4th among LBs.
·         9'7" broad jump, tying him for 18th among LBs.
·         4.67 seconds in the 40-yard dash, tying him for 15th among LBs.
·         Thomas measured in at 6'1/2" tall and 232 lbs.
I sat down with Thomas the day after his pro day workout to discuss how he fared.  We talked about a variety of things, from his time at Illinois, to his preparation for his pro day workout.  I asked him what he prepared on most for his workout and he told me, "Really, we were just focusing on the actual drills that we were going to be doing.  You know just getting familiar with it, doing it over and over again just so it would kind of be second nature."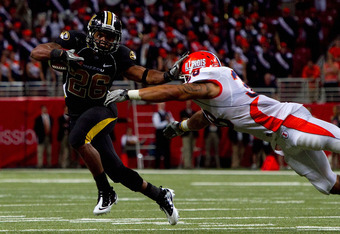 Dilip Vishwanat/Getty Images
He then gave a lot of credit to his trainer, Harrison Bernstein of Satori Sports.  "I worked hard with my trainer Harrison Bernstein, he's a good guy and he's a good trainer and he prepared me well."  I asked him what he thought about the drills he had to do during his pro day workout and he said "I think the most important thing we did yesterday was the actual position drills.  That really shows you a little bit about what kind of football player you have."
I asked him what he thought was the best way to measure what kind of player a guy will be. He told me: "For me, it's all about when you strap the pads on, you go out there and that's when it gets real."  There was an intensity about the way he spoke and it was interesting to talk to him.
I asked him about what he thought he could bring to an NFL team:  "My aggressiveness, I just feel like I am real aggressive.  I like to get to the ball, I like to hit.  I like to stay around the ball."  He told me that he has been compared to D'Qwell Jackson from a "tackling machine" perspective and that he loved the way Jackson played.  He said, "Hopefully I can improve my game and be more like him as I get some more experience."
He talked about the pride he felt for being a member of an Illinois football team that won two bowl games in consecutive years.  Thomas has played inside, weak-side and strong-side linebacker at Illinois.  I asked him what the thought about being able to show his versatility on tape to NFL teams:  "Yeah, I definitely think it's a positive for me that a team sees that you can play at a lot of different spots.  Versatility is big thing, so I'm using that as an advantage."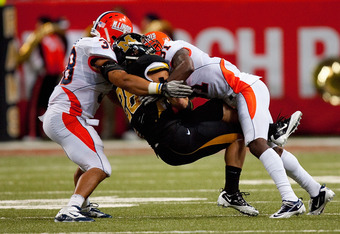 Dilip Vishwanat/Getty Images
Finally, I asked him what he would tell the fans of an NFL team that drafts him.  He said "I feel like I'll have a great spark on the team, when they see me out there they will definitely recognize who I am from my emotion and how I'm going to run around and have fun.  I'm just going to make it fun to watch."
Thomas is a player to watch, especially with the dazzling numbers he put up at his workout.  He has the production on tape to show NFL teams, and the pedigree of playing in a physical conference like the Big Ten.  Now, he can point to the numbers he put up at his pro day and tell teams that he belongs.
Scott Bischoff is a Contributor for Bleacher Report. Unless otherwise noted, all quotes were obtained first-hand or from official interview materials.