Which Big-Name NFL Stars Could Be Dealt in March?
Christian Petersen/Getty Images
The NFL is all about winning right now.
Teams will do whatever it takes to have the best opportunity to raise the Lombardi Trophy in February. If that means trading a big-name star for a few extra draft picks or a young up-and-comer, then so be it.
Today we'll take a look at which NFL stars could be dealt in March.
Kevin Kolb, QB, Arizona Cardinals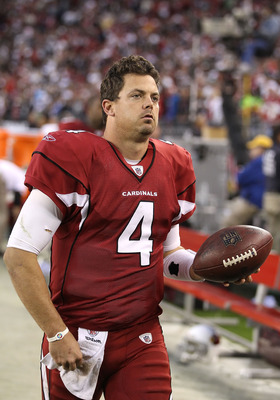 Christian Petersen/Getty Images
Kevin Kolb leaving the Arizona Cardinals all depends on what happens with Peyton Manning. Arizona has reportedly already been in touch with Manning's agent, so you know it is interested.
If Arizona is the team to reel in the biggest quarterback free agent ever, and it's very possible that it could do so, that leaves Kolb in an interesting position. The Cardinals certainly won't need both Manning and Kolb, so it is likely that they will seek a trade for Kolb.
Two teams that could be interested in Kolb instantly would be the Washington Redskins and the Miami Dolphins. Both teams have top-10 draft picks in the 2012 NFL draft, and you can bet that they'd rather use those picks on something other than a quarterback who would almost certainly be considered a reach.
Of course, it would likely cost both teams a draft pick or two, but the highest I could possibly see the pick being is a second-round pick. While Kolb is still young, he certainly didn't overly impress during his first season as a starter. He struggled with injuries, and even while he was on the field, he didn't exactly look like a franchise quarterback.
However, he is definitely a better option for winning right now than Chad Henne, Rex Grossman, Ryan Tannehill or Kirk Cousins.
If either Miami or Washington could strike a deal with Arizona for Kolb, it could then focus its first-round pick on a potential game-changing player like Justin Blackmon or Quinton Coples.
Mark Sanchez, QB, New York Jets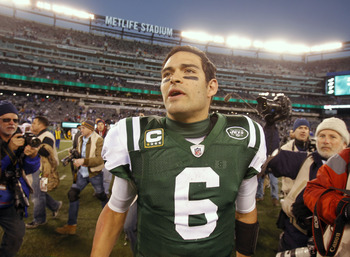 Rich Schultz/Getty Images
As was with Kevin Kolb, Mark Sanchez will only end up on the trading block if Peyton Manning finds his way to the New York Jets.
If he does, then Sanchez is as good as gone. Finding a suitor for the up-and-down quarterback could be a little more difficult, though. While Sanchez is still a young quarterback who has proven a capable winner, he has definitely struggled with accuracy and turnovers with the New York Jets.
However, a team like the Seattle Seahawks could be interested, thanks in large part to Sanchez's former coach, Pete Carroll. Carroll taught Sanchez in the college game and knows exactly which buttons to push to get the most out of him.
The Jets seem like a rather long shot right now to add Peyton Manning, but should he decide to spark a New York rivalry with his younger brother Eli, then Sanchez will absolutely be on the move.
Osi Umenyiora, DE, New York Giants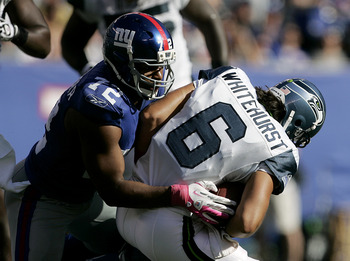 Rich Schultz/Getty Images
The trade rumors involving Osi Umenyiora were rampant during the 2011 offseason. While they eventually died down and Umenyiora played a contributing role in the New York Giants' Super Bowl season, there is still the possibility that he could be sent packing before the month is over.
The Giants already have two outstanding defensive ends in Justin Tuck and Jason Pierre-Paul. While depth is a great thing, the Giants do have plenty of holes to fill on both sides of the ball.
Trading a big-name player like Umenyiora would likely reel in some quality draft picks and/or personnel for New York. With whatever they get in return for Umenyiora, the Giants would then be able to look for cornerbacks, offensive linemen and tight ends through the draft.
It's possible that the Giants decide to keep Umenyiora as part of the most dominant defensive line in the NFL, but if they don't, you can be sure that 31 teams will be knocking on their door with an offer.
Ben Tate, RB, Houston Texans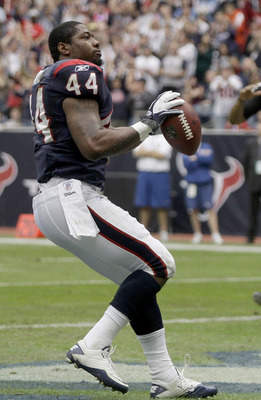 Thomas B. Shea/Getty Images
When Arian Foster was unable to start for the Houston Texans at the start of the 2011 season, people thought the Texans offense would be in major trouble.
However, Ben Tate emerged as a true threat in the backfield for those first three games. Even when Foster returned, Tate continued to be a valuable part of the offense, compiling 641 yards and three touchdowns in his backup role.
Now, the Texans could decide to keep Tate since he is such a cheap part of their roster, but you can guarantee that there are plenty of teams out there that could use a talent like him. Teams like the Green Bay Packers, Cleveland Browns and Indianapolis Colts would likely be willing to give up plenty for the young Tate.
Brandon Marshall, WR, Miami Dolphins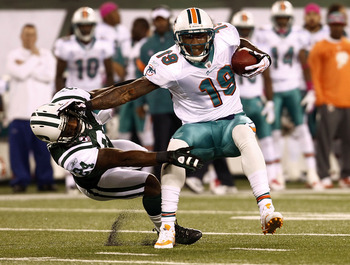 Jeff Zelevansky/Getty Images
Here is another player who will ultimately be affected by the decision of Peyton Manning. If the Miami Dolphins snag Manning, there is no way that they will part ways with Brandon Marshall.
Manning will need a top target, and Marshall could absolutely be that guy. He hasn't played with a semi-elite quarterback since Jay Cutler was in Denver, and teaming him with Manning could be a dangerous combination.
However, if Manning goes elsewhere, Marshall could be on the market. One interesting scenario that has been thrown out is trading Marshall to the St. Louis Rams. The trade would involve the Rams getting Marshall and the Dolphins' eighth pick, while the Dolphins get the second overall pick.
That trade may seem lopsided, but when you consider that second pick is basically the rights to Robert Griffin III, it makes much more sense for a team in desperate need of a franchise quarterback. It would also be a huge help to the Rams, who need to pair Sam Bradford with a true No. 1 receiver.
Upon close examination, this trade would actually benefit both teams greatly and could be a serious possibility as we get closer to April and the NFL draft.
Keep Reading