2012 NFL Free Agency: Pittsburgh Steelers' Free-Agent Breakdown
March 12, 2012

Nick Laham/Getty Images
Will the Pittsburgh Steelers re-sign Mike Wallace?
That is the most important question that every Steelers fan is asking themselves as the NFL enters free agency.
Wallace received a first-round tender worth about $2.75 million which will give the Steelers the ability to match any offer that Wallace receives.
It is no secret that Wallace is a high priority for the Steelers. He is one of the league's best deep threats and has either led, or has tied for the team lead in touchdown receptions the last three years.
But while Wallace is by far the premier free agent in the Steelers' 2012 class, he is not the only player that we must keep an eye on.
Staying at receiver, the Steelers would like to keep Jericho Cotchery in the fold. The two sides have already communicated, but there have been no indications that a deal is in the works.
Cotchery would give the Steelers insurance if there is an injury to Wallace (assuming he is re-signed), Antonio Brown or Emmanuel Sanders as well as a veteran presence that will be missed with the release of Hines Ward.
Pittsburgh liked Cotchery's locker room presence and he has the ability to work the middle of the field with his tough style of play.
Cotchery may be a question mark, but Isaac Redman and Steve McLendon, both exclusive rights free agents, are not.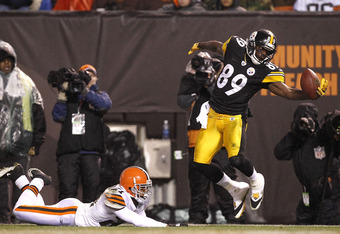 Matt Sullivan/Getty Images
Redman figures to be the starting running back until Rashard Mendenhall is fully healed from his ACL injury.
The increased role for Redman will be a test for the third-year running back. He has limited action as the go-to back, albeit successful.
Redman is a physical back who does not shy away from contact and has potential to put together a solid year in 2012, just not one full of big plays.
Like Redman, McLendon will have an increased role next season as he remains as the only healthy nose tackle on the roster.
McLendon developed nicely as a backup last year and has earned playing time in the defensive line rotation. Unlike Redman, McLendon does not look like a starter, but rather a quality backup.
Pittsburgh will have some work to do with their restricted free agents as well, beginning on the offensive line.
Both Doug Legursky and Ramon Foster started at left and right guard, respectively, last season and will enter the season as starters next year.
Neither player will be mistaken for a Pro Bowler and both could be upgraded, but for now, they are the best that Pittsburgh has. There should not be an issue retaining each.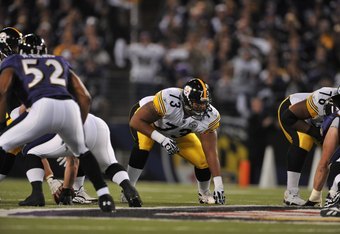 Larry French/Getty Images
Jamon Meredith is another restricted lineman, but unlike the previous two, is unlikely to be re-signed as the team could find other options elsewhere.
David Johnson, key contributor on offense, is also restricted. He has played a role as the third tight end and fullback.
Though he could be replaced with a true fullback if new offensive coordinator Todd Haley wants to move in that direction, Johnson's experience will be vital considering backup tight end Weslye Saunders faces a four-game suspension to start the season.
On the defensive side of the ball the Steelers have two restricted free agents in the secondary.
Ryan Mundy has grown into a valuable backup at safety and contributes on special teams. He has a strong knowledge of the defense and is pretty athletic.
Despite his growth, Mundy is still limited and does not have the look of a potential replacement for either Troy Polamalu or Ryan Clark, but he is a capable backup who can also step in on passing downs.
Of greater importance is Keenan Lewis, who developed into a solid option at cornerback last season.
Lewis has good size and speed to match up with the physical receivers and was rarely beaten for big plays last year. Even though he was solid in that aspect, Lewis was not much of a playmaker either which should keep his price down.
Assuming he continues with his development, Lewis could be thrust into the starting role pending the status of William Gay.
Gay is a particularly interesting case as he bounced back and had a solid 2011 season, helping the Steelers to having the top-ranked passing defense.
Despite his play last season, Gay is still limited athletically and is probably best suited as a nickelback. Pittsburgh also have two young cornerbacks in Curtis Brown and Cortez Allen who figure to move up the depth chart, particularly Allen who found himself playing in passing situations last year.
At the right price, Gay would provide the Steelers with very valuable depth and insurance if the young corners do not develop.
Other veterans who are likely to return are Byron Leftwich and Charlie Batch.
According to the Pittsburgh Post-Gazette's Gerry Dulac, Kevin Colbert said that he hopes that both quarterbacks will return next season.
Leftwich is a good quarterback, when healthy. He missed last year with a broken arm. Despite the injuries, he has a big arm and knows the offense.
Batch always seems to be counted out but has proven himself every opportunity that he has gotten. He played very well over the past two years in limited action and should have the job as a third-stringer as long as he is capable of playing.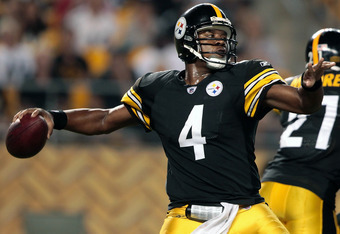 Jared Wickerham/Getty Images
Meanwhile, Dennis Dixon is most certainly on his way out of town according to Colbert (via Pittsburgh Post-Gazette).
"Being a young quarterback, I anticipate Dennis will [look elsewhere], and I anticipate Dennis will have a lot of interest around the league," Colbert said.
Dixon has not been particularly impressive in his brief career. Even though he has had only a few opportunities to showcase his skills, he has not shown that he can be a full-time backup.
The main problem with Dixon is that he continues to look to run first, pass second. The coaches did not seem to have confidence in his ability to win the game with his arm, something that Leftwich can do, and even Batch to an extent.
Two other players likely on their way out are Mewelde Moore and Daniel Sepulveda.
Moore is slowing down and Pittsburgh has a stable of young backs worthy of an opportunity. He could be a good option if they need a veteran presence until Mendenhall is back, but he could be signed in camp if needed.
Sepulveda had yet another knee injury last year and while he has been a decent punter, he has not been spectacular. Plus, his replacement, Jeremy Kapinos, was impressive last season and has proven to stay healthy.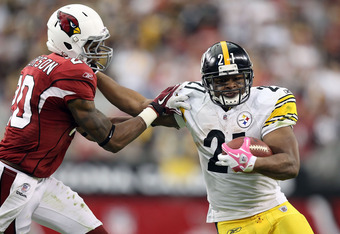 Christian Petersen/Getty Images
Pittsburgh's final two free agents of note are Max Starks and Trai Essex.
Starks may have been re-signed if not for an ACL injury. Now he is unlikely to be re-signed, even when he returns to health, which likely will be after the season starts.
The loss of Starks hurts as the Steelers now must move Marcus Gilbert to left tackle and hope that Willie Colon can stay healthy to man the right side.
Essex is a valuable backup since he can play every position on the line. The problem is that he is not particularly good at any of them. However, he could be a cheap option to keep low on the depth chart and may be worth re-signing.
Pittsburgh's free-agent class has one superstar in the group that they must keep, but if they lose will acquire an extra first-round pick.
The rest of the free agents represent starters who could be upgraded or valuable depth, "glue players" if you will. The Steelers cannot have stars at every position and need to make sure they retain enough talent to fill out their roster.
Once a deal with Wallace is reached, the rest of free agency should be smooth sailing and stress free. At that point it will be the countdown to the draft.
Follow me on Twitter @ChrisG_FC