10 Weapons Philadelphia Eagles Must Acquire for Michael Vick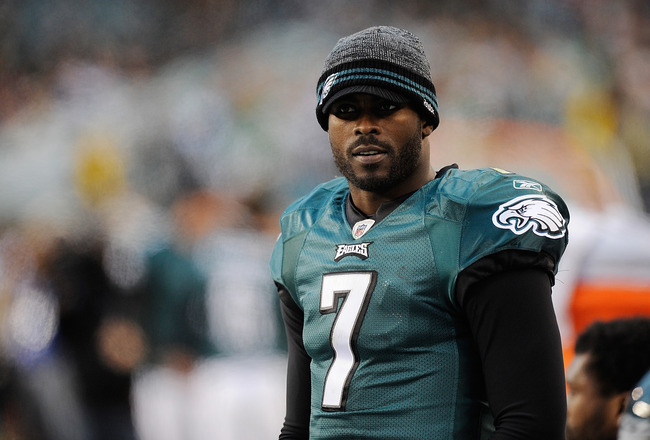 Patrick McDermott/Getty Images
Michael Vick and the Philadelphia Eagles have a lot weapons as currently constructed.
LeSean McCoy, DeSean Jackson and Jeremy Maclin are all very capable players, but the Eagles need just a little bit more to make the offense complete and help Vick.
As currently constructed, the Eagles are a fast team that can get up and down the field quickly, but desperately lack a possession and red zone receiver.
Adding that type of option would help the Eagles, specifically Vick, live up to the whale of expectations that were placed upon them in 2011.
Here are guys that the Eagles have to try to acquire in order to help Vick in 2012.
Vincent Jackson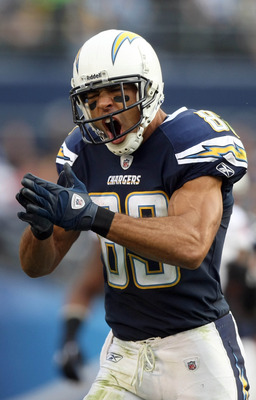 Donald Miralle/Getty Images
If you're talking about possession and red zone targets, the first person the Eagles should go after is Vincent Jackson currently of the San Diego Chargers.
Jackson was not hit with the franchise tag from the Chargers, which means the Eagles could go after him via free agency.
Jackson stands at 6'5'', tall enough be a possession receiver and to go up and catch a fade in the end zone.
He can also be a deep threat like a DeSean Jackson or a Jeremy Maclin as well, but possesses the size that they don't.
Last season for the Chargers, Jackson caught 60 passes for 1,106 yards and nine touchdowns.
Marques Colston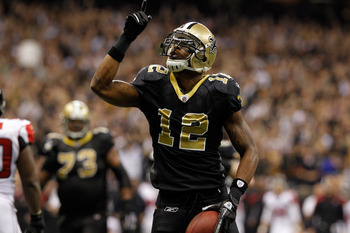 Chris Graythen/Getty Images
Another big receiver on the open market is the New Orleans Saints' Marques Colston.
At 6'4'', Colston is another big target that the Eagles need to give it more than one dimension in the passing game.
A big target who can go up and get the ball at its highest point increases the margin for error for Vick.
Vick doesn't have to make have to put every pass exactly on the money with a guy like Colston because he'll make up for it with his athleticism and size. That bodes well for a quarterback like Vick who has completed more than 60 percent of his passes in a season only once.
Last season for the record-setting Saints, Colston caught 80 passes for 1,143 yards and eight touchdowns.
With the franchise tag going on Drew Brees, Colston should be a target for the Eagles.
Mario Manningham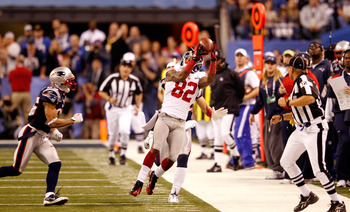 Rob Carr/Getty Images
The Eagles took a receiver from the New York Giants last offseason, and it didn't quite work out.
But if the Eagles go after Marion Manningham, it should go a lot better.
Unlike Steve Smith last season, Manningham is healthy and will be on the field for the Eagles at the beginning of training camp.
Manningham isn't the biggest receiver on the open market, but is a very good possession guy who will move the sticks when Vick and the Eagles need it the most.
As proof of his performance in this past Super Bowl, Manningham can make the big catch.
Manningham scored a touchdown in three of the Giants' four playoff games this past season.
Reggie Wayne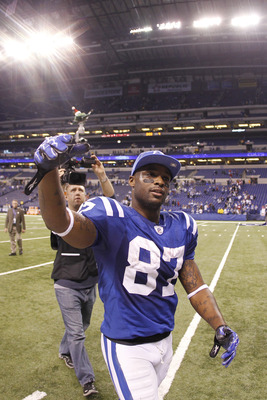 Joe Robbins/Getty Images
Reggie Wayne may be up in age and he may go wherever Peyton Manning goes, but that does not mean the Eagles can't make up for passing on him in the 2001 draft and target him in free agency.
Wayne is not and should not be expected to blow the doors off defenses if he were to become an Eagle.
But he can provide a veteran presence and could help the growth of DeSean Jackson and Jeremy Maclin, both of whom are still young receivers in the NFL and could learn a lot from a guy like Wayne.
Despite not having Manning last season, he still put up a solid season with 75 catches, nearly 1,000 yards and four touchdowns.
Randy Moss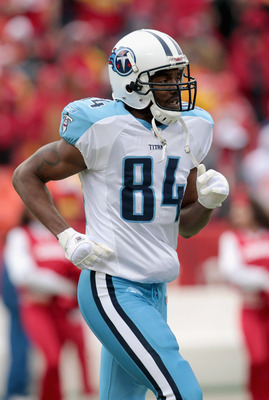 Jamie Squire/Getty Images
Although the Saints may have the upper hand in the Randy Moss sweepstakes, that should not stop the Eagles from making a play for him.
When Moss is motivated, which he seems to be now, he is one of the best receivers in football.
For the Eagles, Moss provides that red zone threat the Eagles have lacked for some time.
Moss is older, but can still get down the field if the time calls for it.
But for the Eagles, his ability to catch balls down inside the red zone is what should make him a guy with value.
Plaxico Burress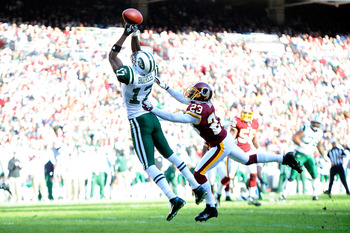 Patrick McDermott/Getty Images
Much like Moss, Plaxico Burress provides a big red zone target for Vick.
Burress is and was never as fast as Moss, so he will not bring as much to the table as he does, but he can still do the one thing that is asked of him: go up and get the ball.
Burress only caught 45 passes, but grabbed eight touchdowns. The problem Burress had with the New York Jets was that they tried to make him a No. 2 option for Mark Sanchez.
He will not have to do that with the Eagles. He will have one job and one job only: score touchdowns in the red zone.
DeSean Jackson and Jeremy Maclin will take care of the rest. Not to mention tight end Brent Celek.
Deion Branch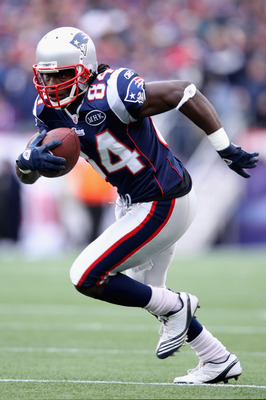 Elsa/Getty Images
Deion Branch is a veteran receiver who has won and played in multiple championships. He will bring that to the table along with the ability to be a good possession receiver for Vick and the Eagles.
Branch is another guy who is not that big in stature, but finds a way to get open and move the chains.
He has taken a back seat in the offense with the emergence of Rob Gronkowski, but still caught 51 passes for 702 yards and five touchdowns.
Stephen Hill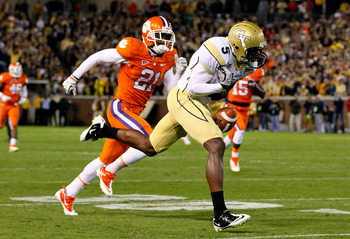 Kevin C. Cox/Getty Images
Free agency is not the only way the Eagles can acquire weapons for Vick.
They can also look for some talent in the draft.
A guy the Eagles may take a look at is Stephen Hill from Georgia Tech.
Hill possesses what the Eagles need the most: size. He can also spread the field with his speed. Hill was the second-fastest receiver in the combine running a 4.36 in the 40-yard dash.
Hill didn't have great statistics at Georgia Tech with it being a run-first offense, but did average 29 yards per reception and hauled in five touchdowns.
Mohamed Sanu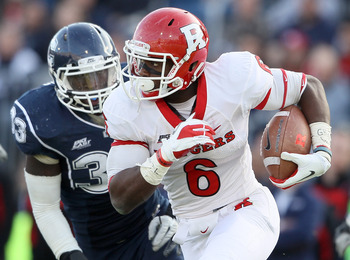 Elsa/Getty Images
Also in the draft is Mohamed Sanu out of Rutgers.
Sanu is the definition of a guy that moves the chains.
During the 2011 season, Sanu caught 115 passes, an astounding number for college, for 1,206 yards and seven touchdowns.
He recorded six games with 10 or more receptions.
Sanu showed the ability to consistently be an option for Vick, something that DeSean Jackson and Jeremy Maclin have not been able to do during their time in Philadelphia.
Tommy Streeter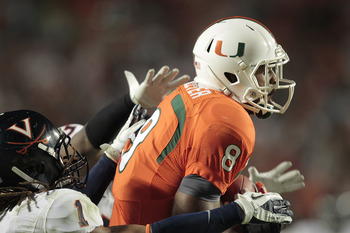 Joel Auerbach/Getty Images
A sleeper pick for the Eagles may be Tommy Streeter out of Miami (Fla.)
Streeter stands at 6'5'', again a big body down in the red zone for Vick to throw to.
But Streeter, like many other guys from "The U," possesses a lot of speed, surprising for how big he is.
At the combine, Streeter ran the 40-yard dash in 4.40 seconds.
During his last season as a Hurricane, Streeter caught 46 passes for 811 yards and eight touchdowns.
Keep Reading

Philadelphia Eagles: Like this team?