Pac-12 Tournament 2012: Bold Predictions for Wild Tourney
March 7, 2012

Jeff Gross/Getty Images
This is going to be one wild conference tournament. There isn't a team in the Pac-12 that should feel confident about their entrance into the Big Dance.
Even regular season conference champion Washington will be well served to get at least one win.  
All of this is going to set the stage for an ultra-competitive exciting tournament. Here are a few things to expect. 
Check out the bracket, courtesy of Pac12.org. 
Tony Wroten Will Light it Up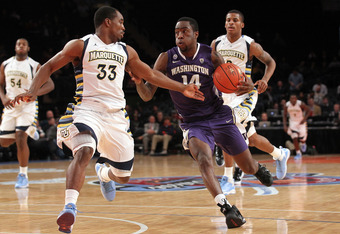 Nick Laham/Getty Images
Freshman stud Tony Wroten wasted no time getting adjusted to the college game, and he is now ready to dominate in the conference tournament.
He led the Huskies in scoring by putting up 16.3 points per game. He also averaged 2.0 steals per game. 
Wroten has elite athleticism. He is explosive and an excellent ball handler. He can get to the lane on almost every possession, and he loves the bright spotlight of big moments. 
That much was apparent almost immediately as he went for 23 against Duke.
He also led this team down the stretch as he went for 22 points and nine rebounds against Arizona, and 14 points, five assists against UCLA in the final regular season game of the year. 
Cal Will Fizzle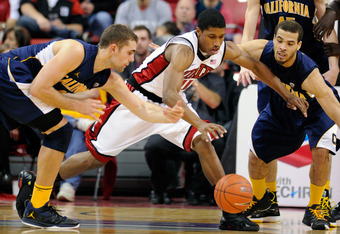 Ethan Miller/Getty Images
The Bears had a fantastic regular season. However, that came to a screeching halt in their last two games. 
The Bears lost their final two games, and in the process they lost the regular season conference championship. 
Having the conference championship in their grasp, only to blow it by losing two straight is a big blow to a team's confidence. 
Cal is going to continue that losing streak by losing their first game. 
The Bears will be waiting for the winner of the Stanford-Arizona State game. Stanford will be favored to win, and when they do win, they will have a date with a Cal team they beat 75-70 in the last game of the regular season. 
The Cardinals will be rolling into that game with confidence and in rhythm. Meanwhile, slumping Cal will be trying to shake off their rust. They will not be able to, and they will be one and done. 
Oregon Will Win it All
The Oregon Ducks are going to play their way into the Big Dance by winning this tournament. This is a team that is peaking at the right time. 
Oregon won seven of their last eight games. That stretch included a dominant 82-57 victory against No. 1 seed Washington, and a hard to believe 94-48 whooping of Utah in the final game of the season. 
The Ducks' offense is clicking. They are moving the ball and hitting their shots. They will be supremely motivated to leave everything on the floor every night in this tournament, and they will not be denied.