Peyton Manning: 4-Time MVP's Top 5 Commercials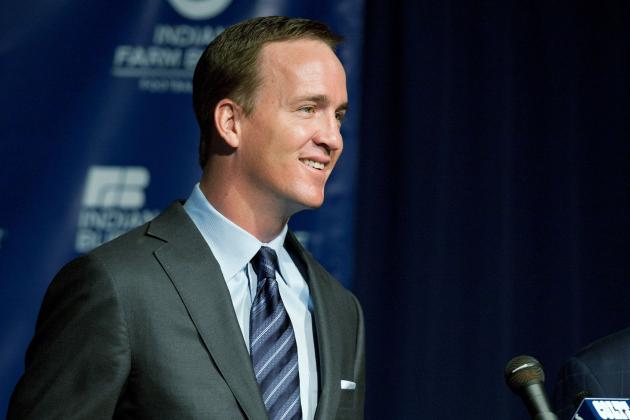 Joey Foley/Getty Images

As Peyton Manning prepares for post-Indy life, everyone will undoubtedly reminisce about the good times he had. Sidelined and watching his team go 2-14 last season, there was not much to joke about, but we all remember being bombarded with Manning commercials over the past decade.
One of the top endorsed athletes today, Manning has starred in many hilarious commercials. The key to most is his ability to make fun of himself. If there was a stat in personality, Manning would lead the league.
No matter where Manning lands, he will remain an endorsement star. Here are the best commercials of Manning's career.
Begin Slideshow

»
With a fake mustache peeling off Manning's upper lip, he does a great job endorsing himself and Sprint. There's not much to it, but the commercial is simple and funny.
This is a great ad that's already outdated since the emergence of smartphones. Nevertheless, Manning does a fine acting job pretending to be a Peyton Manning fan. He sure knows his stats.
Most of all, who doesn't like 6'5", 230-pound quarterbacks with a laser-rocket arm?
This is the first of two MasterCard commercials I chose. MasterCard's "priceless" ad campaign was widely popular, and Manning does a great job.
Manning wants to be the life of this holiday party, but his gifts aren't exactly perfect. Manning is portrayed as oblivious, which is what makes the commercial so funny.
The first-aid kit for Manning's "cut" teammate is the truly priceless moment in the ad.
This ad follows Manning and Reggie Bush's room service war after they check in at the same time. It peaked my interest, considering Bush's Miami Dolphins are on the short list of teams eying Manning.
Although the rivalry never came to fruition, as the two have not had a fierce head-to-head history, the commercial is still funny. Maybe if Bush and Manning become teammates, we will get to see more competition between the two.
This is probably my favorite out of every Manning ad. This commercial for ESPN has Peyton and little brother Eli fighting behind their parents' back.
Seeing the family aspect of Peyton's life is something viewers love to experience. Brothers fight, and of course, it was big brother Peyton who started the whole thing.
This is a great ad that probably would have seen some critics had it come out during last season. As the people in Peyton's life make mistakes, he is right there to cheer them on, just like he was all last season.
Manning's vocal support didn't go a long way in Indianapolis this season, but he's definitely given everyone here a huge boost in morale. It's alright, guys; they're not saying boo; they're saying, "moo-vers."
Absolutely priceless.