Fantasy Baseball Sleepers 2012: Sergio Santos Tops Under-the-Radar Closers
March 9, 2012

Saves are the most sought-after commodity in fantasy baseball, but conversely, it's a common opinion that you shouldn't overpay for them. 
The thought is this: so many closers lose their job by mid-season, and you can find plenty of saves without having to get top-tier guys like Craig Kimbrel or Mariano Rivera.
If you're in that camp, you'll certainly have to find some valuable steals near the end of your draft. Here's a look at some names that are flying under-the-radar right now.
Sergio Santos, Toronto Blue Jays
Santos, who broke out as Chicago's closer last season, should see even more improvement this year for the progressing Blue Jays.
In just his second major-league season, the former shortstop struck out 92 batters in 63.1 innings (13.1 K/9) in 2011. The only projected closer who struck out batters at a higher rate last year was Craig Kimbrel, who is ranked No. 1 among relievers.
Santos isn't quite on Kimbrel's level, but his dominating skill-set should have him ranked higher than 29th, which is where ESPN has him.
Veteran closer Francisco Cordero is waiting in the wings in Toronto—which takes some value away—but you can't ignore his upper-90s fastball and nasty slider. Even if Santos doesn't start the season as the closer—although the Jays have said he will—the 28-year-old will give you an ERA around 3.00, a WHIP around 1.10 and close to 100 strikeouts. That makes him valuable even without the saves.
With the saves, however, he has Top-10 potential. I suggest moving Santos up your draft board before it's too late.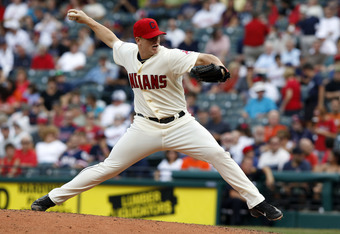 David Maxwell/Getty Images
Vinnie Pestano, Cleveland Indians
Pestano isn't currently slated as the Indians closer, but Chris Perez is coming off a mediocre year (3.32 ERA, 1.21 WHIP, 39 SO in 59.2 IP) and it's unsure when he'll return from his oblique injury.
At the very worst, Pestano will keep Perez's closer spot warm, and you'll get a few extra saves at the beginning of the season.
At the very best, however, Pestano, who put up a 2.32 ERA, 1.05 WHIP and 12.19 K/9 in his first season last year, will take Perez's job and put up Top-10 value.
Pestano certainly looked like the more dominating pitcher last season and he serves as a necessary handcuff for Perez owners.
ESPN ranks the up-and-coming 27-year-old as the 42nd-best reliever, so he can easily be acquired in the last round or two of your draft.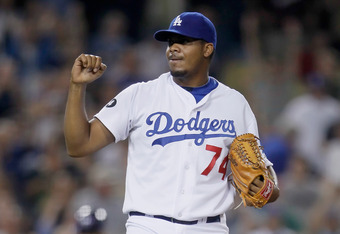 Jeff Gross/Getty Images
Kenley Jansen, Los Angeles Dodgers
The Dodgers closer situation is a little messy, and it might just be best to stay away, but if you do feel the need to have a Dodger reliever on your team, make it Jansen.
Javy Guerra was terrific at the end of 2011, converting 21 saves to go along with a 2.31 ERA and 1.18 WHIP. He has the clear lead heading into Spring Training, but will it last?
Guerra had a career 1.57 WHIP in the minors and it's likely he'll see some regression in just his second year in the majors.
Jansen, on the other hand, is behind Guerra in L.A's closer ranks, but has a much higher ceiling.
The seventh-place finisher in Rookie of the Year voting last year has been impressive during his major-league career. In 80.2 career innings, he sports a 2.12 ERA, 1.03 WHIP and an out-of-this-world 15.3 K/9 ratio.
Guerra may start the season as the Dodgers' closer, but Jansen, who is ranked 28th among relievers by ESPN, is the guy you want. If he takes over the role, he will be a Top-five closer.