Minnesota Vikings Mock Draft 2012: Who the Vikings Really Need and Why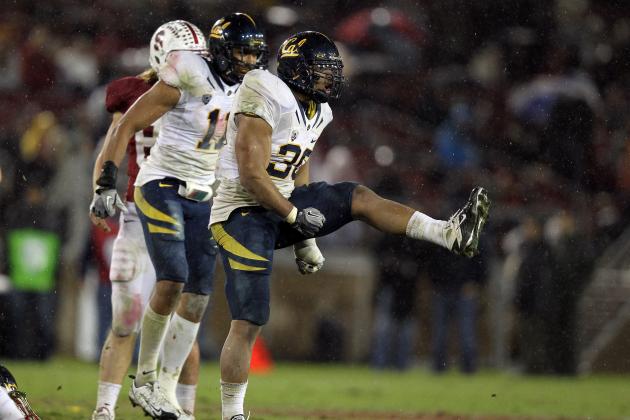 Ezra Shaw/Getty Images

It's a forgone conclusion at this point, but Andrew Luck will be drafted No. 1 overall by the Indianapolis Colts and Robert Griffin III will most likely be selected No. 2 overall by a team in desperate need of a game-changing QB.
That leads us to the Minnesota Vikings and the No. 3 overall pick. Most draft experts have already written Matt Kalil down in this slot in permanent marker, but is he the right choice?
What about Round 2 and beyond? What should the Vikings be looking for and why? This is an in-depth look at the players the Vikings should be running to the podium for with each of their projected picks.
Begin Slideshow

»
Harry How/Getty Images

The debate between fans has raged on between whether the Vikings should select franchise LT Matt Kalil or stud WR Justin Blackmon with the No. 3 pick.
However, there should be no debate within the Vikings front office. Rookie QB Christian Ponder was battered around all season due to sub-par pass blocking.
Adding the 6'6", 306 lbs. Kalil would give the Vikings a building block to team with Jonathan Sullivan for years to come.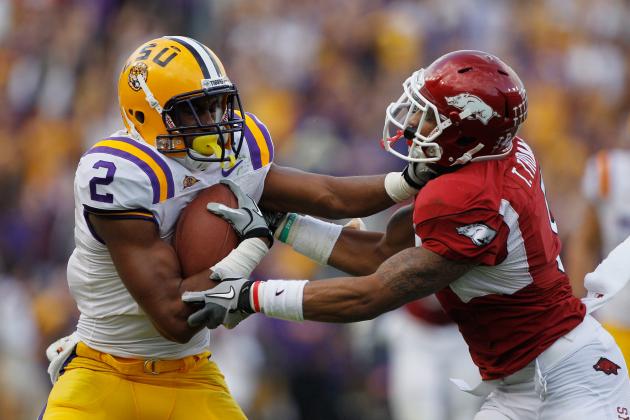 Chris Graythen/Getty Images

At 6'3", 210 lbs. Rueben Randle has the ability to be the legitimate type of red-zone threat the Vikings have been lacking since having a healthy Sidney Rice in 2009.
Although not a burner like Georgia Tech's Stephen Hill, he has more than enough speed to stretch the field and is physical enough to ward off defenders.
Getting Hill would also be a great option for the Vikings, but I simply do not see him making it past Houston or San Francisco late in the first round.
Randle may not produce large numbers early in his career, but by his third year in the league he should be primed for a Pro Bowl-caliber season.
Jeff Zelevansky/Getty Images

This pick could easily be Virginia CB Chase Minnifield if he were available, but I believe he will be selected sometime in the second round.
Leonard Johnson is a poor man's Antoine Winfield, measuring in at 5'10", 196 lbs. He possesses below-average speed, but has impeccable recognition skills and excels in zone coverage.
Using Winfield as a mentor, Johnson should be able to see significant playing time with the Vikings in 2012. No measurable will stick out on paper to fans, but he can flat-out play.
Kendricks opened a lot of casual fans' eyes during the combine posting top-five numbers among LBs in the 20-yard shuttle, and the group's best 40 (4.47 sec.), vertical jump (39.5 in.) and broad jump (127 in.).
His stock is most certainly rising and I would not be surprised to see him off the board before this selection. However, there are still many who are questioning whether he can play MLB in the NFL with his 5'11", 237 lbs. frame.
But plays like the one in the video above are proof that he is not afraid to mix it up. Kendricks is the reigning Pac-12 defensive player of the year and would be a good fit covering the deep third in the Vikings' Tampa 2 scheme.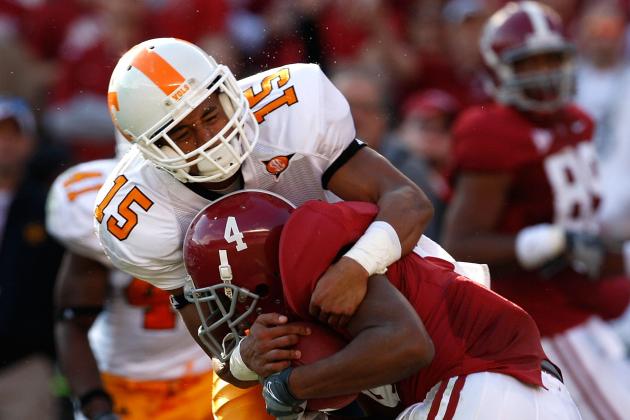 Kevin C. Cox/Getty Images

Safety was arguably the Vikings' weakest position a season ago. Addressing this position in both free agency and the draft is a must for the Vikings.
Although the position is in dire need for an upgrade, the 2012 class of safeties is viewed being devoid of top-end prospects. However, one late-round guy who has the potential to be a solid starter in the future is Janzen Jackson.
The 5'11", 188 lbs. Jackson has all the tools to excel in the NFL, but carries some off-the-field baggage that is keeping his stock down. He was arrested, and acquitted of aiding in an armed robbery in 2009 and was kicked off the Tennessee football team in 2011 for undisclosed reasons.
Even with these problems, Jackson is worth the risk in the fifth round. He has great hip turns which are essential while playing in Cover 2. He is not the most physical safety and needs to work on his tackling, but his talent is worthy of being selected much higher.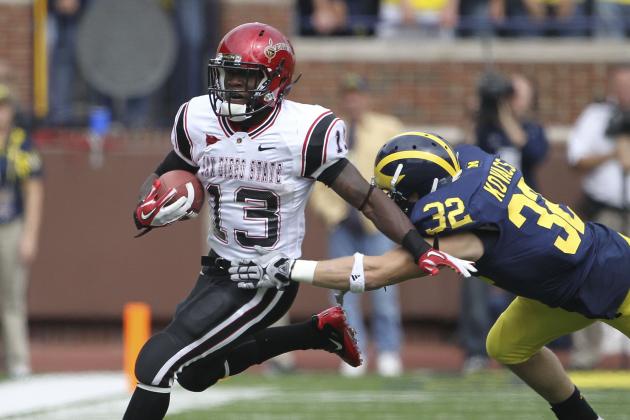 Leon Halip/Getty Images

* Edit: This selection was recently given to the Vikings from the Cleveland Browns as part of the Jayme Mitchell trade.
With Adrian Peterson coming off a knee injury, Toby Gerhart not being a threat in the passing game, and Lorenzo Booker not likely to come back, the Vikings are in need of a third-down back who can create in the screen game.
The 5'9" 200 lbs. Hillman would be able to provide the team with just that. Hillman has great speed (4.41 sec. 40) and is deadly in the open field.
This combination usually translates into a back who is excellent in the screen game. Although he may not have the size to be a great blocker, he has at least shown the willingness to try.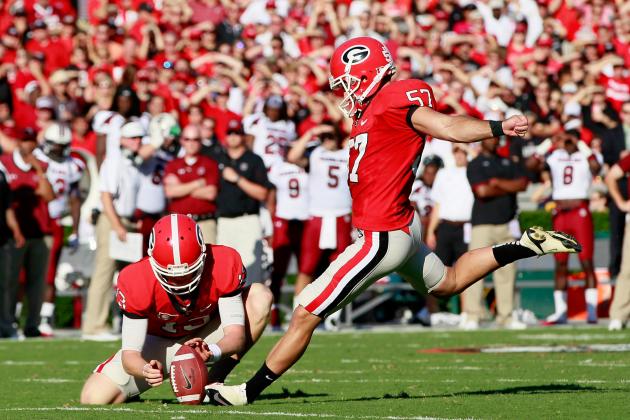 Kevin C. Cox/Getty Images

Fans may cringe when seeing this selection, but Walsh would be able to compete with veteran Ryan Longwell for the starting kicker spot, as well as giving the Vikings a legitimate kickoff specialist.
Longwell struggled last season making less than 84 percent of his kicks for the first time in his career with the Vikings. Entering 2012, at the age of 38, I simply think Longwell is losing the distance needed to stick around in Minnesota.
Walsh possesses both a strong and accurate leg. He struggled with consistency in 2011, but in his two previous seasons connected on 40 of his 45 field goal attempts, including going 17-for-20 from 40-plus yards.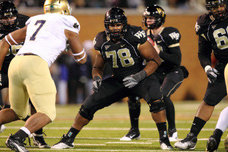 This is a player I would love to see the team target in the later rounds. He could compete for a starting job right out of camp given the likely release of at least one starter from a season ago.
At 6'3", 309 lbs. Looney is an agile guard with excellent footwork. He struggles with keeping his balance in pass sets, but overall is a solid pass blocker. Looney is also a solid run blocker, and could really excel with proper coaching from offensive line coach Jeff Davidson.
All-Pro guards can be drafted in any round as evidenced by New Orleans tandem Carl Nicks (fifth round) and Jahri Evans (fourth round). It is up to proper coaching and determination by the player to perform at this level.
Looney has the leadership skills and will to learn that could make him a Pro Bowl-caliber player down the road.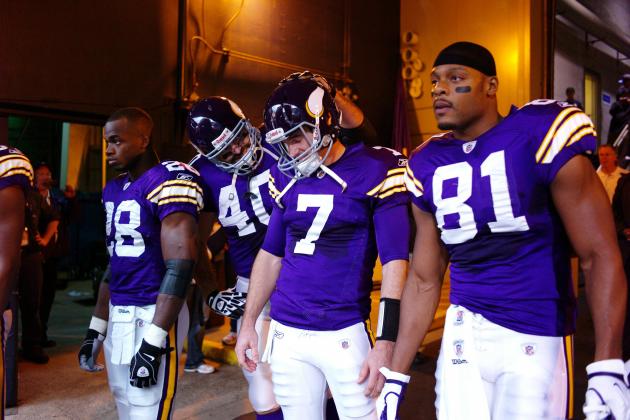 Adam Bettcher/Getty Images

The Vikings currently are sitting on seven selections in the draft, but the number is rumored to be increasing when the NFL releases its list of supplemental picks. They will assuredly gain one selection and as many as three.
It is often stated that teams should not draft for need, but instead take the best player available. While this idea seems like a no-brainer on the surface, I believe the Vikings will be better suited in the long run to address their most dire needs early and transition to taking the best available player in later rounds.
A draft consisting of something this would go a long way towards building a consistent winner in the near future:
1st Round: Matt Kalil, LT, USC, 6'6", 306 lbs.
2nd Round: Rueben Randle, WR, LSU, 6'3", 209 lbs.
3rd Round: Leonard Johnson, CB, Iowa St., 5'10", 196 lbs.
4th Round: Mychal Kendricks, MLB, California, 5'11", 237 lbs.
5th Round: Janzen Jackson, FS, McNeese St., 5'11", 188 lbs.
6th Round: Ronnie Hillman, RB San Diego St. 5'9", 200 lbs.
7th Round (a): Blair Walsh, K, Georgia, 5'10", 195 lbs.
7th Round (b): Joe Looney, G, Wake Forest, 6'3", 309 lbs.