Revamped Florida Panthers in Unfamiliar Territory
March 7, 2012

Marianne Helm/Getty Images
For the first time in more than a decade the Panthers find themselves entering the stretch run looking down at who is chasing them rather than looking up at who they must catch for a playoff berth. After a 10 season playoff drought, Dale Tallon's drastically revamped cast is in a position to control their own destiny without looking at the out of town scoreboard.
It was not an easy journey. After a start to the season which went so well that even the team's mascot was recognized for excellence, reality set in when as many as seven forwards were out injured. When some forwards came back the defensemen started going down.
Veteran Ed Jovanovski, a much matured Dmitry Kulikov and the surprising high scoring d-man Jason Garrison were all out at the same time.  While this was happening, all three goalies, Jose Theodore, Scott Clemmensen and Jacob Markstrom, did time on the injury list.
The opposition also solved what at one time was the league's highest scoring line in Stephen Weiss, Kris Versteeg and Tomas Fleischmann, forcing first year coach Kevin Dineen to intermingle his first line with second liners Sean Bergenheim, Mikael Samuelsson and Marcel Goc.  Versteeg has been out recently with an undisclosed injury, complicating the line combinations even more.
Thanks to the early play which thrust the Cats into first place in the weaker Southeast Division, they are still in good position but by no means assured of a berth. In reality, once the team cooled off after the first third of the season they were seldom more than a shootout loss away from ninth place in the east (They are a distressing 5-12 in post-regulation this year). Fortunately for Florida, Washington has been in a prolonged funk.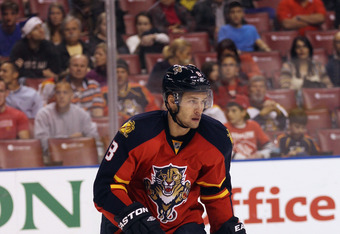 Bruce Bennett/Getty Images
The Cats have lost 291 man games to injury thus far, forcing numerous realignments and a host of AHL callups. Tallon, who is thinking long term, didn't make panic deals and at the trade deadline made but two acquisitions for their specialties.
Wojtec Wolski  who came over from the New York Rangers is a streak scorer and shootout specialist while Jerred Smithson, acquired from Nashville, is a faceoff specialist. 
Wolski paid immediate dividends with a game winner in his first game. Significantly, it snapped a four game losing streak and ignited the Panthers to a three game win streak which enabled them to maintain their precarious first place position.
Dineen navigated the team through the injuries to the point where they are now almost healthy, save for Kulikov (knee surgery) and Scotty Upshall (sports hernia) who are "at least a few weeks away."    
He acknowledged to The Fischler Report that several of his healthy mainstays kept the team competitive when injuries were at their peak. "The guys who've been there on a daily basis, like  Stephen Weiss, Brian Campbell and Tomas Kopecky continuously just show up and play hard.  Shawn Matthias has been a good healthy player this year. He's been an important piece of what we're doing and has done a good job for us."  
Matthias is a third year man and primarily a third line grinder who comes up with timely goals. He is one of the few mainstays from last season and from a player's perspective, appreciates the team's competitive position.
"The last two years were terrible at the end of the year. You're going to the rink for nothing, knowing you're not making the playoffs.  It's hard to be motivated, but now every game is so intense that I feel like I'm already in the playoffs.  Right now is the most fun I've ever had playing hockey. If you can't get motivated there's something wrong with you."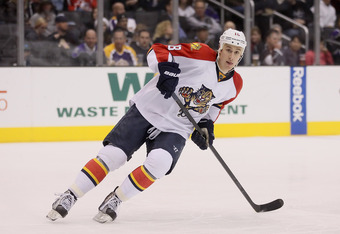 Jeff Gross/Getty Images
With 17 games remaining, primarily against conference rivals, the mix changes every day. "We're looking for more consistency," according to Dineen (The Panthers have relinquished the first two goals in six of their last eight games). "We have 14 healthy forwards now. I have options every night. There are guys fighting for spots right now. They can count. It's easy for them to figure out how many bodies are options for us to use. It's a good situation for a coach." 
With Marco Sturm back from the injury list and Versteeg, Upshall and Kulikov at least within planning range, the situation will get more crowded. 
Stay tuned. It's been a while since there was this much late season hockey interest in this part of Florida.