Reflections on the Pittsburgh Steelers
March 7, 2012

Gregory Shamus/Getty Images
Since so much has changed with our Pittsburgh Steelers over the past few weeks and months, I thought it would be nice to draw a line between the frames (like I used to do to gain a psychological advantage during a bowling outing after rolling a few consecutive lousy frames) and start with a fresh perspective. So allow me a few lousy frames first...you know, to get it out of my system once and for all...
Hines Ward is gone forever now from making Pittsburgh Steelers football plays, much to the dismay of so many of us. I watched the Green Bay Packers recently secure their iron man WR Donald Driver to a contract that will end his career with the fans of Green Bay. Driver, for those of you who may not know, is a year older than Hines Ward. I won't speculate who the better player is between them at this late stage of their careers. I think Pittsburgh Steelers fans have a natural penchant for rooting for the underdog. Hines Ward would have shown up in camp ready to go, with his trademark white trainer's tape peeled across the front of his helmet...the word 'Ward' neatly printed there in black Sharpie. Ward would have been the biggest underdog in camp this summer, had he only been given that last chance...and the fans would have rooted hard for Hines again...
Watching the NFL Scouting Combine must have poked and prodded CB Ike Taylor to death and back. As many times as the game-losing TD reception by Broncos WR Demaryius Thomas was repeatedly shown on the NFL Network's coverage of the event, I found myself becoming more furious with Ike Taylor's failure with each and every repeat commercial. What a sickening moment. Taylor had such an extraordinary season for it to come crashing down the way it did upon him. I'm not sure I'll ever recover from that moment—Ike Taylor has no choice. Can a play like that become an Achilles heel for Ike Taylor for the remainder of his journeyman's NFL career?...
Doug Pensinger/Getty Images
So much has been said about DE Aaron Smith's football prowess as a five-technique 3-4 left defensive end, and when coming from defensive coordinator Dick LeBeau, who could ever argue about its validity? But I'm a pragmatist by nature. And for the past few seasons I have watched a few very domineering NFL defensive fronts put the heat on NFL quarterbacks. From a fan's perspective (especially a long-tenured Pittsburgh Steelers fan's perspective; going back to the Steel Curtain years) what I am seeing in Pittsburgh lately across the defensive front trenches is about two rungs lower on the ladder of domineering trench warfare as what I would prefer to be watching. Considering that we've spent two recent first-round picks on defensive linemen, one has to be wondering at what point in time our boys will climb another rung?...
I took spoonful after spoonful of medicine around Steelers Country over the past several years concerning my unflappable support for offensive coordinator Bruce Arians. It was his passing formations; it was his run-blocking schemes (or lack thereof); it was his play calling (or lack thereof—especially inside the red zone); it was his predictability. I saw it differently than most. I saw the Pittsburgh Steelers' offense finally entering into the 21st century of prolific NFL passing offenses. Two sets of dual 1,000-yard WR's were harvested in Arians' five seasons at the helm; first it was Hines Ward/Santonio Holmes, then it was Mike Wallace/Antonio Brown. Sure, we had our scoring woes inside the red zone, but I am a patient fan with highly watchful eyes. And I saw many a dropped football, fumbled football and untimely QB sack going down inside the red zone. To have reached into the upper tier of red-zone offenses during the Bruce Arians tenure would have been easy to accomplish by simply cutting those on-field miscues down to about a quarter of their frequency; and perhaps a few more thoughtful play calls sprinkled in here and there...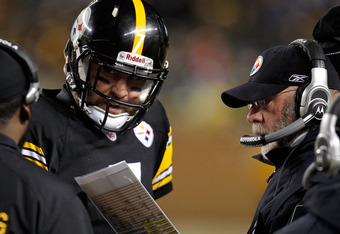 Gregory Shamus/Getty Images
ILB James Farrior was more than a really solid Pittsburgh Steelers inside linebacker. James Farrior was an attitude. In his prime with the Pittsburgh Steelers, the fans of Steelers Nation were able to exhibit a high degree of confidence—on par with James Farrior's confidence—in our defense, in large part because of the reliability and iron man-like qualities that James Farrior elicited. "Potsie" quickly and forever welded his iron into the substance of Pittsburgh Steelers defensive football play during his tenure with the organization. Replacing him will be no minor obstacle in the pathway of the Pittsburgh Steelers defense of 2012 and beyond...
I recognize that when an NFL organization drafts a first-round pick, that player is given every chance to step into his prominence. No NFL fan looks forward to hearing the word "bust" spoken about the high-round draft choices their team has selected. Fortunately for the Pittsburgh Steelers, lately they have had a string of fairly productive first-rounders. The torn ACL injury to RB Rashard Mendenhall was very untimely for him, for the team, and for the fans of Pittsburgh. One could never use the word "bust" in the same sentence as Rashard Mendenhall. But it had become quite evident to me that, perhaps because of Mendenhall's first-round stature, superior speed and quickness, etc., etc., etc., that maybe he was given far more patience and leniency during his on-field shortcomings than should have been doled out. The fact that RB Isaac Redman had done more than his share to earn more playing time only to find his chances limited led me to ponder whether Mendenhall's ACL injury may become a blessing in disguise for the Pittsburgh Steelers, as they evaluate live-game touches from a few of their other young RB's...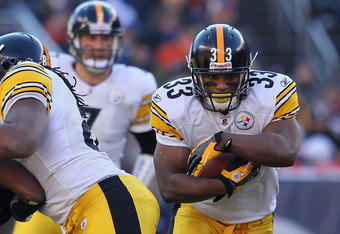 Jeff Gross/Getty Images
The Mike Wallace matter is the next big topic of Pittsburgh Steelers Country football chatter. I am not worried about the matter myself, nor do I care where Mike Wallace ends up if the Steelers decide to part ways with him. WR Santonio Holmes was rapidly replaced in the Steelers starting roster. So was WR Plaxico Burress; both of whom were first-round draft picks with big promise and real-life productivity. Replacing Wallace and his blazing speed can and would be accomplished. Being that the Pittsburgh Steelers are reforging their steel these days, the thought of an extra first-round draft choice during a draft class that has some very promising NFL-caliber players across multiple "needs" positions just might be too enticing for the Steelers organization to pass on...
The Pittsburgh Steelers over the decades have done a good job of maintaining a standard of competitiveness to meet my expectations as a fan. I see these seemingly significant changes over the past few months for the Pittsburgh Steelers in much the same light as what I was doing between frames in a bowling contest, as I scribbled a solid line between the previous few frames and the next ones to come. For me it was a visual cue to a psychological need to move on—the "game" is there and is potentially much better than it has been rolled in the past few frames...draw the line!...knock 'em down! I expect big things from the Pittsburgh Steelers in 2012 and beyond.