San Jose Sharks: How Are TJ Galiardi and Daniel Winnik Fitting in with the Team?
March 7, 2012

Thearon W. Henderson/Getty Images
San Jose Sharks GM Doug Wilson brought in TJ Galiardi and Daniel Winnik from Colorado at the trade deadline in an attempt to shake things up down the stretch.
"We felt that TJ and Daniel bring some additional size, speed and penalty killing to our existing group of forwards," Wilson told Sharks.com.
At the time, Galiardi had posted 14 points and 47 penalty minutes in 55 games. Winnik had 18 points and 42 penalty minutes in 63 games.
Safe to say, the transition has been hard for both players.
Galiardi has no points on the four-game homestand. Winnik has one assist. They each have two penalty minutes.
Their acquiescence may be hampered by three factors:
They join a slumping team in the middle of a playoff race.
They are playing in a new system.
They played three of their first four games without their head coach behind the bench and have only had one practice during that time.
***
The team was coming off a brutal road trip, a nine-game stretch where the team went 2-6-1 and relinquished the division lead.
Wilson had to make a move.
An annual playoff team since the 2003-04 season, the Sharks sit on the edge of the Western Conference precipice, knowing that the Los Angeles Kings or the Avalanche could knock them out of the playoff race.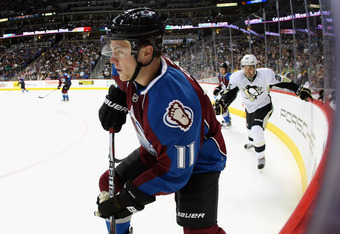 Doug Pensinger/Getty Images
So out went Jamie McGinn, a player who thought he'd be a Shark for life, and two prospects.
In came Galiardi, a player Thornton apparently "wanted to kill," and Winnik, a player the Sharks organization was familiar with from his time in Phoenix.
"We're in a funk and we need to get out of it," said Douglas Murray on March 5, his first game back and the third game for Galiardi and Winnik.
"You want to get into the playoffs on a high," says Galiardi, whose former team could potentially overtake the Sharks for a late seed in the postseason. "Every game is important."
***
"We went over a lot today," Galiardi said after his first game as a Shark, a 1-0 win over Philadelphia.
"The systems are a lot different that we're used to, but at the end of the day, we're all hockey players and can make the reads."
For example, on the penalty kill, Colorado head coach Joe Sacco had the team apply pressure on the puck.
"Here, it's more sit back and make your reads and see what plays you need to make," says Winnik, "as opposed to dictating the plays that they're going to make."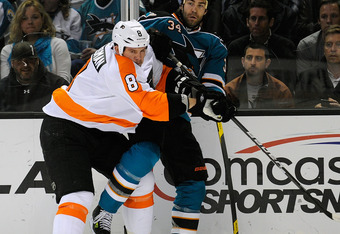 Thearon W. Henderson/Getty Images
Teammate Dominic Moore, a peripatetic player who arrived on Feb. 16 from Tampa Bay and has been a part of five deadline transactions since graduating from Harvard in 2003, says that malleability will be key for Galiardi and Winnik.
"You're never…expecting it," Moore says of being dealt at the deadline.
"The quicker you become flexible in terms of adjusting to new things and getting comfortable with the systems—you can put the time in knowing the system intellectually, but you have to play through it so it becomes automatic."
In short, Galiardi and Winnik need to see ice time.
***
Aside from adjusting to a new city, new teammates and a new system, Galiardi and Winnik also had to play without McLellan behind the bench.
Assistant coaches Jay Woodcroft and Matt Shaw replaced McLellan after he sustained a concussion in a freak accident during the team's game in Minnesota.
In the St. Louis game, a 3-1 loss, Galiardi only had four shifts and two-and-a-half minutes on the ice.
"The game kinda dictated that," said Shaw about not playing his fourth line.
Winnik had 23 shifts and just less than 15 minutes of ice time that game.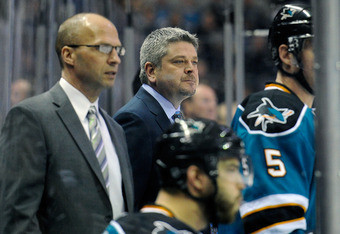 Thearon W. Henderson/Getty Images
"It makes it a little harder," Galiardi said of making the adjustment without McLellan at practice two days after the St. Louis game.
"Once he gets back, things will get a little easier, and he'll work with us more specifically one-on-one."
The lack of practice is hindering the entire team; not just Galiardi and Winnik.
"You want to stay positive; you want to encourage your teammates to just keep working," said Thornton after the shootout loss to Edmonton on March 7. "That's all you really can do, keep working hard in practice when we do practice—we haven't been practicing much."
McLellan ran the team's only practice during the homestand on March 6 and was back behind the bench for the team's March 7 contest, but maintains he's not 100 percent.
"It wasn't an easy night," said McLellan, "I probably wasn't sharp enough in some areas."
Galiardi got 13 shifts against Edmonton and produced two shots in 12 minutes of ice time.
Winnik got 20 shifts, just over 15 minutes on ice, had two shots and won half his faceoffs.
***
"There's two sides to a player," says McLellan.
"There's his personality and his attitude, and we see that when they come to the rink. They're happy to be here; they seem to fit in well with the group.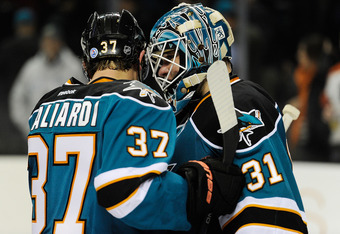 Thearon W. Henderson/Getty Images
"From the hockey perspective, they're still getting their feet wet. They're trying to understand certain questions. They're asking very knowledgeable questions, questions that you expect them to ask, they're asking, so they are engaged."
In reality, both players should continue to improve on the road trip.
They've been with the team now for four games.
They'll get to know their teammates better while traveling.
And they've got their coach back.
Then again, they'll have to face another obstacle:
Playing away from home.
Tom Schreier is a Featured Columnist for Bleacher Report.
He covers hockey and baseball.
All quotes were obtained first-hand unless otherwise indicated.
Follow Tom on Twitter @tschreier3.