NBA Rumors: Power Ranking Best Fits for Boris Diaw
March 7, 2012

Streeter Lecka/Getty Images
Boris Diaw is not having a good time with the Charlotte Bobcats. Then again, it's a wonder if anybody is at this point. 
According to the Charlotte Observer, Diaw is seeking a buyout from the Bobcats, which would free him up and allow him to go wherever he wanted.
Clearly, he would choose a contending team, and some of the choices are better than others.
That being said, here are the best fits for Diaw should he be bought out. 
New York Knicks 
Having played for Mike D'Antoni before, re-joining with him in New York would make a lot of sense. 
The Knicks could use forward depth, as it would make them stronger down the stretch of the season. Currently in eighth place in the Eastern Conference, there is no guarantee the Knicks make the playoffs. 
If they have the chance to get better, they need to jump at it. Diaw can still contribute to a team very well, and the Knicks would love to have him. 
Los Angeles Clippers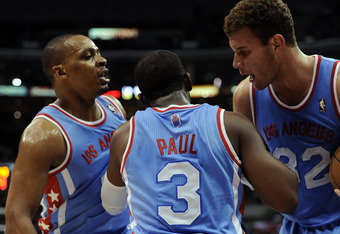 Harry How/Getty Images
Another team in need of depth as the season progresses, the Clippers would definitely find a place for Diaw. 
He can still shoot at a high level, and he's also a good passer for a big man. Joining "Lob City" would work well for Diaw, as well as give the Los Angeles a strong push in the closing months of the season.
The Clippers are going to make the playoffs, but in order to win it all, they'll need better depth. Acquiring a proven player like Diaw will greatly benefit them. 
Atlanta Hawks
With Al Horford out, the Hawks have been fighting hard to stay alive. It's put a lot of pressure on Joe Johnson and Josh Smith, as well as the rest of the team. 
If Atlanta were to pick up Diaw, though, some of that pressure would be taken off, as Diaw would give the Hawks great production and strong minutes. 
By being on a contender, Diaw would be at ease, which would result in him playing better. His confidence would be lifted because he'd no longer be on a losing team. This would help the Hawks as they strive to be better than just a first-round playoff team.