Juventus: Conte, Bonucci Sent off in 1-1 Draw
March 7, 2012

Mario Carlini / Iguana Press/Getty Images
On Saturday, against Chievo Verona, Mirko Vucinic had an absolutely terrible performance. Today, against Bologna, he basically repeated that terrible performance, although this time he was just a tad bit better.
Included in that 'tad bit' of better play was the only Juventus goal today. Most of the credit of the goal should go to Andrea Pirlo, who sent Vucinic an absolutely beautiful long ball. Vucinic had some space, and he was able to send it over Bologna's goal keeper Jean-Francois Gillet for the goal.
Unfortunately for Juventus, that goal only equalized the game at 1-1. Bologna striker (and consistent Juve killer) Marco Di Vaio capitalized on a series of mistakes from the Juventus backline to slip a ball past Gianluigi Buffon and into the net. The goal came pretty early, at 17 minutes in, and really unnerved Juventus.
There were two big mistakes that led to Di Vaio's goal, though only one was a direct cause of the goal. The first mistake came from the new central defending partnership of Martin Caceres and Leonardo Bonucci, as both men were beaten by their marks.
After that, Stephan Lichtsteiner, usually a top defender, messed up an offside trap on Di Vaio, and Di Vaio got free.
I had previewed this match over at the JuveFC.com blog, and I expressed concerns about both Di Vaio's legacy of goals against Juve and the new Caceres-Bonucci partnership.
Regular readers know that I am a big Bonucci supporter (although today he played rather poorly), but Bonucci has also been able to rely (somewhat) on the safety net provided by Giorgio Chiellini and Andrea Barzagli. But with both of those men injured, Caceres and Bonucci were the only options in central defense.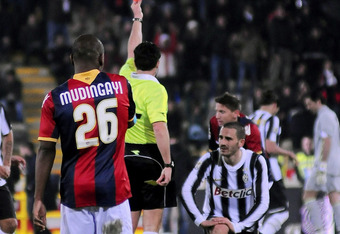 Mario Carlini / Iguana Press/Getty Images
Caceres and Bonucci both did well when it came to passing, although Bonucci did give up the ball deep in Juve's territory. Luckily for Leo, nothing came of that slip-up.
Although both men did well in the long ball department, Caceres had the more successful match. Both men completed seven accurate long balls, but Caceres was a bit more accurate in passing, and he was more solid in defense.
Caceres did have a few small errors early in the match, not including his joint error with Bonucci on the goal, but he settled down after a short while. Bonucci, on the other hand, continued to make costly errors. For the most part, his errors were in passing or making bad fouls. Indeed, Bonucci was sent off in the 84th minute after receiving his second yellow.
The yellow came after Gaston Ramirez began a dangerous counter attack. Bonucci dove in for a tackle, but his challenge was late. He took down Ramirez, and immediately he knew that he was going to be sent off.
Simone Padoin came on for Simone Pepe after the red card, and Padoin played in place of Arturo Vidal, who moved back and played as a center-back.
This was the second sending off for Juve today. The first was the coach himself, Antonio Conte. After a play in which Paolo De Ceglie was taken down in the box (off a possible foul, but not a definite one), the referee did not award Juventus a penalty.
Conte lost it, and began screaming at the fourth official. He was quickly sent off, and Juventus were left without a coach.
Unfortunately, Conte was sent off before he had made any substitutions. Conte had plenty of time to make some substitutions, and indeed probably should have taken off Vucinic or Marco Borriello at halftime, but both men stayed.
There were, eventually, some substitutions made. In the 77th minute, Vucinic and Borriello came off for Emanuele Giaccherini and Fabio Quagliarella, respectively. Neither man made a great impact on the game, and Quags was once again given only a small amount of playing time.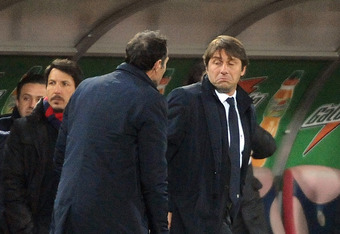 Mario Carlini / Iguana Press/Getty Images
Considering his miracle return to fitness after tearing his ACL, and his strong play when given the chance, Quags should be seeing more time. Unfortunately, Conte prefers to play Mirko Vucinic or Marco Borriello, so Quags does not get the playing time he so badly needs to round into top form.
Don't let Mirko's goal fool you, he had a lousy game. He was dispossessed three times and have five turnovers. While he didn't bring the offensive motion to a screeching halt like he did against Chievo, he certainly wasn't as productive as someone like Alessandro Matri would have been.
Vucinic would have led the team in turnovers had it not been for Conte's other prized yet crappy player, Marco Borriello. Marco had one less dispossession than Mirko, but he also had one more turnover. Two dispossessions and six turnovers are stats that you don't see from class strikers.
Borriello also had a very tough time staying on his feet today. This is something that the big man has struggled with since his arrival in Turin. For whatever reason, the guy is falling down all the time.
Unfortunately, Conte has shown that he prefers the Borriellos and Vucinics of the world to the Del Pieros or the Quagliarellas. Meanwhile, Alessandro Matri leads the team in goals and Vucinic still gets picked over him.
Conte's player selection has been the biggest driver behind Juve's recent troubles. Conte's player selection is more of a driver than player fatigue or mistakes by individuals, both of which are also factors behind Juve's dip in form.
Despite a run of terrible form lasting almost two months, Conte still gives prominence to Vucinic in his tactical selections. Conte insists that Vucinic is a creative and talented player, but how creative is it to run straight at the defense time and time again?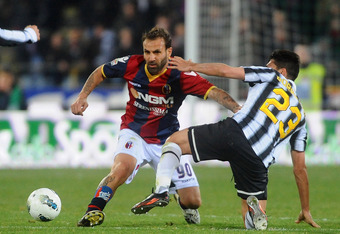 Mario Carlini / Iguana Press/Getty Images
It's odd that Conte plays Vucinic so often, as Vucinic graduated top of his class from the Milos Krasic Academy of Repetitive Attacking. So Milos gets no playing time, but the man who has so perfectly copied his flaws gets all the playing time in the world.
Conte's worst continued offenses are his refusals to field Alessandro Del Piero (often) or Eljero Elia (at all). While Del Piero has seen a decent amount of time this year, he is almost never played when his creativity is needed. Instead, the team relies on Mirko Vucinic. That's part of the reason why Juventus have drawn as many games as they have won.
As for Elia, Conte keeps praising him in press conferences and insists that Elia will play. He called Elia the "ace up his sleeve." Unfortunately for the Dutchman, Conte prefers sleeveless shirts, handcrafted by Mirko Vucinic. Perhaps that's why Mirko sees so much time—he bribes Conte with homemade sleeveless t-shirts.
While Conte repeated his usual failings in player selection, there was one bright area for the team today. The midfield trio of Arturo Vidal, Andrea Pirlo and Claudio Marchisio performed quite well.
Pirlo has been consistently great all season, though recently he has seen some 'meh' performances. Marchisio has been very quiet since 2012 began, but today he made a pretty big impact.
Granted, he also missed a point blank shot on goal that could have given Juve a 2-1 lead, but overall he had a good match. He showed an ability to do something that many of Juve's forwards cannot do: dribble.
Pirlo, meanwhile, was his usual excellent self. He was spraying accurate long balls all over the place, and his assist was crucial to Mirko's goal. He made three key passes, and even pitched in on defense with an important interception.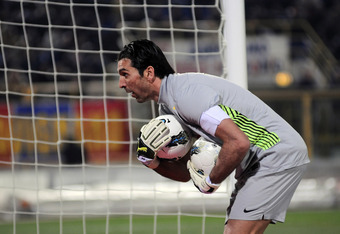 Mario Carlini / Iguana Press/Getty Images
Vidal was certainly the least impressive of the three, and he was a bit mediocre in the first half. However, his game picked up as the game went on, and for a while there he looked like the Arturo Vidal of 2011. Mostly, his 11 tackles provided some solidity to a midfield that was desperately lacking in solidity against Chievo.
After today's 1-1 draw, Juve have wasted their final chance at catching A.C. Milan. This is not to say that they cannot once again catch up to or surpass Milan, but they must now rely on Milan slipping up.
Unlike Juve, Milan's remaining fixture list (not counting the Champions League) is relatively tame. Juve face Inter, Lazio, Roma and Napoli, along with the provincial sides who Juve have so struggled to beat.
Of course, as the saying goes "Calcio is not played on paper." Milan could slip up and give Juventus a chance to catch them, but until Conte makes some big changes in his player selection, Juve should not even dream of catching Milan.
I'm not going to end with my usual tagline, because I'm not praising Conte right now. I'm mad at Conte right now, I'm mad at him for getting sent off for stupid reasons, and mostly for his continued terrible player selection.
Despite all that, I will say this: Forza Juve!