San Francisco 49ers Mock Draft: A Full 7-Round Projection
March 8, 2012

Streeter Lecka/Getty Images
If the NFL draft is a wedding between team and player, then the Scouting Combine is the bachelor party. The last hoorah with the boys. A cocktail of equal amounts celebration and potential trouble. That chance to scope talent while a certain question, one that grows increasingly foggy as the event proceeds, flounders about in the back of your mind:
Am I really committed to the plan?  
Then the prospects walk out in their skimpy outfits to begin a series of drills. Eyes start to wander; words are uttered, accompanied by drool. 
"He's got great hands."
"Wow, those are some fluid hips."
"Look at the speed on that one."
I'll admit, I snuck a few glances. Glances turned into stares and before I knew it, I was experiencing a change of heart on a few selections from my previous mock draft.  
Here is the updated version, though prone to adjustments depending on free-agency moves and pro-day performances. 
Round 1: WR Stephen Hill, Georgia Tech
Hill has all the physical tools of an elite receiver: He's big, fast, can jump and has great hands. Best of all, for the 49ers at least, he is a dedicated blocker. Expect this addition to have much better results than the failed Braylon Edwards experiment. 
Also possible: OG Cordy Glenn, Georgia
Round 2: CB Trumaine Johnson, Montana
The signing of Ahmad Brooks and tagging of Dashon Goldson have all but opened the exit door for Carlos Rogers. Even if he does return, the 49ers will still look to add secondary depth. Johnson, much like Chris Culliver, is athletic, physical and fits their defensive scheme.
Also possible: WR Tommy Streeter, Miami (FL) 
Round 3: OG Amini Silatolu, Midwestern State
Silatolu continues his ascent up draft boards after a stellar week in Indianapolis. He's from a small school, but has the game to make a big impact at the next level. The 44 sacks surrendered by the 49ers offensive line, a league-high, scream for attention. This pick is a step in the right direction.
Also possible: DT Alameda Ta'amu, Washington 
Round 4: RB Robert Turbin, Utah State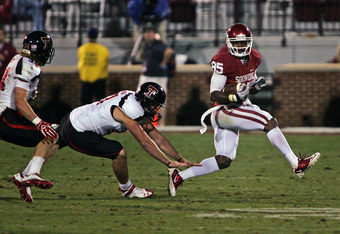 Brett Deering/Getty Images
The fact that this guy gets such little recognition absolutely boggles my mind. So, I've taken it upon myself to proclaim Turbin as the steal of the draft. He showed up to the combine completely ripped, backing it up with 28 bench-press repetitions of 225 pounds, and then ran a blazing 4.50-second 40-yard dash. Turbin and Kendall Hunter could form a lethal duo for years to come.
Also possible: CB Chase Minnifield, Virginia 
Round 5: WR Ryan Broyles, Oklahoma
Once considered a top prospect, Broyles has fallen off the map since tearing his ACL. The injury will limit him in the pre-draft process, but when healthy, he is one of the better slot receivers available. He is quick out of his breaks and has a knack for getting open. Contributions in the return game are a big plus, as well.
Also possible: WR T.Y. Hilton, Florida International    
Round 6: DT Akiem Hicks, Regina
The wild ride for Hicks, one that took him from LSU to little-known Regina, is now headed for the NFL. At 6'5" and 318 pounds with an 84" wingspan, Hicks has flashed the potential worthy of a late-round selection. He's got the quickness and strength to wreak havoc, but will need a couple years to develop.
Also possible: OT/OG Matt Reynolds, Brigham Young  
Round 7: SS Duke Ihenacho, San Jose State
Fans clamoring for a local college star finally get their wish. He's no Andrew Luck or Marvin Jones, but he fills a need for safety depth. The big-hitting Spartan has great range and excels at stepping up to stop the run. 
Also possible: CB Asa Jackson, Cal Poly