Baylor Basketball: Keys to Bears' 2012 NCAA Tournament Run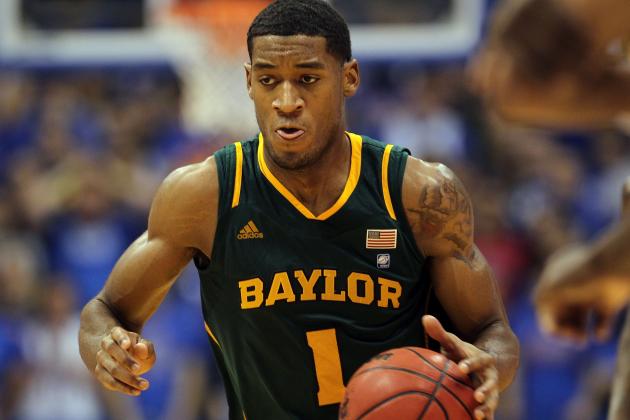 Jamie Squire/Getty Images

Although the No. 11 Baylor Bears struggled a bit down the stretch, they have locked themselves in as a No. 3 seed in the NCAA tournament and are poised to make a deep run. The Bears have one of the deeper teams in the nation, and that should serve them quite well moving forward.
There were big expectations for Baylor last season, but the Bears faltered in a big way as they missed the NCAA tournament. With its stars a year older and more experienced, however, Baylor is now in a much better position to succeed.
The Bears are most definitely battle-tested as they played in a strong Big 12 Conference this season against top teams like Kansas and Missouri. They had trouble beating the conference's better teams like Kansas, Mizzou, Kansas State and Iowa State, but the Bears have faced many quality opponents heading into the tourney.
Baylor isn't without its deficiencies and it is certainly vulnerable in terms of exiting the tournament early, but if everything comes together for the Bears, they have as much talent as any team in the nation.
Begin Slideshow

»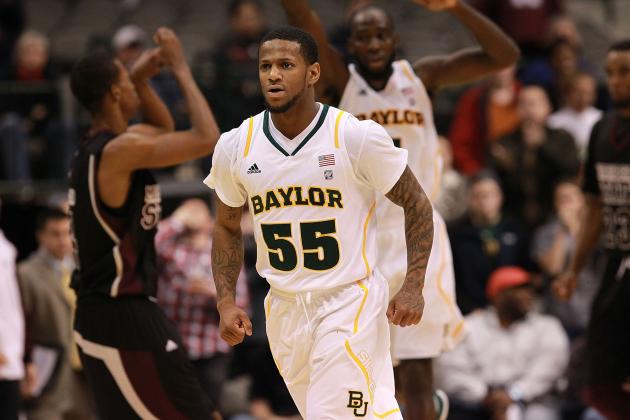 Ronald Martinez/Getty Images

The Bears entered this season under a lot of scrutiny because of how last year played out, but the talent-laden team responded this year and played much closer to its potential. There is a great mix of youngsters and veteran players who give Baylor a varied attack, particularly on the offensive end of the floor.
While Baylor is at its best when the entire rotation is contributing, there are certainly a couple specific players who need to stand out in the NCAA tournament in order for the Bears to go a long way. If they aren't on top of their respective games, then Baylor simply isn't going to last very long.
Pierre Jackson
As a transfer from the College of Southern Idaho, point guard Pierre Jackson has made a huge difference in his first year at Baylor. It didn't take long for the diminutive junior to get acclimated to Division I play as he may already be the Bears' best player.
Not only is he their leading scorer with 13.5 points per game, he is also the leader in assists by a wide margin with 5.6 per contest. He is extremely efficient on the offensive end as he shoots 48 percent from the field and 45 percent from beyond the arc.
Baylor was in desperate need of a floor general, and Jackson has stepped into that role seamlessly. To say that he has been the single most important player for the Bears this season wouldn't be a stretch. Guard play is always of the utmost importance come tournament time, so Jackson will have to carry over his stellar regular-season play.
Perry Jones III
While Pierre Jackson may be the straw that stirs the drink for Baylor, Perry Jones III is the player who sets the Bears apart from the opposition.
Although he has an unfortunate penchant for disappearing at times, Jones is among the best big men in the country when he is on his game. His averages of 13 points and 7.5 rebounds per game are solid, but they don't tell the entire story with regards to how good Jones can be.
At 6'11" and 235 lbs, Jones can afford to add some bulk, and since he's only a sophomore that is understandable. His lack of girth tends to get him into trouble against physical post players on the defensive end, but as long as he is contributing offensively, it isn't a huge issue.
Baylor will need Jones to play consistently well on offense and step up on the defensive end in order to be a contender.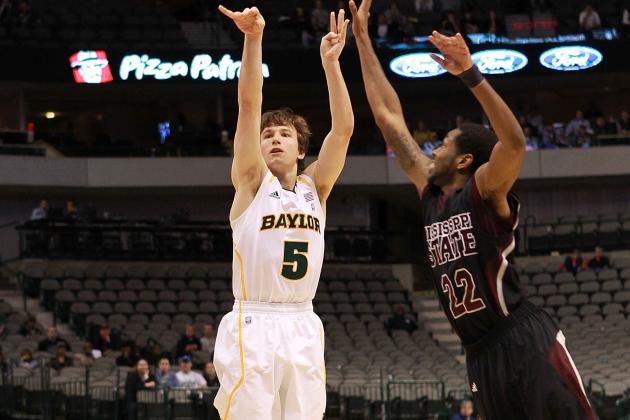 Ronald Martinez/Getty Images

If Baylor is going to have any sort of success in the NCAA tournament, then the stars like Pierre Jackson, Perry Jones III, Quincy Acy and Quincy Miller are going to have to shine. No team has ever won a title with only four contributing players, however, so the rest of the Bears' lineup and the bench will need to come through.
One player in particular that Baylor needs to have a strong tournament is guard Brady Heslip. The Boston College transfer is in his first season with the Bears, and while his numbers don't jump off the page, he has been a very important part of Baylor's success.
Heslip is what most would call the "glue guy" of the lineup. He isn't as noticeable as the flashy stars around him, but he does a little bit of everything and does the dirty work that is necessary to win. He is only averaging a little over nine points per game, but he is the team's leading three-point shooter in terms of volume made, and he is by far the best free-throw shooter.
Heslip figures to be invaluable late in games, especially if Baylor has the lead. There aren't many players in the nation who shoot 93 percent from the charity stripe, but Heslip does. There hasn't been a lot of talk about him all season long, but Heslip could easily be a deciding factor in multiple games in the NCAA tournament.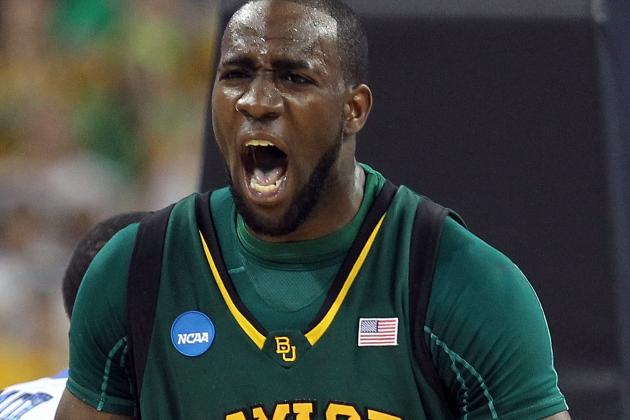 Ronald Martinez/Getty Images

One of the biggest traps that talented offensive teams fall into is settling for contested jump shots rather than making the extra pass and getting the ball into the paint. While Baylor has largely played well on offense this season, they have gotten into the habit of neglecting the painted area at times, and it has hurt them.
With talented bigs like Perry Jones III and Quincy Acy who can score the basketball inside, there is no reason to get lazy. Allowing Jones and Acy to operate in the paint will not only create buckets and fouls inside, but it ultimately opens up the rest of the floor so Pierre Jackson and Brady Heslip can hit from beyond the arc.
There aren't many teams in the country with two bigs that can match up with Jones and Acy, and the Bears need to do everything they can to play to their strengths. Getting the ball inside obviously does that, but it comes down to whether Baylor is disciplined enough to do it on a consistent basis.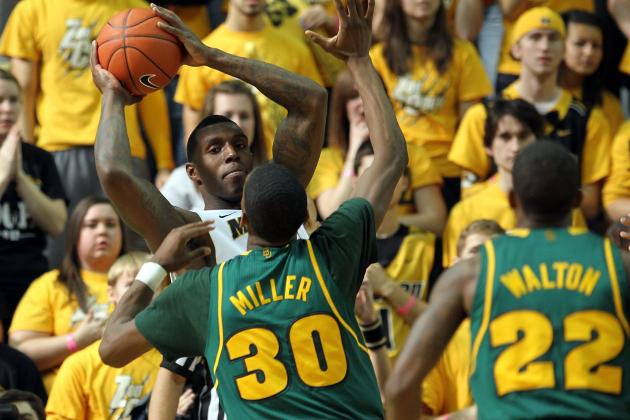 Jamie Squire/Getty Images

There is little question that the biggest weakness of Baylor heading into the NCAA tournament is its defense. Defense was chief reason why the Bears faltered this season, and it is also the main thing that has gotten them into trouble this year.
Despite the fact that they have so many long, athletic players, head coach Larry Drew prefers to play a zone defense. While a zone is good against teams that struggle to move the ball around on offense, it usually doesn't work against the nation's more explosive offenses.
Many Baylor players have the reputation of being poor defenders, but they may just be made to look poor because of the defensive system they operate in. Generally speaking, when players are big, fast and athletic, they have the ability to play great defense, and that is the case with the likes of Perry Jones III, Quincy Acy and Quincy Miller.
The zone can be effective in forcing turnovers and allowing Baylor to get out in transition, but once it is figured out, it tends to lose its luster. In consecutive losses to Kansas and Missouri earlier in the season, the Bears allowed 92 and 89 points, respectively. That simply cannot happen in the NCAA tournament.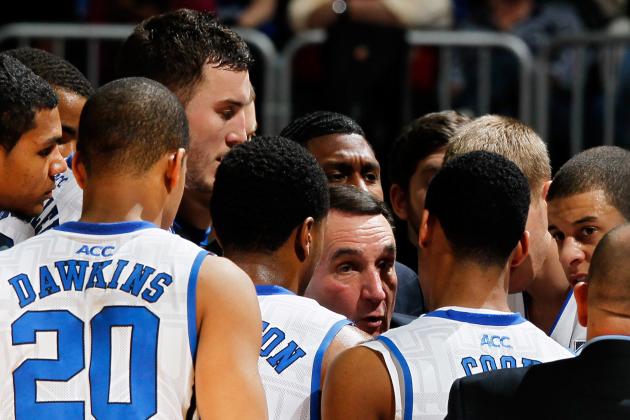 Kevin C. Cox/Getty Images

Duke
The combination of Duke's offense, rebounding, defense and smarts is going to be a challenge for Baylor, as Mike Krzyzewski goes for another historic run in the NCAA tournament.
But the difference for me is going to be Baylor's athleticism. This is a team composed of freakish athletes, headlined by Perry Jones. The Bears can also hold their own on the glass.
This is shaping up to be a fun matchup to watch, but I ultimately see Coach K's team going home.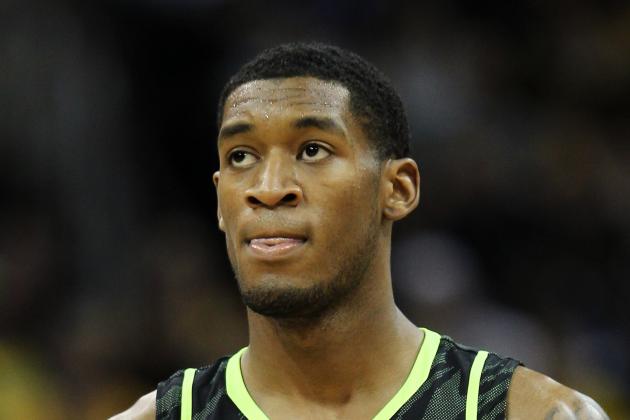 Jamie Squire/Getty Images

Elite Eight Exit
Sorry, Baylor, but you get to play No. 1 Kentucky if you advance to the Elite Eight.
Have fun.
Baylor is a very good, imposing team this season, but Kentucky is hands-down the best team in college basketball. Led by freshman sensation Anthony Davis, the Wildcats can score, rebound and defend at a very high level. Trying to score in the paint against this team doesn't usually work out very well.
I do think this will be an excellent game, especially because Baylor has the athleticism to hang with Kentucky, but in the end I see the Baylor coming up short of the Final Four.