West Virginia Basketball: Keys to Mountaineers' 2012 NCAA Tournament Run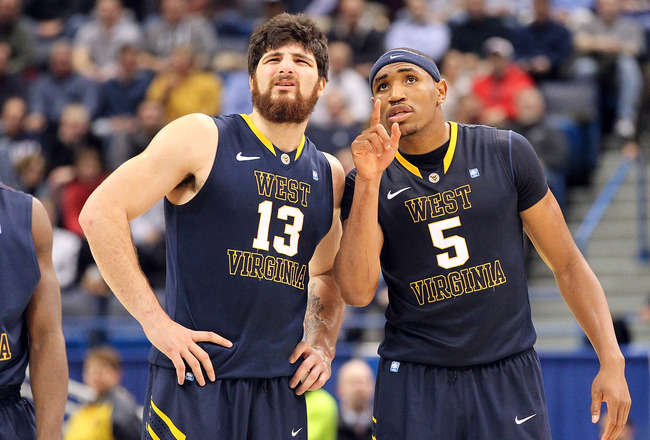 Jim Rogash/Getty Images
The West Virginia Mountaineers fought hard through their rigorous Big East schedule, finishing the season at 19-12.
For the 2012 NCAA tournament, the Mountaineers earned a No. 10 seed in the Big Dance.
In his fifth year as West Virginia head coach, Bob Huggins ended the regular season with his worst record yet.
However, all of that is forgotten, as everyone gets a fresh start in the tournament. The Mountaineers are capable of big things if they get hot.
With that said, read on to see what the keys are for the Mountaineers pursuit of a national championship.
Superstars Who Must Shine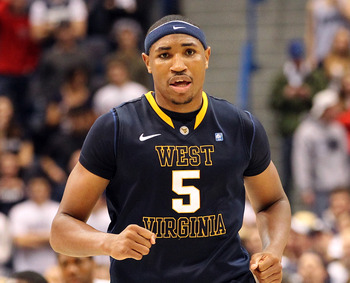 Jim Rogash/Getty Images
Kevin Jones
The senior forward is the leader of the team and he'll need to step up in a major way if the Mountaineers are going to get on a magical run.
Jones averaged 20 points and 11 rebounds per game during the regular season, and he's capable of putting up even bigger stats.
He has superb experience and will need to put the team on his back in order for West Virginia to have great success.
Darryl Bryant
Another senior leader, Bryant will need to use the experience he has to help the Mountaineers thrive in the tournament.
The 6'2" guard averaged 17 points per game on the year, but he has had a few games this season where he put up monster numbers.
Bryant has to catch fire in each game West Virginia plays during the tournament or else the Mountaineers will be in big trouble.
Role Player Who Must Emerge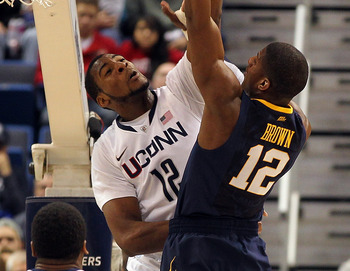 Jim Rogash/Getty Images
Aaron Brown
He may only be a freshman, but Brown has to rise up and play big for West Virginia.
Brown averages about 15 minutes per game, only scoring 4.4 points per game. Still, he is one of the best three-point shooters on the team, and he has to make sure he hits the big shots when open.
He's not going to be featured a ton, but when he does come off the bench, Brown has to provide a spark with some big shots to help West Virginia stay strong.
Offensive Strategy to Watch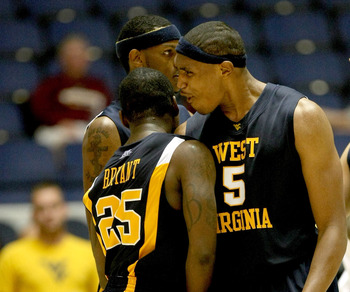 Stephen Dunn/Getty Images
The offensive game plan for the Mountaineers is to let their star players go to work.
Jones and Bryant do most of the scoring for West Virginia, and this isn't going to change. They excel on the court, working together to put the Mountaineers in position to win big.
Both players will need to play to their full potential, and the rest of the offense needs to feed off them. They may not be asked to shoot a ton, but when they get an open look they can't hesitate to take it.
Defensive Strategy to Watch
Jim Rogash/Getty Images
On defense, the Mountaineers cannot get into early foul trouble. Their big men can often make mistakes which ends up hurting the team in the end.
By avoiding foul trouble, the Mountaineers will be able to prosper longer, which in turn will lead to greater success.
In addition to that, West Virginia has to create turnovers to fluster their opponents. They did a decent job of that this season, but the Mountaineers will need to be more consistent in that area all the while avoiding foul trouble. That's easier than done of course.
Biggest NCAA Tournament Hurdle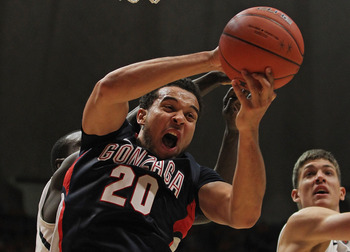 Jonathan Daniel/Getty Images
Gonzaga
The Mountaineers have to get past Gonzaga if they're going to go anywhere.
Unfortunately for the Mountaineers, Gonzaga is a ranked team and a better team.
What makes Gonzaga a dangerous team is its balance. The Bulldogs can score, rebound and play defense. A well-balanced team can hurt you in multiple ways, which means the Mountaineers need to be prepared for anything.
Gonzaga surprised then-No. 13 St. Mary's on Feb. 9, 73-59, so the Bulldogs certainly have the ability to beat top teams.
West Virginia is going to have a test on its hands from the start.
Last-Second NCAA Tournament Prediction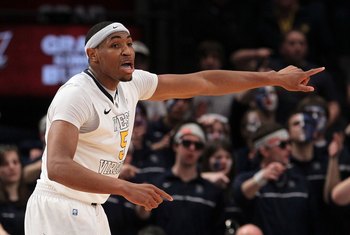 Jim McIsaac/Getty Images
Early Exit
I do believe West Virginia has a chance against Gonzaga, given the Mountaineers played some top opponents tough, including Louisville, Notre Dame and Marquette.
But Gonzaga is a legitimate top-25 team this season and I don't see anything West Virginia has that Gonzaga doesn't.
It's hard to project an upset when there's little basis to do so.
I will say, however, that Kevin Jones has the ability to take over games.
Keep Reading

WVU Basketball: Like this team?