Denver Broncos: Pairing Peyton Manning with Tim Tebow Could Be Nightmare for NFL
March 7, 2012

Doug Pensinger/Getty Images
In a televised press conference, the Indianapolis Colts officially released quarterback Peyton Manning, one of the greatest players to ever play the game.
Manning was the Colts' first-round draft pick in 1998, and through the years, he has been in a class almost all by himself, with Tom Brady being the only player that could be compared to him.
He's a perfectionist. A coach. The ultimate passer.
So, why does pairing him with the erratic, imperfect, sometimes ugly QB Tim Tebow of the Denver Broncos make so much sense?
Because their skill sets are polar opposites in every way. Manning is everything as a player that Tebow is not, and vice versa.
Manning could come in and start for the next three or four years, and Denver could continue to install Tebow in certain situations.
Teams were able to stifle the spread option offense only after they were able to spend a whole week studying and playing against it in practices.
What would defenses do if they had to not only prepare for Manning's elite air assault, but also had to be ready to stop random installations of the spread option and Tebow?
Aside from the obvious problems teams would face in trying to plan for two separate offenses, could Tebow possibly be in any better situation?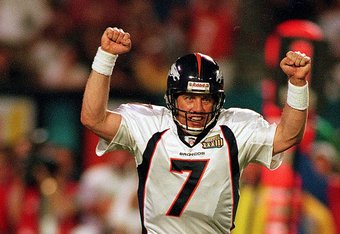 Al Bello/Getty Images
He would have the unbelievable opportunity to work with not one, but two of the greatest quarterbacks of all time: John Elway and Peyton Manning.
It's almost unfair for other young quarterbacks, and if anything can push Tebow to his ultimate potential, it would be working with the best of the very best to ever play his position.
The Broncos are also a team that could realistically attract Manning.
Not only do they have a ton of cap space to spend, they also have a solid offensive line and running game to go along with a pretty good defense.
Add Peyton to the mix, and Denver could be a serious contender.
And did I mention John Elway?
Elway can connect with Manning better than just about any coach or front office guy in the NFL. There is a mutual respect and admiration between the two that could go a long way in luring Manning to the Broncos.
A lot of teams are going to do everything they can to reel in the living legend. In the end, the Denver Broncos could be the best place for him.