Trish Stratus Interview with Arda Ocal and 'Bounty Hunters' Toronto Premiere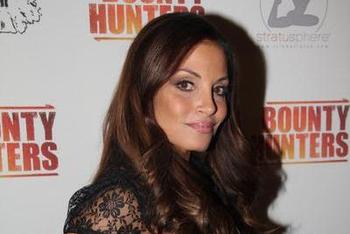 dirt.com
Trish Stratus has been in WWE news a lot lately, what with speculation over a possible match at WrestleMania XXVIII, but she's been an especially hot topic in her hometown of Toronto.
Last week saw the Toronto premiere of Trish's first feature film, Bounty Hunters, and theScore's Arda Ocal was on-site to interview Trish, her co-stars and director about the experience.
In addition to that, Arda also sat down for an in-depth two-part interview with Trish in studio.
For the convenience of all you Trish lovers out there, all three interviews have been compiled in this slideshow. So what are you waiting for? Click the button down there...
'Bounty Hunters' Toronto Premiere

youtube.com/thescoretv

At the Bounty Hunters premiere in Toronto, Trish's co-star talked about what it was like to perform fight scenes with WWE's Diva of the Decade. The interview has a clip from the film of one of their fight scenes, so I know at least the guys are interested.
Aftermath Interview Part 1

youtube.com/thescoretv

In part one of Trish's studio interview for Aftermath, she talks about Bounty Hunters, whether or not she has any plans for WrestleMania this year and gives her opinion on the current state of the Divas division.
Aftermath Interview Part 2

youtube.com/thescoretv

In part two of the Aftermath Interview, Trish discusses the differences and similarities between in-ring fighting and movie fighting, the predicament of having to follow The Rock vs. Hulk Hogan at WrestleMania X8 and her budding business, Stratusphere Yoga, including a venture with one Diamond Dallas Page.
Keep Reading