Peyton Manning and Jim Irsay Show LeBron James and Dan Gilbert How It's Done
March 7, 2012

A. Messerschmidt/Getty Images
Peyton Manning and the Indianapolis Colts parted ways on Wednesday. A partnership that began when the Colts drafted Manning No. 1 overall way back in 1998 is now over.
I'd personally like to tip my cap to Manning and Jim Irsay for the way they handled Wednesday's press conference. They kept it short, they kept it sweet and they kept it simple. The last conclusion anybody is going to draw from their press conference is that there is bad blood between Manning and his now-former team.
Star players and teams across the land should take note. If there is a right way to go about ending a partnership, Manning and Irsay just showed how it's done.
It's too bad Dan Gilbert and LeBron James can't go back in time. If they could do it all over again, they'd probably do something like this.
Totally out of left field? Absolutely, but I'm certainly not the only person who has LeBron and Gilbert on his mind after watching the Manning press conference.
Will Brinson of CBSSports.com said it best:
"Oh, that's how you do it." - LeBron James

— Will Brinson (@willbrinson) March 7, 2012
Even TV star Frankie Delgado noticed the LeBron/Gilbert parallel:
This is how u part ways @KingJames , dan gilbert should have been more understanding of ur decision. Peyton Manning and Jim Irsay conference

— Frankie Delgado (@frankiedelgado) March 7, 2012
We now have definitive evidence that anything and everything can cause people to point at LeBron.
In this case, you can't help but imagine what things would be like now if LeBron and Gilbert had made a mutual announcement that the two-time MVP was going to be leaving the Cleveland Cavaliers for the Miami Heat. Just imagine if there were tears, hugs and even a few awkward smiles.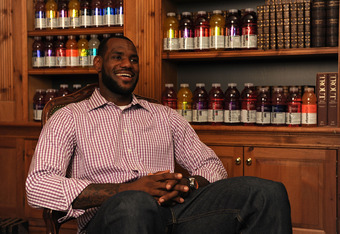 Larry Busacca/Getty Images
It would have been a happy occasion, totally devoid of bickering and arguing about who was betraying whom. It would have been quite lovely.
Instead, what we got was LeBron wrapping an hour-long special around a five-second announcement, and then we got an open letter from Gilbert that accused LeBron of being a coward and a generally rotten person. There's been bad blood between the two sides ever since, especially on Gilbert's side of the fence.
Where Manning and Irsay just showed the sports world how to go about a breakup, LeBron and Gilbert showed the sports world how not to go about a breakup.
It's obviously too late now, but we might actually get to see LeBron do something like this down the road. It was reported in February that LeBron is eyeing a possible return to Cleveland in the future. If and when he decides to make good on that plan, perhaps he and Pat Riley can hold a buddy-buddy press conference in which they announce their breakup.
If that day comes, I'm going to take a wild guess and say that LeBron won't dare to announce his decision in a one-hour sequel to "The Decision." I'm banking on the notion that he learned his lesson that that was a stupid idea.