ACC Tournament 2012 Schedule and Bracket: Dark Horses to Shock the Tourney
March 8, 2012

Jamie Squire/Getty Images
With the 2012 ACC Tournament ready to kick off, it's time to start sifting through to find the dark horses that could shock the conference tournament.
Teams like Florida State, N.C. State and Maryland are the kind of teams that are being passed over for the easy picks of Duke and North Carolina, but don't be surprised if they get bounced.
All of the following teams could make a serious run to shock the ACC.
Florida State
The No. 22-ranked Florida State Seminoles are one of the most dangerous teams in the nation, not just the ACC. Their 21-9 record shows that they are as dangerous as can be.
With wins over Duke and North Carolina this year, the ACC's biggest dark horse has to be the Seminoles.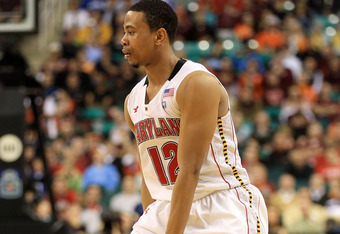 Streeter Lecka/Getty Images
N.C. State
Despite not beating a ranked team all season, the North Carolina State Wolfpack can be very dangerous. With a star like forward C.J. Leslie on the team, N.C. State will always have a chance to shock the ACC tournament.
Maryland
While Maryland isn't the best at any one thing this season, they play solid enough in every aspect of the game to catch a team sleeping. If a player like sophomore guard Terrell Stoglin starts shooting lights out like he can, the Terps can make a run.
First Round, Thursday, March 8
No. 8 Maryland vs. No. 9 Wake Forest – 12:00 p.m. (ESPNU)
No. 5 N.C. State vs. No. 12 Boston College – 2:00 p.m. (ESPNU)
No. 7 Clemson vs. No. 10 Virginia Tech – 7:00 p.m. (ESPNU)
No. 6 Miami vs. No. 11 Georgia Tech – 9:00 p.m. (ESPNU)
Quarterfinals, Friday, March 9
No. 1 North Carolina vs. 8/9 winner – 12:00 p.m. (ESPN2)
No. 4 Virginia vs. 5/12 winner – 2:00 p.m. (ESPN2)
No. 2 Duke vs. 7/10 winner – 7:00 p.m. (ESPN2)
No. 3 Florida State vs. 6/11 winner – 9:00 p.m. (ESPN2)
Semifinals, Saturday, March 10
Winners of Friday's early games – 1:00 p.m. (ESPN)
Winners of Friday's late games – 3:00 p.m. (ESPN)
Championship Game, Sunday, March 11
Semifinal winners – 1:00 p.m. (ESPN)
*All times are ET
Check back for more on the NCAA Basketball as it comes, and check out Bleacher Report's College Basketball Page to get your fill of college basketball.