San Jose Sharks Need 12-Step Program After Loss to Edmonton Oilers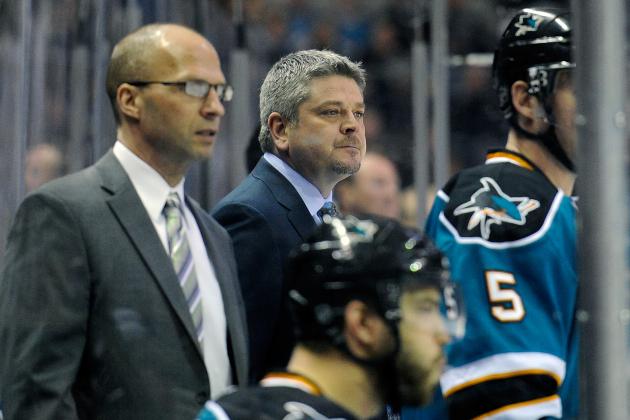 Thearon W. Henderson/Getty Images
Todd McLellan was back behind the bench after missing three games with concussion-like symptoms
If the San Jose Sharks were ever going to break out of their slump (4-10-1), the planets were aligned perfectly Tuesday.
The Edmonton Oilers came into town with the worst road record in the league (9-21-2—a .313 point percentage).
They had played the night before in Southern California, while the Sharks had their first two-day break since mid-February (and last in March).
Thanks to the struggles at the top of the Pacific Division, a win could have put them in first place. A loss could have meant a drop to as far as fourth place in the division and 10th in the conference.
The Sharks split the difference, falling in a shootout and dropping to third and eighth, respectively. They won 16 more faceoffs and were even in giveaway-takeaway differential, but they only out-shot the Oilers 30-26. Edmonton had 10 more hits and nine more blocked shots.
San Jose appeared to be in the driver's seat after their own lucky bounce countered the one that started Edmonton with a lead 10 seconds into the game. But another weak follow-up shift led to a tying goal less than a minute later, and the Sharks were back into a dogfight.
In other words, a team with nothing on the line out-worked a more talented team with everything on the line. A team that cannot win under those circumstances needs changes before it can win the Stanley Cup.
Changing behavior is tough, and it helps to have a 12-step program. (Note: because some steps duplicate each other, there are only 12 slides in this piece when you include the introduction.)
Begin Slideshow

»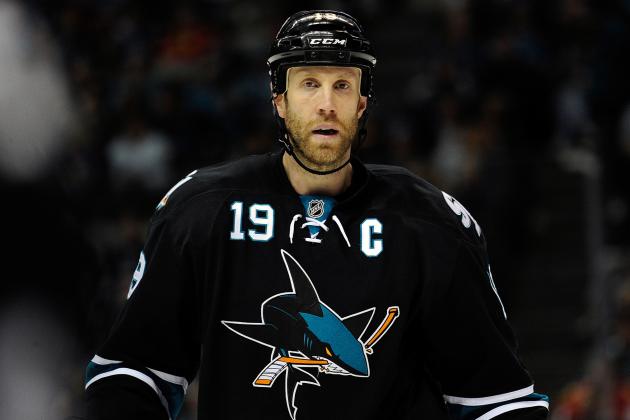 Thearon W. Henderson/Getty Images

The San Jose Sharks are frustratingly stubborn.
They continue to do the same things and expect different results. I addressed this problem to now-captain Joe Thornton as far back as the 2009 State of the Sharks event.
They turn the puck over high because they try to enter the offensive zone with pretty passes instead of just getting pucks deep.
They continue to talk about other teams being hungrier than they are and the need to play desperate hockey. Dan Boyle still felt they were not desperate enough Tuesday.
Stop talking about the problems and start doing something about them.
And maybe instead of seeing yourself as in a funk, you should see that this is who you are. Outside of two 15-game stretches, the Sharks are now 11-21-4 (.361).
Admitting you have a problem (either a lack of character or talent) is the first step to changing it.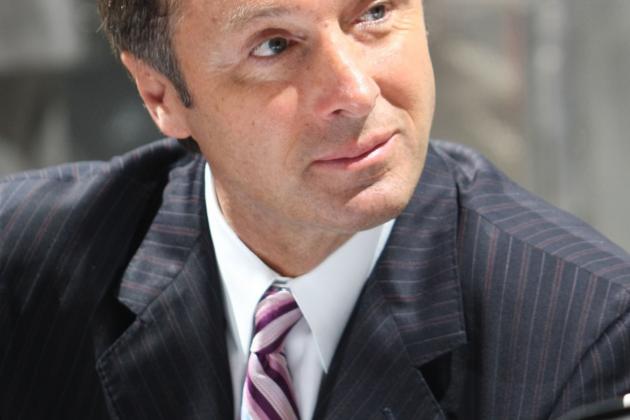 Bruce Bennett/Getty Images

In an organization where ownership stays out of the way, there is no higher power than the general manager.
San Jose Sharks GM Doug Wilson is the most-accomplished among his colleagues who have not won a Stanley Cup in the last seven years. He has done a remarkable job locking up good players for the long-term under market value.
Among his trades were a fourth-line forward and two barely top-10 skaters for one of the best forwards in the world. He traded away a prospect who has barely played in the NHL and a decent young defenseman for one of the best to patrol a blue line.
But he also has traded away top picks that turned out to be Tyler Ennis and David Perron for rental players who did not help the Sharks go any further in the playoffs. This is because he continues to believe in and augment a core that lacks killer instinct rather than moving in a new direction.
If he does not understand by now he needs to change direction, the team needs a new higher power that does.
If players know they may find themselves in a harsher climate—whether in weather or demands—perhaps that will shake them up. If not, perhaps the new team will not need such actions to get them ready.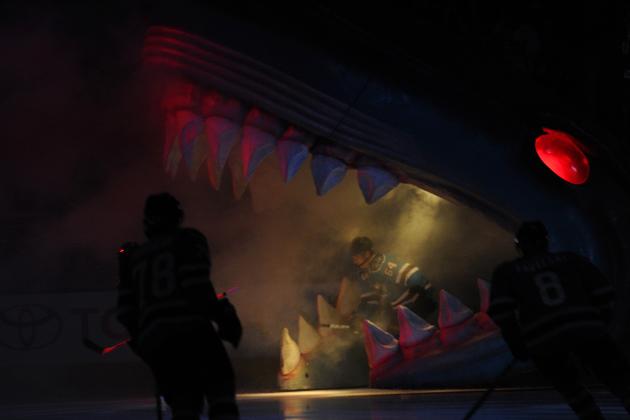 Thearon W. Henderson/Getty Images

A message has been delivered to the San Jose Sharks this season:
This is not about you or your talent. This is about who you represent every time you step out on the ice.

Right now, you do not have the killer instinct of the animal the team is named after. Stop trying to make the highlight reel on NHL Tonight and start doing the little things (three-word sentences easy enough to remember) that help you win.

Get pucks deep. Crash the net. Screen the goalie. Play desperate hockey. Finish your checks.
Until they do these things, they have no Stanley Cup in their future.
They must put their own desires aside and focus entirely on what it takes to reach that final goal.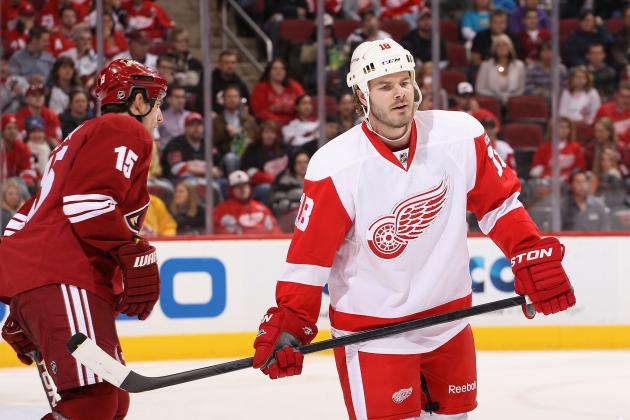 Christian Petersen/Getty Images

The San Jose Sharks have made some questionable roster decisions, and they are paying for them.
Sometimes, bringing in new players disrupts chemistry. Thus, I will look only at two players who were part of the team's conference finals run last season—those who needed to be replaced by new players who struggled to fit in early.
It is time to admit that letting Ian White go was a mistake. Not only have the Sharks lost speed and had trouble getting the puck out of the zone, but they are getting below-average point production from their blue line.
White, a poor-man's Dan Boyle, would have helped with all of those things for under $3 million per year. And they are not the offense-only players many Sharks fans think simply because they are so good in that end.
In last season's playoffs, White was top-four on the blue line in defensive categories like blocked shots, hits and takeaways—just like Boyle is during this regular season. That shows they are solid in their own end even considering their heavy minutes (and White was only fourth there in the playoffs) since they are being relied on for other duties.
Likewise, the team should have re-signed Kyle Wellwood for under $1 million considering how well he fit into the team and the Sharks' needs—speed and offense from the checking lines. He also would have given the Sharks more than two right-handed forwards.
Since it is after the trade deadline, there is no way to compensate for those players missing this season. But having faith in management requires them acknowledging these things are lacking moving forward.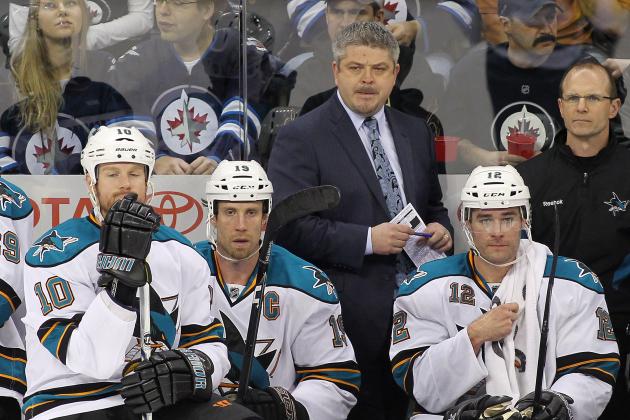 Marianne Helm/Getty Images

Once you know what your team lacks, it is up to the coaches to make the most of what is left. Todd McLellan is not doing that.
For starters, the checking line and top defense combinations make no sense.
The third line lacks cohesion, with ever-changing personnel. Just put the three new guys all on the same line—two of whom were teammates the past few seasons—and let them develop chemistry.
That line would possess multiple centers for draws, three solid defenders not afraid to put a body on someone and very good speed.
The fourth line should keep the big, capable passer in Michal Handzus with the speedy Torrey Mitchell he played with most of the season and the relatively fast and very physical Brad Winchester. It would be among the best defensive lines and could produce offensively as well.
But the bigger issue is on the blue line. Why pair its best two skaters, Marc-Edouard Vlasic and Dan Boyle, and its two biggest players, Douglas Murray and Brent Burns?
Put the best defender and best offensive player back together as they have been for most of Boyle's time in San Jose. Put the great skating and positional defender Pickles with the guy who pinches up like Boyle but lacks his speed to get back.
It is just common sense.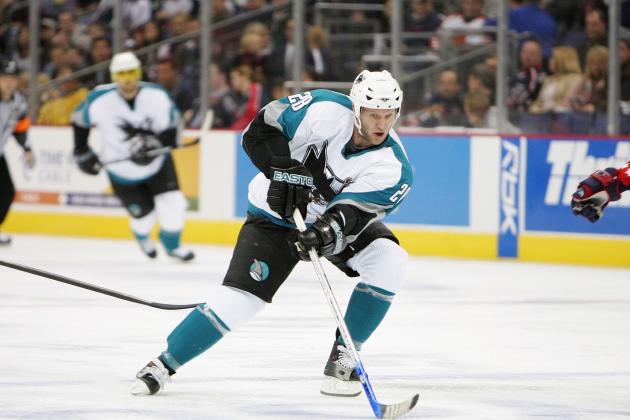 Andy Lyons/Getty Images

Back in the 2006 playoffs, the San Jose Sharks had a player riding the coattails of great talent among his linemates. His name was Nils Ekman.
Ron Wilson identified this problem and frequently replaced him on the top line with Mark Smith—one of the least-talented Sharks on the team, but a hard worker. Wilson used to have a saying that still rings true: "Hard work beats talent if that talent does not work hard."
I like the shorter, more widespread adage, "Will beats skill." The Sharks have had a plethora of the latter and dearth of the former.
Put out poor effort for a shift, sit a shift. Put out poor effort for a game, sit a game. I do not care who you are.
Unfortunately, as I pointed out in "Five Steps to Success" in late December, this team lacks more than just effort. It lacks leadership and an identity, and those problems need to be resolved as well.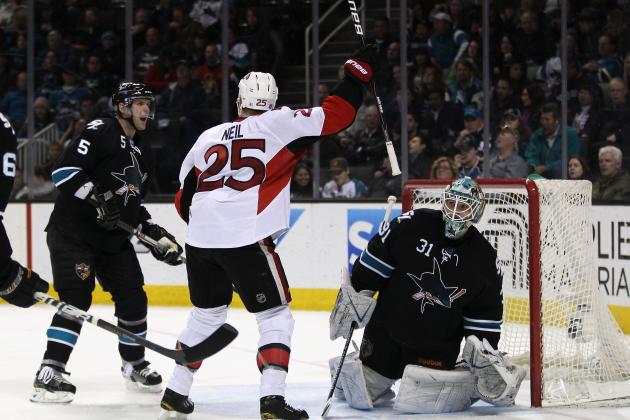 Ezra Shaw/Getty Images

Colin White is terrible. There is no other way to put it.
He contributes nothing offensively and is among the worst on the team in plus-minus. He has one of the worst turnover differentials on the team. His hit and blocked shot totals are not what one would expect from a defensive player not producing points.
Yet he continues to get playing time over a much more solid Jim Vandermeer. Vandermeer plays on the fourth forward line over a much more talented offensive player, Benn Ferriero (a rare right-handed shot, to boot), while the Sharks struggle to get scoring from their checking lines—just two in their last 13 games.
Put Vandermeer on the third pair and Ferriero on the fourth line. Or try Jason Demers, an offensively gifted right-handed shot, on that line if you think you need to dress seven defensemen.
Just send White to the press box, please!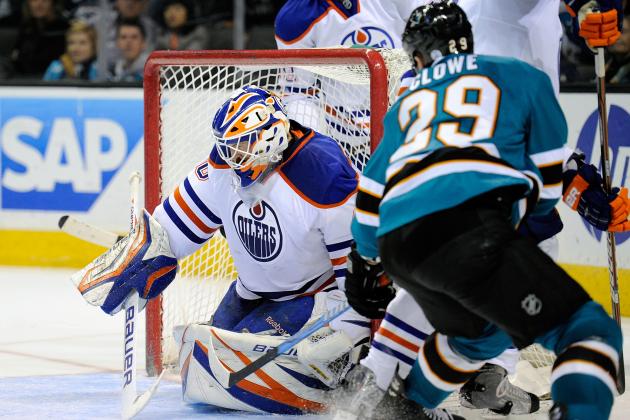 Thearon W. Henderson/Getty Images

Ryane Clowe had a poor road trip but has scored two of the four goals the San Jose Sharks had in their four-game homestand plus was robbed on two more. That is making amends.
One could make a case for every Shark needing to make amends.
As I write this, I am listening to Dire Straits' self-titled debut album most of you would know only for the song "Sultans of Swing." It brings to mind the state of this team, yet they admit they have not matched the desire of their opponents in recent games.
No doubt any team that has just four wins in its last 16 games needs the win more than most of their opponents. They need to start making up amends for not carrying themselves accordingly.
You cannot do anything about what has been done. You can only make sure you do not do it moving forward.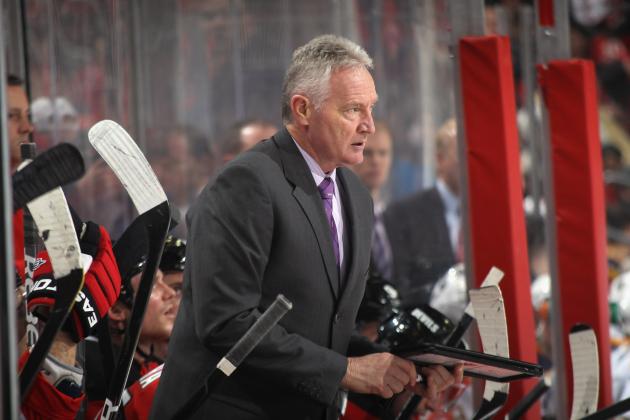 Bruce Bennett/Getty Images

Personal inventory does not stop with Step 4. It must continue as the San Jose Sharks move forward.
With this team's talent and the expectation coming into the season that they would be Stanley Cup contenders, missing the playoffs is not an option.
In fact, a first-round playoff loss is not an option.
The two teams the Sharks have been unable to beat, the St. Louis Blues (0-4 this season with a total of three goals scored) and the Vancouver Canucks (four wins in the last 13 games against them) look like they will take the top two seeds.
Even if the Detroit Red Wings catch St. Louis, they have not lost in the first round since 2006. They are a deeper and better team than the Sharks this season, and the two consecutive playoff losses to San Jose might serve only as further motivation.
In other words, a first-round loss is staring the Sharks in the face if they do not climb to at least sixth in the Western Conference. That dictates that any and all means are used to get this team headed in the right direction.
Even the New Jersey Devils used a fire-a-coach-late-in-the-season method. If Todd McLellan cannot turn things around some time in the next two weeks, the team should be desperate enough to fire him during the season.
Matt Zambonin/Freestyle Photo/Getty Images

In a 12-step program, one is supposed to pray for knowledge of God's will and the strength to follow it.
But while I am devout enough to blog on Christian issues in the Bay Area, I am not sanctimonious enough to think God's will includes having the San Jose Sharks win.
(The Green Bay Packers are another story. Okay, not really, but we—which I can say because I own stock—at least can claim more righteousness being non-profit and owned by the smallest community in the four major sports.)
So for purposes of the Sharks, they need to pray that they get a break.
Avoiding a top-two seed is a break they can control. Winning the division is a more difficult thing within their reach. But even should they get hot at the right time, win the division and the first round of the playoffs, they will still need help.
Having an old and potentially tired Detroit Red Wings team or a lower seed in the second round would help. Facing teams without their best players could give the Sharks an edge, especially if they are able to stay relatively healthy themselves.
It never hurts to pray for a little luck.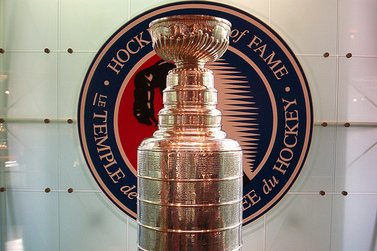 These steps need to be not only said and believed by the San Jose Sharks. They need to be put into practice.
Not just for a shift or a period or a game or a series, road trip or homestand. For every moment on the ice.
Champions develop and maintain good habits the Sharks lack.
This franchise is at a turning point: Either the team can change its habits and approach, or it can change coaches, general managers and even multiple players.