Dallas Mavericks: 10 Agenda Items at the NBA Trade Deadline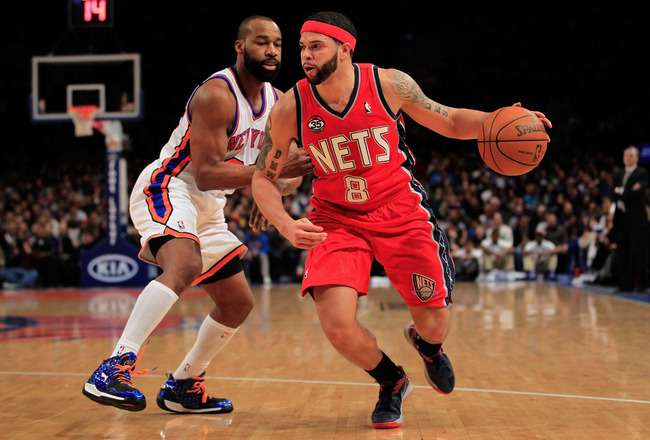 He's a Dallas native and a free agent in the summer. Is Deron Williams headed to the Mavericks?
Chris Trotman/Getty Images
The Dallas Mavericks have played solid basketball in 2012, but it appears to be a long shot that the Mavericks will repeat as NBA Champions this season.
Will the Mavericks retool the roster in hopes of defending their title? With March 15 soon approaching, here are 10 agenda items for the Mavs at the trade deadline
Choose Whether to Gear Up for a Title Run at the Deadline, or in the off-Season.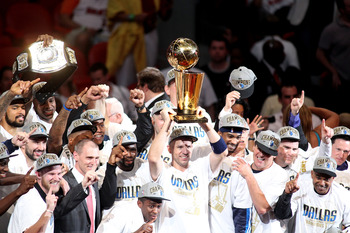 The Mavs made an improbable title run in 2011. They must now decide whether to gear up for another one at the deadline or wait.
Marc Serota/Getty Images
The league's defending champs must decide whether or not they'll use this season's deadline to improve the team, or wait until the offseason to make roster moves.
While there are a few big fish available to Dallas at the trade deadline, this season's free agent class will be very deep, and the team should have ample cap room to make a blockbuster signing in the summer.
While ideally the Mavs would want to make a move that both improves the team this season and in the future, it might not be available to them at the deadline. Free agency might be the best option at this point.
Maintain Salary Cap Flexibility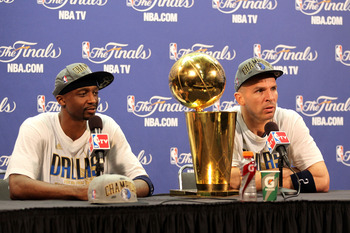 Jason Terry and Jason Kidd helped guide the Mavs to a championship, but their tenure in Dallas is likely over after 2012.
Mike Ehrmann/Getty Images
Dallas' greatest strength going forward is their cap space. Jason Kidd's and Jason Terry's expiring contracts will free up about $20 million, giving the team room to pursue just about any free agent on the market this summer.
Any move the team makes at the trade deadline must be done in a manner that keeps the team's cap relatively free. 2012 will have a strong free agent class that could include the likes of Dwight Howard and Deron Williams.
If Dallas plays their cards right, they could lock up both superstars with max money deals this off-season.
Consider Moving Jason Terry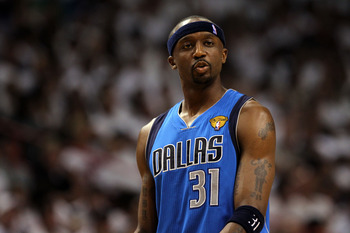 Parting with Terry might be tough on fans, but moving him could be best for the team's future.
Ronald Martinez/Getty Images
Jason Terry has been the team's sixth man for quite some time now, but at age 32 and in the final year of his contract, Dallas could consider sending away Terry for depth at other positions or draft picks.
While Dallas would have difficulty finding a suitable replacement for his outside scoring, players like Delonte West and Rodigue Beaubois make Terry expendable at the trade deadline. Parting with Terry might be tough on Mavericks fans in the short run, but could be what's best for the franchise going forward.
Find Another Swingman

Nick Young demonstrated superb scoring ability with Washington late last season, but has fallen out of favor in D.C.

Aside from West and Lamar Odom, the team lacks a swingman who can consistently take the ball to the rack. If the team can find someone that can penetrate the lane without giving away any major pieces, the Mavs would be in better position propel themselves further up the Western Conference playoff ranks.
Someone like Nick Young, who is one a one-year deal and has fallen out of favor with the struggling Washington Wizards, could find himself in another uniform this season. Dallas would be an excellent fit.
Establish Depth at Point Guard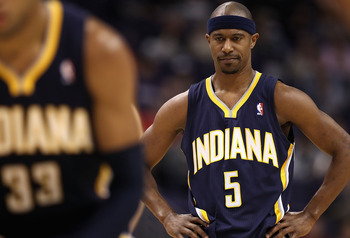 Someone like T.J. Ford could help give some of the Mavs vets a rest.
Christian Petersen/Getty Images
Future Hall of Famer Jason Kidd serves as an excellent floor general for Dallas, but the Mavs lack significant depth behind the 38-year-old.
Rodrigue Beaubois is a solid guard, but he's been getting most of his reps at the two and doesn't distribute the basketball as well as a true point guard should. West has brought the ball up court off the bench this season, but he's a shooting guard playing out of position.
There have been whispers about Dallas trading for Phoenix Suns superstar Steve Nash, but Dallas could make a smaller acquisition for someone to back up Kidd. Someone like T.J. Ford, for example, would give the Mavs a deeper rotation to give their aging stars more rest.
Whether the Spurs would be willing to aid a conference rival, remains a question.
Find a Defensive Presence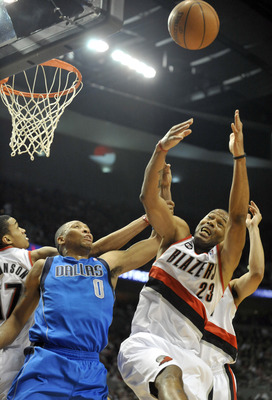 Marcus Camby still has solid post defense skills, and the Mavs have the fiscal means to bring him to Dallas
Steve Dykes/Getty Images
Tyson Chandler played a pivotal role in the Mavs' championship run last season, and the team appears to lack the same defensive prowess without him in 2012.
There are players available that could immediately improve Dallas' defensive unit immediately without giving up too much in return, such as Marcus Camby of the Portland Trailblazers. Camby has an expiring one-year deal, and getting him in exchange for someone like Lamar Odom wouldn't decimate the Mavericks' roster.
Think About an Upgrade at Center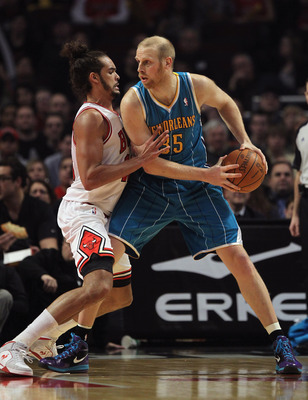 Chris Kaman is a solid upgrade over Brendan Haywood.
Jonathan Daniel/Getty Images
Brendan Haywood has faired decently so far this season, averaging 5.6 points, 6.7 rebounds and 1.1 blocks per contest in his first season starting at center for Dallas, but the team could look for a slight upgrade down low at the deadline.
Dwight Howard is of course available to the Mavs, but the team could look to make a smaller deal for someone like Chris Kaman, who could help the team in the short term and has an expiring contract. The Mavs wouldn't need to gut their roster to acquire Kaman, and he could help boost the team's chances at making a repeat Finals appearance.
Solve the Lamar Odom Problem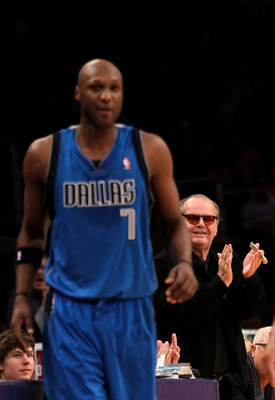 He looked like an offseason steal, but Lamar Odom has been a let down in Dallas.
Stephen Dunn/Getty Images
Odom looked like the steal of the offseason when Dallas acquired the league's reigning Sixth Man of the Year from the Lakers for a second round pick, but averaging just 7.5 points and 4.5 rebouns per game this season, he's been nothing but a salary cap hit for the Mavs.
Odom will eat $8.9 million this season off the team's cap, and if his mediocre play continues, the team should consider moving him. Odom's sub-par numbers this season have dropped his stock a bit, but his brand name should entice some club into dealing talent or expiring contracts for him.
Renowned Mavericks owner Mark Cuban recently proclaimed his support of Odom, but there have been reports that the forward is desperately seeking a return to Los Angeles.
A trip back to L.A., however, would prove difficult for Odom; the Lakers cannot reacquire Odom in the same season and the Clippers don't have the pieces Dallas would be interested in.
Start to Pursue Deron Williams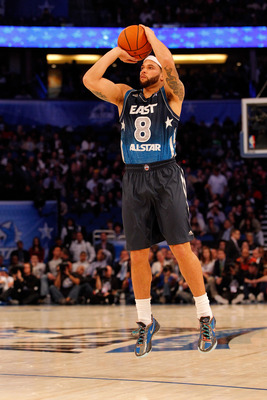 Deron Williams will be the Mavericks' number one target this offseason.
Ronald Martinez/Getty Images
Deron Williams will be a free agent in the summer, and while his preseason claim that he is "90 percent sure that (he) will resign with the Nets" was ear pleasing to fans awaiting the team's move to Brooklyn, Williams must face one fact: The Nets are awful.
Aside from Brook Lopez (if he's healthy), there is no suitable talent in New Jersey to supplement the superstar. The Nets are doomed to abysmal basketball until they can find someone to tandem with Williams.
Pending a move for Dwight Howard, D-Will might start to consider other options. He's a Dallas native and the team will have ample cap room to offer him a max-money contract, so playing for the Mavs might seem plausible to the 27-year-old.
If New Jersey can't seal up a deal to acquire Howard or another star, they might look to trade Williams for whatever value they can get. Dallas doesn't exactly have any trade chips that would coax the Nets into a deal, but if another team got involved and sent draft picks or unwanted youngsters, Williams could find himself in blue before the season's close.
Get in the Dwight Howard Conversation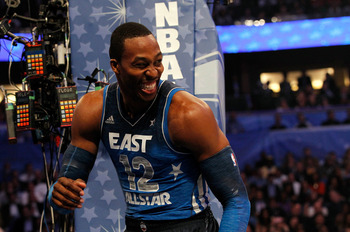 Dwight Howard is the best player available at the deadline, and Dallas has a shot at netting him.
Ronald Martinez/Getty Images
Dwight Howard has listed Dallas as one of his preferred trade destinations, and the Mavericks will need to decide if the deadline is the right time to make a move for the All-Star center.
While fiscally Mavs have the means of trading for and retaining the prized superstar, Orlando is discerned with the talent Dallas has to give in return. The team's top trade chips (Odom, Jason Terry, Jason Kidd) are all aging role players with expiring contracts, and the Magic would like look elsewhere to a team that can offer up young talent for the future.
The Mavs could still find a way to reel in Howard with a multi-team deal, sending expiring contracts to a team(s) willing to deal draft picks or young players with upside to Orlando, but such a move would be extremely difficult to orchestrate.
Keep Reading

Dallas Mavericks: Like this team?