Big New Jersey Devils Win Puts Some Doubt in New York Rangers' Minds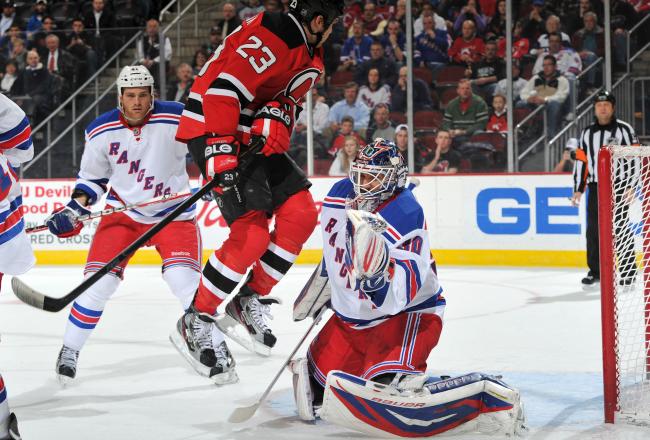 Traffic in front is one way to beat a KING
Christopher Pasatieri/Getty Images
It took Ilya Kovalchuck and his New Jersey Devils only 49 Seconds to show their hated cross-town rivals that this night would be a Devil of a time.
The Devils sniper opened the scoring with a patented Kovalchuckian breakaway wrister on a great feed from Captain Zach Parise. Tied 1-1 headed into the third period, the Devils came out with a vengeance and dominated the Rangers all over the ice, putting their usual late-game struggles behind them by scoring two quick goals from David Clarkson and Ryan Carter.
Patrik Elias sealed the deal with an empty netter and the Devils had themselves a huge confidence building win 4-1 at the Prudential Center.
After being shut out in their last game against the Rangers, the Devils came out of the gate with the energy and hunger that we are all accustomed to seeing whenever they meet up with the Blueshirts.
The Devils made a conscious effort to put more pucks in the net and get traffic in front of goaltender Henrik Lundquist, a key ingredient to beating the first place Rangers.
The Rangers, and particularly Vezina front-runner Henrik Lundquist, have always brought their best when playing the New Jersey Devils. However, last night in Newark, the Rangers showed an air of vulnerability in their game.
They did not receive the usual shutdown goaltending, particularly in the closing period that Rangers fans are so accustomed to. When that doesn't happen, the Rangers are forced to open things up and play a more offensive-minded game that they are just not built for.
New York's power play was again dreadful. This will be significant in the postseason as special teams are crucial in deciding one-goal games. Captain Ryan Callahan missed two glorious chances to give his team the lead and other than a Marion Gaborik wrist shot, the Rangers did not put up much of a fight.
Their lack of intensity and fight for loose pucks was uncharacteristic of Coach Tortorella's team. It may have just been an off night, but not showing up when you play your rival is unacceptable and I don't doubt for a second the coach will get that message across big time.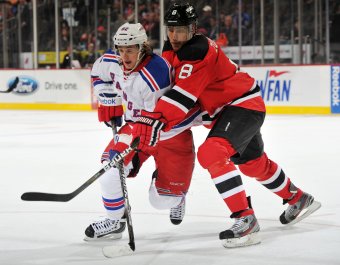 Christopher Pasatieri/Getty Images
The NHL points leaders may win the Presidents Trophy, but there are some serious holes in the Blueshirts' armor. The continued reliance on their goaltender to win games by himself, as great as the KING has been this season, will not hold up over the long playoff grind.
The lack of big-time production from Brad Richards is alarming and one has to wonder if GM Glen Sather's inability to acquire a scoring forward will come back to haunt this team come playoff time.
Boston College prospect Chris Kreider may be called up for the playoff run to fill this void, however, to expect a college hockey player (as good as he may end up being) to step right into the playoffs and contribute significantly right off the bat is unrealistic.
One thing we know for sure is the Devils have beaten the Rangers three times this season and have shown positive signs that they can go toe to toe with their arch nemesis from New York. This team poses a serious threat to the Rangers' Cup aspirations.
Devils Notes: Newly acquired Marek Zidlicky played his best game by far as a Devil, leading all Devs D-men in ice time with 23:25 and in hits with four. His sliding breakup of a two-on-one with the score still tied at 1-1 was a huge turning point and displayed a big reason why coach Pete Debeor has confidence in playing Zidlicky in all situations. He also set up David Clarkson on the door step and his quick passes were extremely noticeable and effective.
The Devils got major contributions from fourth liner Ryan Carter. His early fight with Brandon Dubinsky sent a message to his teammates and to the Rangers that Dubinsky's previous comments towards David Clarkson would be dealt with accordingly. Carter added a vital insurance goal in the third period on a good two-on-one feed by Jacob Josefson. Carter fell just an assist shy of the Gordie Howe Hat Trick.
Three Stars of the Game: 1) Ilya Kovalchuck 2) Ryan Carter 3) Marek Zidlicky
This article is
What is the duplicate article?
Why is this article offensive?
Where is this article plagiarized from?
Why is this article poorly edited?