Indianapolis Colts 2012 Mock Draft, Post-Peyton Manning Edition
March 7, 2012

Jonathan Daniel/Getty Images
Peyton Manning is no longer an Indianapolis Colt.
Let that line sink in. Manning is a free agent, as announced in today's televised press conference. He won't be leading the Colts out of the huddle next year. A 14-year run of dominance is over.
The Indianapolis Colts aren't losing only Manning this offseason, they also lose three wide receivers (Reggie Wayne, Pierre Garcon, Anthony Gonzalez) and have an offensive line that needs major help in the middle and a defense transitioning to a 3-4 defense under new head coach Chuck Pagano.
With one draft pick scheduled in each round, what positions will the Colts address to start the rebuilding campaign in Indianapolis?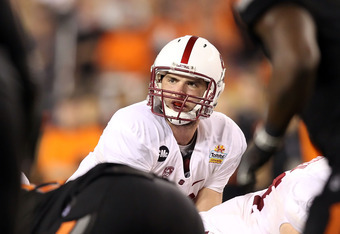 Christian Petersen/Getty Images
Round 1, Pick 1
Andrew Luck, Quarterback, Stanford
The Colts, with the first pick in the draft, will find Peyton Manning's replacement. Never has a draft pick been as safe as Luck, whom many have called the best prospect they've ever seen (myself included).
Luck will face a tall order with the rebuilding Colts, but he's well suited for the job at hand. By drafting Luck the Colts have a plan in place to move on from Manning and shift the focus of the franchise from No. 18 to No. 12.
Round 2, Pick 2
Mohamed Sanu, Wide Receiver, Rutgers
The Colts were long known for solid, possession-style receivers who were able to run great routes and sync up with Manning. This offseason they are likely to lose their three best receivers—Wayne, Garcon and Gonzalez.
Even if Garcon is re-signed, the Colts need to get younger at the position. Mohamed Sanu fits the mold of a possession receiver, but he also has the burst to make plays in the open field. Sanu will give Luck a young receiver to learn and grow with, establishing much-needed chemistry.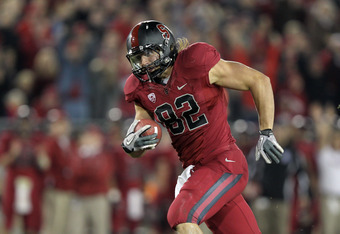 Ezra Shaw/Getty Images
Round 3, Pick 1
Coby Fleener, Tight End, Stanford
Peyton Manning loves his tight ends. Andrew Luck does too.
By drafting Luck's favorite target from his college days, the Colts will give the young quarterback a reliable, familiar target in the red zone. Fleener will immediately become Luck's safety valve over the middle.
The key here is if Fleener will last this long on draft day. I currently have him ranked as a late-second-, early-third-round pick.
Round 4, Pick 2
Shaun Prater, Cornerback, Iowa
The Colts use their first three selections on offense, rebuilding for lost players in free agency. Starting in Round 4 the Colts will look to the defensive side of the ball.
By re-signing Robert Mathis, the team is set at linebacker, solving an earlier problem. One area where help is needed is at cornerback. Jacob Lacey and Jerraud Powers are solid, but unspectacular, players. Each would hold down a starting job in 2012, but Lacey's contract expires after this next season.
Shaun Prater's ability to line up across from the receiver and work as a press corner makes him a great fit in the Pagano-led defense.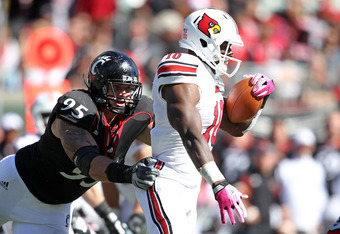 Andy Lyons/Getty Images
Round 5, Pick 1
Derek Wolfe, Defensive End, Cincinnati
Moving to a 3-4 defense requires bigger, stronger players along the defensive line. It's likely Fili Moala will fill one defensive end spot, with Antonio Johnson playing nose tackle, but opposite Moala there is a need.
Drake Nevis was drafted last year, but he's a poor fit in a 3-4 defense. Derek Wolfe would come in and challenge Nevis for a starting job at defensive end. 
Round 6, Pick 2
Andrew Datko, Offensive Tackle, FSU
Andrew Datko was a first-round prospect before suffering a season-ending shoulder injury. Datko is healthy now and looks to be a steal in the later portions of the draft.
A left tackle at FSU, Datko has the strength to slide to the right and become a book-end tackle. This allows the Colts to move Ben Ijalana to guard, where he's the better fit long-term.
Round 7, Pick 1
Desmond Wynn, Guard, Rutgers
Moving Ben Ijalana back to guard helps, but the Colts are still facing an offseason where two guards will hit free agency (including two centers). 
Desmond Wynn is purely a depth player at this point, filling out needs in the middle of the offensive line as a guard/center prospect.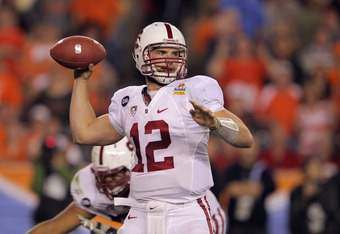 Doug Pensinger/Getty Images
The Colts have the luxury of being able to draft the best player available in every round. With so many needs, they cannot go wrong by drafting any position, but they are in a situation where they cannot afford to miss on their early draft picks.
Ryan Grigson's first draft has to be a good one in Indianapolis. The rebuild starts today.
Want more NFL draft news and analysis? Follow Matt on Twitter and listen every Tuesday at 6 p.m. ET as Matt and Andrew Kulha break down the draft on "Fourth and Long: A Football Podcast."