Peyton Manning Must Go to the Jets, If Only for the Never-Ending Storylines
March 7, 2012

Andy Lyons/Getty Images
We need Peyton Manning on the Jets.
Everyone suddenly seems so focused on what team needs Manning the most next season. We should forget about what the teams need. Manning is a Hall of Fame quarterback coming off an injury that kept him out for an entire season. Are we even sure he can play, let alone perform at the level we are accustomed to seeing?
Only time will tell for that and today—in the instant reaction world of sports media—we don't have that kind of time. We need to decide what's next for Peyton right now.
Along those lines, we should forget what the fans need too. No matter where he goes, Manning will always be an Indianapolis Colt, so whatever fan base ends up with the pleasure of buying a closet full of Manning jerseys can do so knowing he is nothing more than a hired gun, playing out the last few seasons of his career before he signs a one-day contract to retire as a Colt and heads off to a network studio chair for the next 20 years.
So if this isn't about the teams and it isn't about the fans, who else cares where Manning goes? Oh, right, the media.
Yes, this is about the media, and where Manning's best fit is for us.
Sorry, NFL teams. Sorry, NFL fans. Where Peyton should end up isn't really about you anymore. It's about us. Hey, we're the ones filling the internet with stories, talking about it on radio in every market in America and filling every-waking-second of SportsCenter with speculation. Where Manning ends up is totally about us.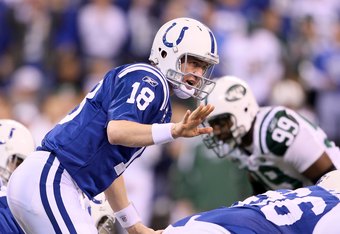 Andy Lyons/Getty Images
Now, let's not be so naïve to think where he ends up won't impact the teams and fans. Certainly, if he is healthy, Manning can help a team that's looking for a final piece of a playoff puzzle. Sure, Manning will give fans in his new city great hope he can lead a deep playoff run in a league that sees teams go from worst-to-first almost every season.
That all takes time. It's going to take months to know if Manning can play well enough to even get on the field. It's going to take months to know if Manning can lead a new team back to the Super Bowl or if he's next in line of greats who will end his career bouncing around the league like Brett Favre did before finally (we think) hanging it up. 
Who will be with the story until its inevitable conclusion? The media. Where Manning goes will have the biggest impact on the throngs of reporters and pundits who cover the story along the way 
Here's a list of the places rumored to be interested in Manning, from the worst storyline possibilities to the best.
Christian Petersen/Getty Images
Seattle Seahawks

Moving to Seattle would be great for Manning, because it's one of the few markets the rest of the country seems to completely ignore unless they are good. There would be no pressure for Manning, and no juice outside of a few over-the-top Pete Carroll quotes for the rest of us to devour and re-tweet. 
Arizona Cardinals

There has been talk of Arizona taking a chance at Manning, despite the truck they erroneously backed up to Kevin Kolb's house just last year. While Arizona, like Seattle, provides zero storyline heat, at least it's a dry heat.
Miami Dolphins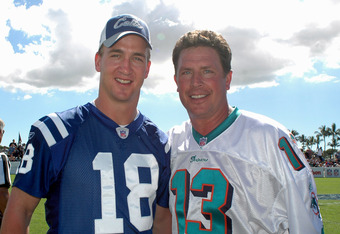 A. Messerschmidt/Getty Images
Miami may be the most logical fit from a football standpoint and a fan standpoint. To be fair, it's not a terrible spot from a media standpoint, either. Miami is in the same division as the New England Patriots, giving writers a guaranteed two weeks each season to opine about Manning and his arch rival—and good friend—Tom Brady.
In addition, the connection to Dan Marino's legacy could be a fun parallel to chronicle. Plus, Peyton would be in the same city as LeBron James, giving a unique cross-sport rivalry for the title of the city's best athlete. It would be a good fit all around, but it still isn't the best spot for potential storylines.
Washington Redskins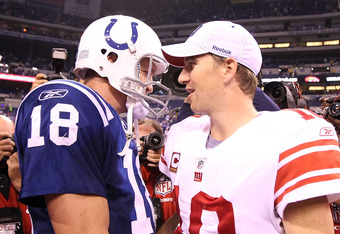 Andy Lyons/Getty Images
Playing Tom Brady twice a year is nowhere near as compelling as facing his brother, Eli Manning, twice a season. Washington also has one of the most meddlesome owners in all of American sports and a notorious history of signing huge free agents who don't pan out.
Things in Washington seem to always implode far more fabulously than other NFL cities. To watch and see if Manning can lead the Redskins back to the playoffs, and reveling in the aftermath if it doesn't happen, is almost too big a storyline to comprehend.
New York Jets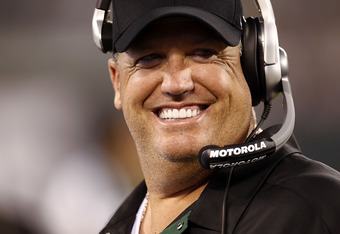 Jeff Zelevansky/Getty Images
This is the clear favorite for those of us rooting who don't really care where Manning ends up from a football standpoint and are only rooting for good storylines. Not only would Peyton face Brady twice a year, but he'd also be competing with Eli every single day for the back pages of the New York tabloids. Headline writers are salivating at the mere idea of this happening. 
Add in Peyton's penchant for making issues with teammates public and the roller coaster of personalities (and dysfunction) under Rex Ryan in New York, and you have a powder keg of NFL storylines just waiting to explode.
Let's not forget the fact that Mark Sanchez would then have to be let go, a storyline in and of itself that would be fascinating to follow. Plus, there's the cheap and easy joke of Manning following what Brett Favre did by leaving the only team he ever played for to land with New York. The jokes nearly write themselves.
So before you get caught up in all the debate about what team needs Manning the most, think about what we—and that includes the reader as much as the writer—need most. Forget about what fans will root the hardest or what city will buy the most jerseys. 
You are going to get inundated with Manning stories all offseason and throughout the NFL campaign no matter where he signs. Shouldn't it be the Jets then, if only for the never-ending run of amazing, unprecedented storylines?