Chicago Bulls: Did Winning Sans Derrick Rose Prove They Can Win a Title?
March 7, 2012

Jonathan Daniel/Getty Images
"The Chicago Bulls are nothing without Derrick Rose!"
"DRose's performance is pivotal for the success of the Bulls."
Time and again I have heard similar notions, and I have always believed that these notions would undergo the litmus test only in the absence of the reigning MVP, although I persistently dreaded such an occurrence.
For the abridged 2011-12 season, that litmus test was on January 11, 2012, with Derrick Rose sidelined due to an injury for the first time this season.
The kid from the south side of Chicago, as tough as nails, was hammered down by turf toe. John Lucas III started the game at point guard, and did he grab the opportunity with both hands! He scored 25 points—a career high, against a Washington Wizards team that hails from the city where Lucas III was born.
Let us quickly rewind to November 26, 2010—the last occasion when Rose did not suit up for the Bulls. CJ Watson, who started in his place, admirably lead the bulls over the Denver Nuggets with a season-high 33 points.
That was last season, when there was just one Rose-less game for the Bulls. But this season has been different.
There have been 10 such Rose-less games, and the Bulls have come out victorious in seven of them.
If the Washington and Denver games mentioned above are viewed as yardsticks, then it is not difficult to plot a trajectory of the way the Bulls would perform in all 10 games that did not feature Rose.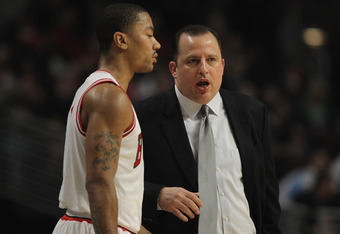 Jonathan Daniel/Getty Images
The table below gives a snapshot of these 10 games.
| | | | | | | | |
| --- | --- | --- | --- | --- | --- | --- | --- |
| Team | Date | Starting PG | Other PGs | Total PG pts | Boozer(pts, rebs) | Noah(pts, rebs) | Deng (pts) |
| vs Wizards | 1/11 | 25(Lucas) | 0 | 25 | 4, 6 | 4, 4 | 12 |
| @ Grizzlies | 1/16 | 8(Lucas) | 17(Watson) | 25 | 13, 7 | 2, 5 | 20 |
| vs Suns | 1/17 | 23(Watson) | 0 | 23 | 31, 6 | 13, 12 | 15 |
| @ Cavs | 1/20 | 15(Watson) | 3(James), 9(Lucas) | 27 | 19, 14 | 8, 10 | 21 |
| vs Bobcats | 1/21 | 11(Watson) | 9(James) | 20 | 23, 9 | Injured (Asik 15 rebs) | 22 |
| @ Bobcats | 2/10 | 7(Watson) | 11(Lucas) | 18 | 16, 6 | 17, 14 | 12 |
| @ Celtics | 2/12 | 22(Watson) | 8(Lucas) | 30 | 22, 7 | 16, 9 | 10 |
| vs Kings | 2/14 | 10(Watson) | 9(Lucas) | 19 | 16, 5 | 22, 11 | 23 |
| vs Celtics | 2/16 | 11(Watson) | 8(James), 3(Lucas) | 22 | 23, 15 | 15, 16 | 23 |
| vs Nets | 2/18 | 10(Watson) | 16(James), 2(Lucas) | 28 | 16, 9 | 0, 6 | 14 |
| Average |   | 14.2 | 9.5 | 23.7 | 18.3, 8.4 | 10.8, 9.7 | 17.2 |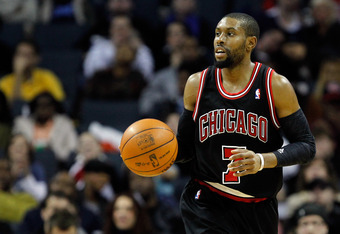 Streeter Lecka/Getty Images
The three losses came against the Memphis Grizzlies, the Boston Celtics, and the New Jersey Nets respectively. Against the Grizzlies and the Celtics, the Bulls fought hard and did a lot of things right, but ran out of gas in the end.
In the game against the Nets, the Bulls just did not turn up. In a super-packed season, a team could be given a pass for having these occasional off-nights, with or without Rose.
Going back to the above table, what conspicuously stands out is the production from the point guard position—in the absence of Rose, the point guards have been averaging 23.7 points per game. That is above Rose's average of 22.4 points per game.
In all of the 10 games, Rose's absence has been more than compensated by the other three point guards on the roster (CJ Watson, John Lucas III, and Mike James), either individually or as a collective unit. What I construe from this is the fact that coach Tom Thibodeau has laid down a system in which every player has a role and every player is cognizant of his role.
DRose is the reigning MVP, and Watson, Lucas, and James do not have a pedigree anywhere close to that of Rose, despite the fact that they have done all that they can to fill the occasional void left by Rose's absence, and splendidly so.
Besides, Boozer, Deng, and Noah, the other three starters, have been solid throughout. Boozer is averaging around 18 points and 8 boards per game, the ever-consistent Deng has had 17 points per game, and Noah has chipped in with roughly 11 points and 10 rebounds per game.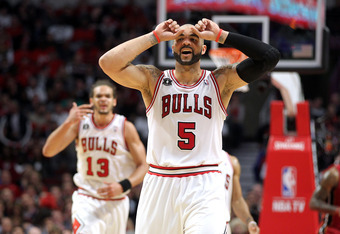 Mike Ehrmann/Getty Images
Noah did not play one of the 10 games and Omer Asik, who started for Noah in that game, had a staggering 15 rebounds, further endorsing Thibodeau's system.
In a nutshell, the other players on the team know their roles well enough to understand when to step up and when to defer, and they have stepped up in Rose's absence and deferred when the floor general has suited up.
According to basketball-reference.com, "Win Shares" is an estimate of the number of wins contributed by a player.
A quick look at the latest "Win Shares" leaders for the league reveals the presence of three Bulls (Rose—5.5 games, Noah—5.3 games and Boozer—4.6 games) in the top 20 list. The only other team with 3 players making up the top 20 is the Los Angeles Lakers.
What is interesting about the "Win Shares" numbers for the three Bulls is how close they are to each other and how General Rose is not way ahead of his two lieutenants on the court, something that is not the case with, say, LeBron James and the Miami Heat, or Kevin Love and the T'wolves.
The more unselfish a team is, the more success it has on the court. I consider the ratio of the number of assists to the number of field goals made by a team as a selfishness meter. The Bulls have an assist-to-field-goals ratio of 61 percent, meaning out of every 10 field goals that the Bulls make, 6 are courtesy of assists. That puts them 3rd in the league in assists per field goals.
The Bulls also have 927 total assists as of March 6, 2012, putting them first in the league, and an assist per game number of 23.18, which is second in the league. It is worth noting that Rose has a season average of 7.7 assists per game, meaning 15.48 assists come from players other than Derrick Rose. That is 66.78 percent of the total assists.
DRose is a supreme athlete and a very talented basketball player, a point guard who can run the length of the court in a flash, who can take to the air with grace and hang up there for eternity.
At the same time, he is also one of the most coach-able players one can find, who believes and buys into the system that Coach Thibs has drawn out.
It is more than just coincidence that multiple players have stepped up when Rose has not been around. Doesn't that imply that the system is the x-factor with the mantra of team taking precedence over the individuals?
One thing is for sure—there is not a team in the NBA that would not flounder in the absence of its star player. But the Bulls under the stewardship of Coach Thibodeau will be able to steer clear of danger much better than the rest. Will that allow as its upshot a deep playoff run and a championship ring, the first of its kind in the post-Jordan era?
With the Miami Heat doing this and winning simultaneously, I wonder if there is any team in the NBA, let alone a full strength Bulls team, that can compete and contend with this South Beach juggernaut!