50 Most Voluptuous Women in Sports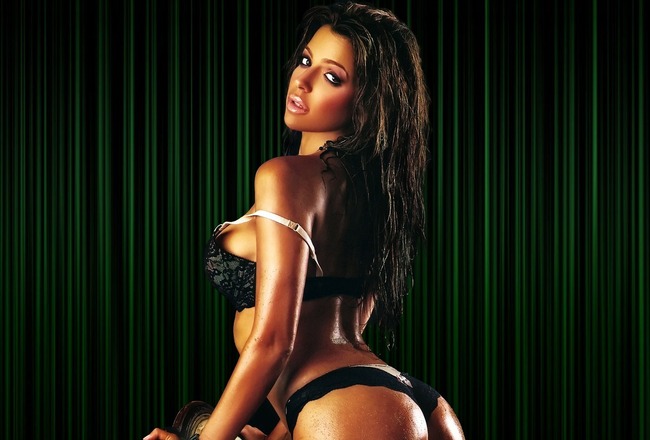 Society often favors bony models with a pretty face and emaciated exterior—the so-called perfect pageant contestant.
But we at Swagger have studied the true art of seduction, and trust us, skinny is far from salacious on this side of the spectrum.
Like any intricate racetrack, the truly beautiful women in sports have an abstract, even creative curvature, with a natural desire to please the camera.
The 50 most voluptuous women in sports have been heating up the scene for some time now and have yet to contain themselves.
Thankfully they decided to order more than a crouton at dinner.
50. Imogen Thomas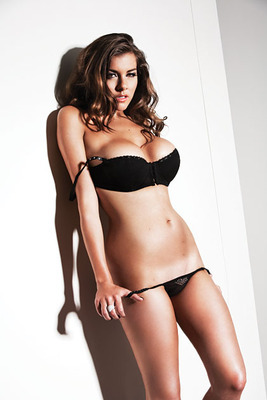 This Welsh glamour model has gotten her feet soaked in the sports world, having been with polo player Jamie Morrison and footballers Matthew Collins, Nery Castillo and Jermain Defoe.
So many other sports to conquer, but where to start?
49. Gina Carano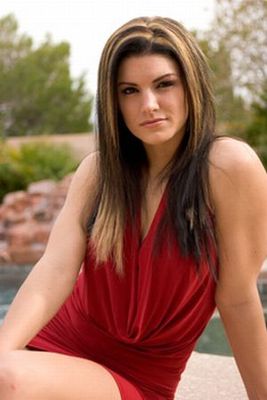 Unable to control her ripped physique any longer, former MMA poster child Gina Carano seems determined to master the art of seduction.
Now a blossoming actress, Carano is gearing up to battle a different animal.
The almighty audition.
48. Tanya Robinson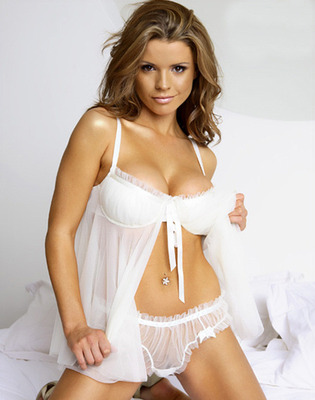 Sure she's married to footballer Steven Taylor, but that's not what has English model Tanya Robinson on our radar.
Perhaps it's her flourishing beauty, sensual stare and ability to stop all traffic.
47. Laila Ali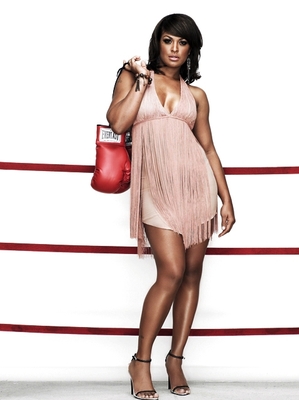 There's something sexy about a girl who can whoop her man's rear...but only so much.
She may be the daughter of the greatest boxer ever, but Laila Ali is flying like a butterfly and stinging like a bee to her own tune. 24-0.
Retirement surely hasn't slowed her down in any facet of the game.
46. La La Vasquez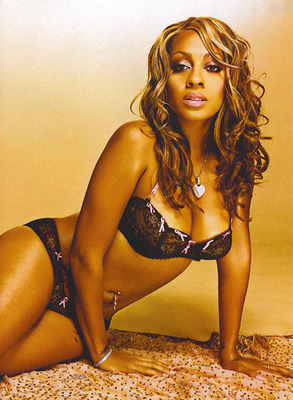 It must be hard for 'Melo to concentrate when he's got thousands of New Yorkers screaming at him and one seductive life partner unafraid to start a fight with opposing fans.
She may play harder than her husband, on the defensive end at least.
45. Hilary Duff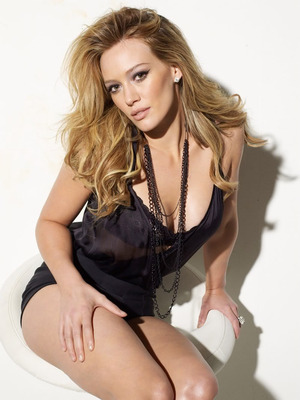 There was a time when we couldn't escape Hilary Duff's obnoxious immaturity, or rather Lizzie McGuire's annoying quest for nothing.
Now, the actress has seemingly faded into the shadows as she awaits her baby with NHL husband Mike Comrie.
A true Cinderella story, for us that is.
Nice ring.
44. Hayley McQueen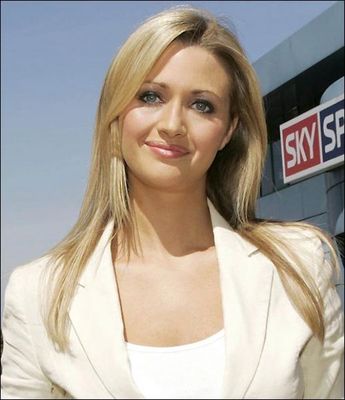 This Sky Sports presenter needs only her slight smile and magnetic eyes to inspire audiences.
Although Hayley McQueen's sexy British accent doesn't hurt her appeal either.
43. Brooke Sorenson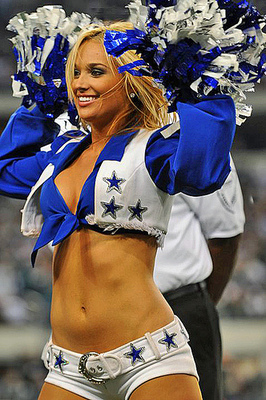 Former cheerleader Brooke Sorenson seems to be enjoying life as Laynce Nix's WAG.
She has plenty of time to hone her on-camera prowess, so many activities.
42. Latasha Marzolla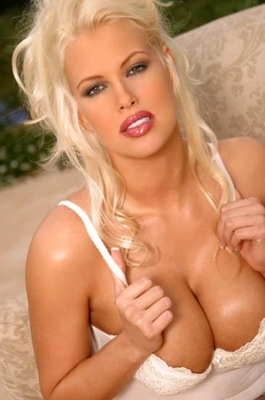 If we didn't know any better, we'd suspect American Mixed martial arts fighter Latasha Marzolla was secretly a Playboy glamour model.
Oh wait, she did that already.
41. Michelle Beadle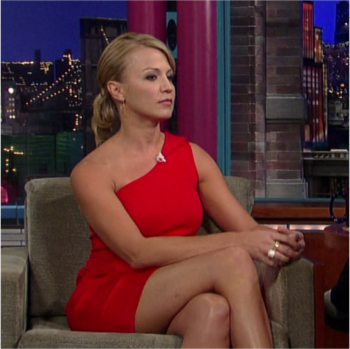 Calling her voluptuous may be a stretch, but swaggadocious SportsNation star Michelle Beadle always keeps us engaged with her inappropriate tones and harsh honesty.
Just telling it like it is as always.
40. Tatiana Golovin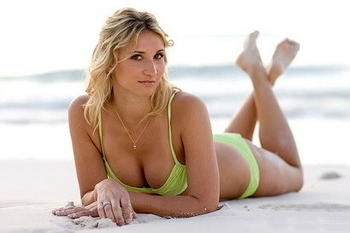 After sustaining a lower back injury that forced her to stop competing in 2008, French tennis player Tatiana Golovin evidently decided to focus on her aesthetics.
She's found a new passion, and what we believe is her true calling.
39. Liv Boeree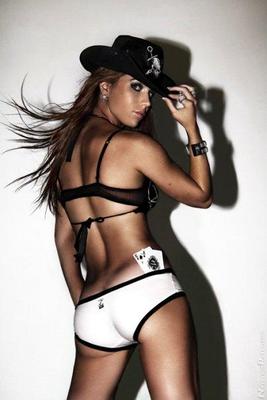 After winning the 2010 European Poker Tour in San Remo, Liv Boeree clearly went out and bought a boatload of props to improve her already-articulate photo shoots.
She knows all the tricks of the trade.
38. Danielle Lloyd
Footballers Teddy Sheringham, Marcus Bent, Armand Traore, Jermain Defoe, Jamie O'Hara.
Some might refer to model Danielle Lloyd as a serial WAG, but we prefer to label her a pimp.
The girl's got serious game, although she's now settled down with her latest beau.
37. Lindsey Vonn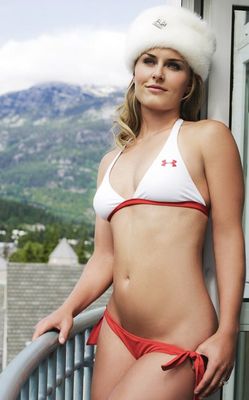 Like trying wine as an underage youth, Lindsey Vonn is an acquired taste, a pallet cleanser to many.
Her refreshing bravado leads us to believe the alpine skier is even more of a spark plug in person.
36. Penny Mathis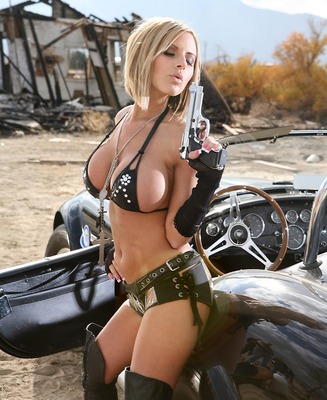 Never has violence looked so sexy.
While her MMA modeling work is clearly impressive, it's Penny Mathis' seductive curvature that has us intrigued.
Eyes curled and mouth watering.
35. Melany Lorenzo
She may be the better half of MMA fighter Karl James Noons, but Melany Lorenzo seems to be garnering the spotlight just fine on her own.
Such a violent stare provokes us to toss up the white flag.
34. Shanelle Loraine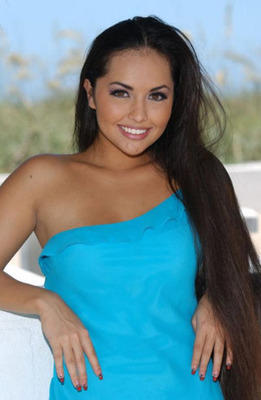 Excluding the life-threatening manicure, Shanelle Loraine seems to have the moxy to succeed in the world of sports beauty.
There's nothing sexier than a girl who can master the pockets of a billiards table.
This gentle smile could make her a brilliant con artist.
33. Trish Stratus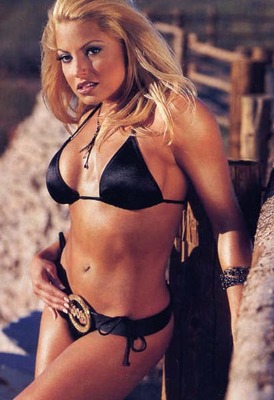 So much anger, so little time.
We simultaneously want to get into a ring with her and run for our lives.
Oh Trish Stratus, always in a galaxy of her own.
32. Kenza Fourati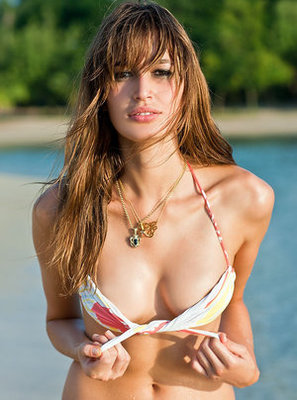 She may have been the first Arab model to pose for the Sports Illustrated Swimsuit Issue (2011), but that's not what makes French-born Tunisian model Kenza Fourati one of a kind.
Her soft nature tells a story throughout her pics, a tale we're eager to hear.
31. Miesha Tate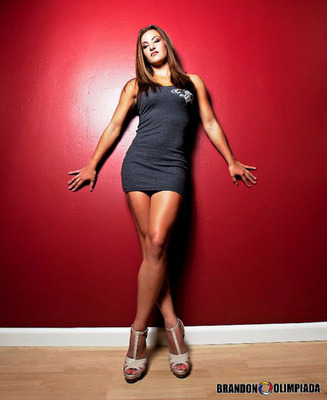 Like a patient hunter, Miesha Tate attracts her prey with a calm friendliness and then waits for the perfect moment to attack.
She's the No. 1-ranked 135-pound female fighter in the world, did you really expect a gentle beauty?
Nonetheless a pure knockout.
30. Taira Turley
It seems we've finally found Tim Tebow's perfect match.
Lingerie football star Taira Turley is an eye pleaser to viewers and a bruiser to opponents.
No regular train can stop her.
29. Maria Kanellis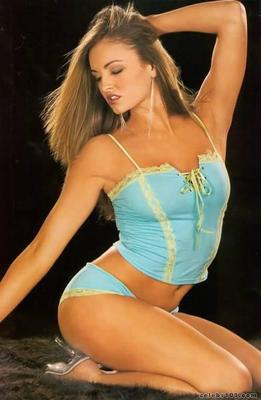 With every magical photo shoot, it's clear why we can't avoid Maria Kanellis.
We're not usually fond of bulky wrestlers, but Kanellis has that softness to complement her violent edge.
28. Bianca Cruz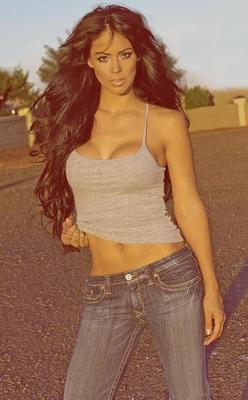 We just gained a new level of respect for former Mets bench warmer Jason Pridie.
His supposed girlfriend once slugged softballs for Arizona State, but now seems determined to hit homers with the camera.
She's yet to miss.
27. Anna Sedokova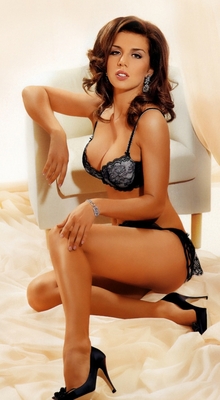 Famous for marrying (and then divorcing) footballer Valentin Belkevich, Ukrainian-Russian pop singer Anna Sedokova seems built from the same mold as Anna Semenovich.
A concerned stare gets everyone cheering.
26. Adree Desanti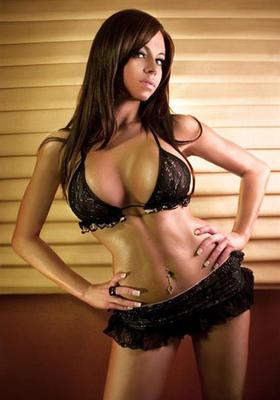 Sure she's been on the covers of TapOut Magazine and MMA Sports Magazine, but Adree Desanti has been flooding the MMA world for some time now because of her ability to focus.
This is just pure god-given talent, along with years of sitting completely still.
25. Lauren Gardner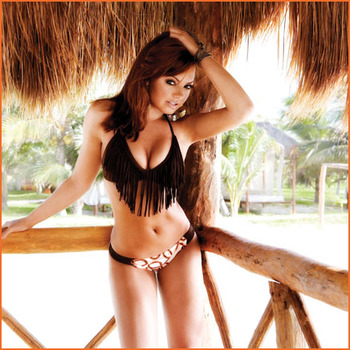 Former Broncos cheerleader turned sideline reporter, Lauren Gardner has the raw talent to develop into a star in the sports world.
And yeah, it's the year of the red head.
24. Kim Kardashian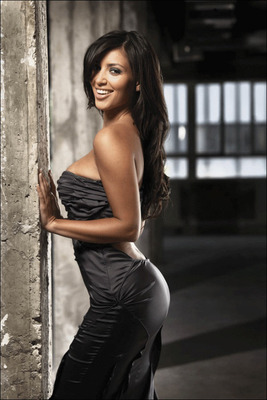 We hate to say it, but Kim Kardashian is actually quite bodacious, but always stuck between a rock and a hard place it seems.
Her seductive and adventurous nature led to relationships with Miles Austin, Reggie Bush and of course Kris Humphries.
He may have the personality of a rusted wrench, but we're all team Humphries at this point.
23. Niki Ghazian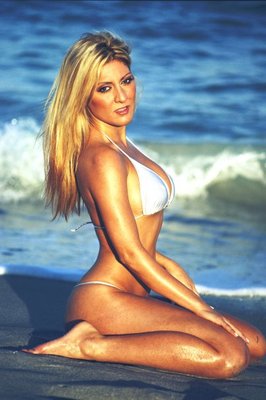 Lingerie football league, modeling and Cristiano Ronaldo...Niki Ghazian has done it all.
And she's far from finished.
22. Lokelani McMichael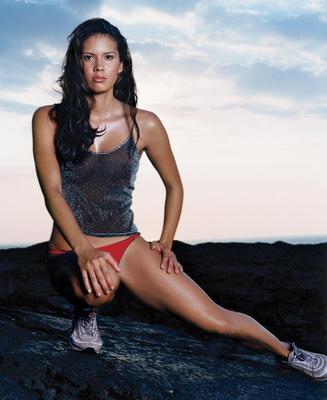 After becoming the youngest female to finish the Hawaii Ironman in 1995, it seems as though Lokelani McMichael decided to focus on modeling.
And we continue to thank her for that.
21. Anna Semenovich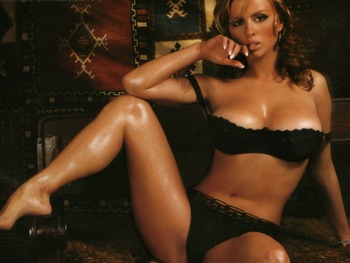 She may be a retired competitive ice dancer turned singer, but Anna Semenovich is clearly remembered most for her sexy off days.
Always dripping with potential on camera.
20. Keeley Hazell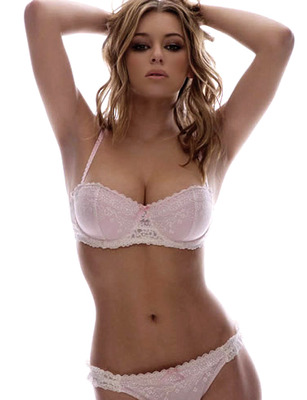 Once the girlfriend of footballer Joe Cole, glamour model Keeley Hazell has yet to leave the sports scene.
Her prosperous pictorials continue to travel the world wide web, from one pleased fan to the next.
19. Brittny Gastineau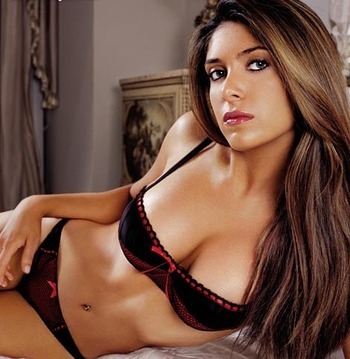 New York sack exchange star Mark Gastineau was known for ripping apart running backs, thrashing offensive lineman and intimidating quarterbacks.
His daughter? Well, she's heading a different route.
18. Charissa Thompson
Hanging in the middle of the road, cars crashing, passersby in awe, sun shining...just another routine Wednesday morning for ESPN sportscaster Charissa Thompson.
We're still waiting for that extra bit of enthusiasm and craziness on her photo shoots, but the talent is there.
17. Willa Ford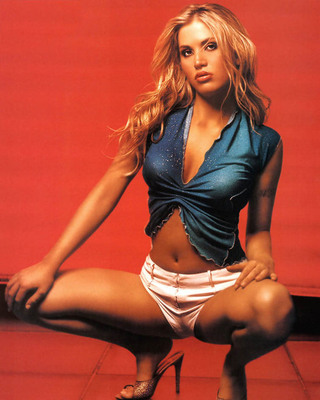 Now that Mike Modano has retired, his beautiful wife can finally hog the spotlight without feeling guilty.
The ice will miss her steamy presentation.
16. Jenn Brown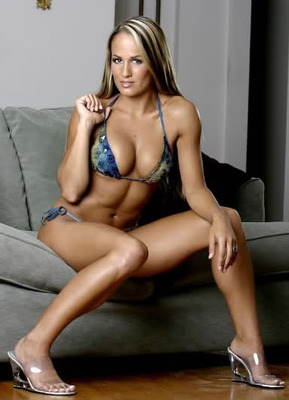 Jenn Brown has come a long way since her days as a helmet-haired softballer at Florida.
As she's matured on the sports reporting scene, so has her seduction in front of a camera.
A natural spark plug.
15. Jennie Finch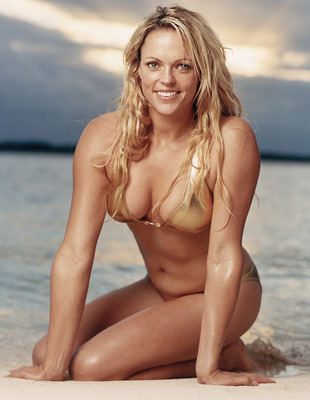 She may sound like a fictional character in To Kill a Mockingbird, but softball legend Jennie Finch left a far sexier legacy in place before her retirement from the sports world.
Just a quiet smile and a beach photo shoot can make any crowd go wild.
14. Mia St. John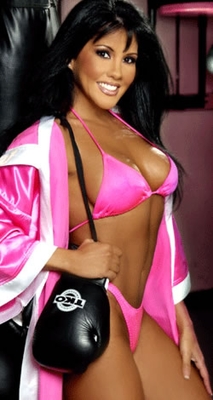 Few have expressed themselves with as much ferocious joy as Mia St. John.
As the former WIBA and WIBF Lightweight Champion, a Tae Kwon Do champion and a salacious subject on camera, there's a wide array of ways she can put her opponents into submission.
13. Noureen Dewulf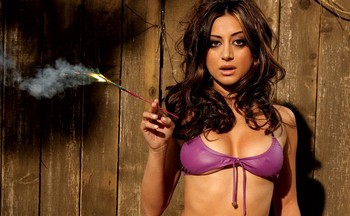 With a memorable name and an athletic husband in goalie Ryan Miller, actress Noureen Dewulf seems to be subtly cementing her name in the minds of sports fans worldwide.
The sparks are flying.
12. Federica Ridolfi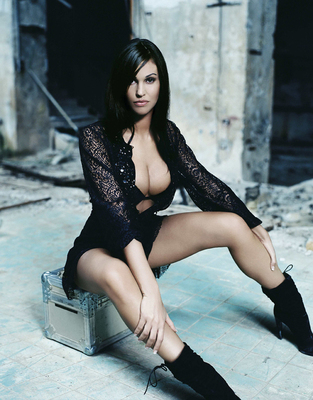 Not much is known about Italian dancer Federica Ridolfi, except that she's engaged to footballer Giuliano Giannichedda, has a breathtaking exterior and knows how to excite the crowd.
We can already hear her screaming, "Are you not entertained?"
11. Fatima Moreira De Melo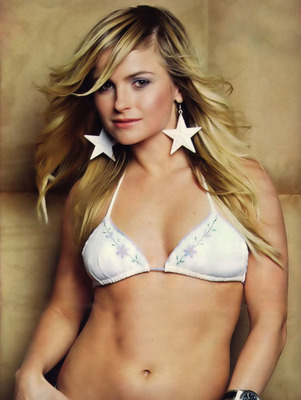 A 2008 Beijing Olympics gold medalist field hockey player and beautiful poker enthusiast...the perfect combination of strength and intelligence.
The first of her kind, Fatima Moreira de Melo is quickly garnering respect and frustrating writers with her name.
10. Doliccia Bryan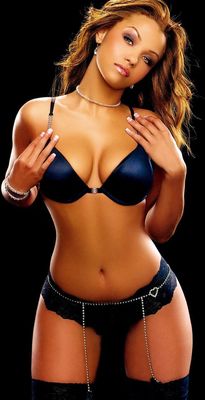 While her most authentic link was to safety Darren Sharper, video vixen Dollicia Bryan has also been rumored with Reggie Bush (while he was with Kim Kardashian) and, epically, Rob Kardashian.
She knows what it takes to get famous.
9. Larissa Riquelme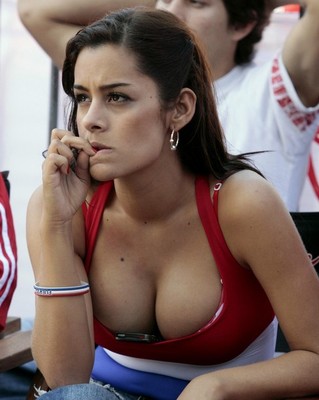 Even the way she chews her nails off is somehow enticing.
Nokia phone intact, focus shifted and cameramen in place, Larissa Riquelme always seems ready for an iconic photo shoot.
True fan support.
8. Vida Guerra
From respectful Derek Jeter to psychotic Jeremy Shockey, Cuban model Vida Guerra has clearly dabbled in sports.
But it's her uncontrollable curves that have us salivating. She always comes through in the clutch.
7. Ilary Blasi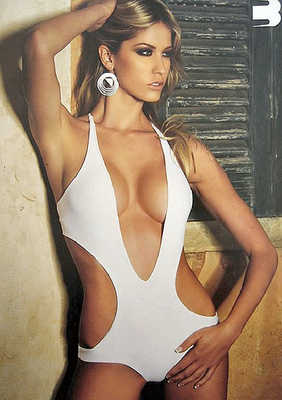 After starting early as a child actress, Italian showgirl Ilary Blasi maintained her fame by marrying footballer Francesco Totti.
But let's be honest...a glamorous pair of intricate earrings made this a masterpiece.
6. Rosaria Cannavo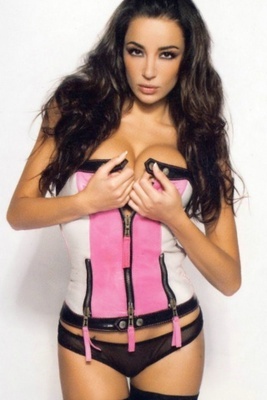 Now that it's clear Italian television features mostly smoking hot models with world-class curvature, we can finally enjoy all that they have to offer.
Known as Christian Panucci's girlfriend, model and television personality Rosaria Cannavo continues to climb the charts of the WAG world.
5. Patrycja Mikula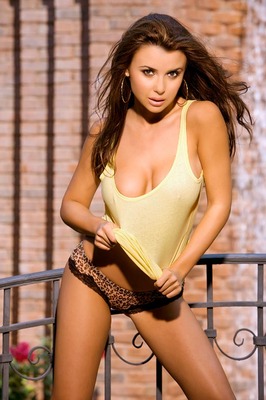 Sure she married footballer Krzysztof Król after only seven weeks of dating, but that's not what has us speechless.
We're much more amazed with Playboy Cybergirl Patrycja Mikula's ability to find a partner with an even more abstract name than hers.
4. Sabrina Maserati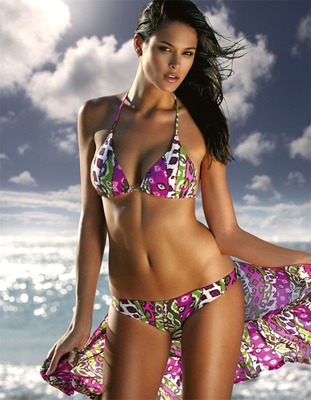 He may throw down ridiculous posterizations on the hardwood, but Blake Griffin is perhaps more lethal off the floor.
And even though his new girlfriend's last name is Maserati, this beautiful model is the Bugatti Veyron of WAGs.
Now that's a dunk.
3. Shana Hiatt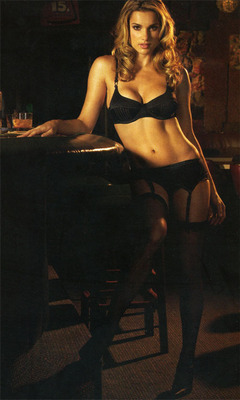 There are few women we'd rather battle hands with than poker world sensation Shana Hiatt.
Known for hosting the first three seasons of World Poker Tour, Hiatt can turn any event into a spectacle just by showing up.
2. Carrie Milbank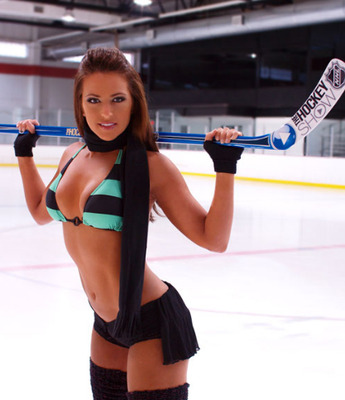 Perhaps the most vivacious sports reporter currently walking the earth, former Texans cheerleader Carrie Milbank is now known for heating up the ice on NHL.com's The Hockey Show.
Easily the sexiest part of hockey.
1. Leeann Tweeden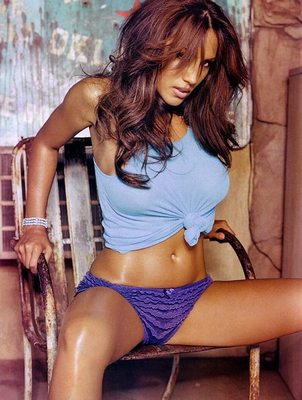 A former Hooter's and FHM cover girl, Leeann Tweeden always seems eager for a memorable session with a pair of lenses.
She's now seen covering the Angels for Fox Sports West, historic broadcasts indeed.
Keep Reading