Big East Tournament 2012 Schedule: Georgetown and Teams on Upset Watch
March 7, 2012

Jonathan Daniel/Getty Images
After one day of the Big East Tournament, there have been little to no surprises. However, with the talent level rising on day two, there is a better chance to see more upsets. 
Georgetown Hoyas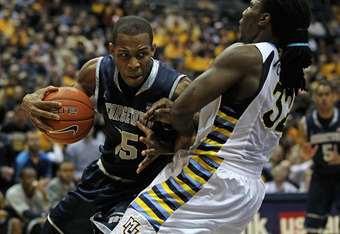 Jonathan Daniel/Getty Images
Georgetown received their first-round bye after posting an impressive 22-7 overall record and a Big East conference record of 12-6. However, when Georgetown and Pittsburgh met this season, the Panthers blew out the Hoyas 72-60. 
Pittsburgh shot lights-out against the Hoyas hitting over .500 percent of their field goals. At one point during that game, Pittsburgh even had a 17-point lead over Georgetown. 
With the Panthers blowing out St. Johns in their first round, 73-59, it looks like this Panthers team may have found its groove. They were a Top 10 team in the preseason in the AP Top 25 poll, so a win here would be shocking, but not unexpected. 
West Virginia Mountaineers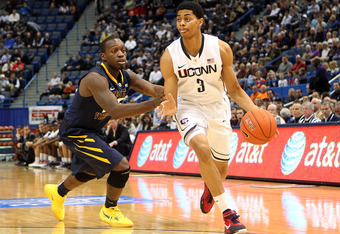 Jim Rogash/Getty Images
The Mountaineers barely got into the position to have a first-round bye, but they had one more conference win over the team they're playing today, the Connecticut Huskies. 
Just like Pittsburgh over Georgetown, UConn put a beat down on West Virginia earlier this year defeating them 64-57. That game saw UConn overcome a five-point deficit to outscore the Mountaineers in the second half by eight to push them to a big victory. 
UConn opened their Big East tournament play with a dominating performance over DePaul winning 81-67. 
UConn will have to get another big performance in the second round from guard/forward Jeremy Lamb. Against DePaul, Lamb played for 39 minutes while leading the team with 25 points, 10 field goals and three three-pointers made.
Louisville Cardinals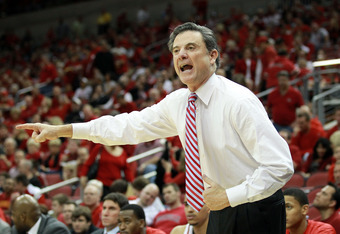 Andy Lyons/Getty Images
Louisville has struggled down the stretch of their season losing four of their final six games. Two of those losses were to unranked teams, while the other two were to the No. 2 team in the country, the Syracuse Orange. 
Louisville goes up against Seton Hall in the second round, who need as many wins as they can get to ensure their spot in the upcoming NCAA Tournament field. 
In Round 1, Seton Hall took apart Providence 79-47. If the Pirates can carry that momentum into their second round match against Louisville, the Cardinals will have no chance in holding off this Seton Hall team.
These three upsets will happen today at Madison Square Garden. However, these favorites all have a great chance at making the NCAA Tournament field next week, so a loss today will not hurt their chances.