Randy Moss Is Better Option Than Marques Colston for New Orleans Saints
March 7, 2012

Grant Halverson/Getty Images
The New Orleans Saints decided not to neither franchise tag nor re-sign wide receiver Marques Colston, which was smart. Instead what the Saints should do is let Colston go and instead bring in Randy Moss. 
Moss recently came out of retirement and held a workout for Saints officials at their facilities. According to sportsNOLA.com, league sources say Moss was impressive with his 40-yard dash time and the shape he's in saying:
"The 35-year old Moss reportedly performed the 40-yard dash in the 4.39 to 4.4 range and ran routes while hauling in nearly 50 passes. One source described Moss as being more impressive than anticipated, saying that he is in great shape.

Moss spoke with Saints officials, including Mickey Loomis and Sean Payton, after the workout and both sides were encouraging to one another. The sources confirm that there is a strong chance of the two sides coming together on a deal that would make Moss a Saint in 2012."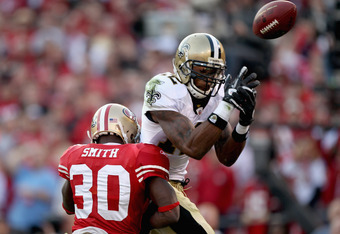 Jed Jacobsohn/Getty Images
Colston had a great career with New Orleans. He ranks third on their all-time list in receptions, receiving yards and touchdowns; and if he would have been re-signed or given a  franchise tag with the Saints, he would have more than likely been the Saints all-time leader in all of those stats. 
However, this Saints team has a number of free agents who are demanding new contracts that will leave Colston outside of New Orleans. 
According to Nola.com, the Saints just restructured Will Smith's contract to give the Saints some salary cap relief. The deal could have saved the Saints $4 million in cap space, but the Saints still have to re-sign the recently franchise-tagged quarterback, Drew Brees. 
The official salary cap number has not been released for 2012; but, it looks like the Saints could be about $15 million under the new cap. 
Brees' impending contract, coupled with the team's desire to have room to sign the young tight end Jimmy Graham in 2014, the smart business decision is to sign Moss at a one- or two-year deal that has a cap hit between $1 million to $3 million per year. 
Moss can still give the Saints that deep threat, especially if he can run a 4.3 40-yard dash. 
Colston will go to another team and sign a contract that pays him $7 to $9 million per year for the next five years. However, the Saints will not miss Colston when Moss is catching long passes next season from Brees.