Boston Celtics Trade Rumors: What C's Want for Ray Allen
March 7, 2012

Elsa/Getty Images
The Boston Celtics haven't placed Ray Allen on the trading block, but that won't stop GM Danny Ainge from listening to offers for his star shooting guard.
Yahoo! Sports' Adrian Wojnarowski reported last week that Ainge and coach Doc Rivers do not have confidence in their current squad to win a championship and are willing to blow up their roster in order to build for the future.
According to Sam Amick of Sports Illustrated, a few executives around the league believe that Jesus Shuttlesworth and his expiring $10 million contract could be moved and the C's would like to return a youthful player and a draft pick for the man.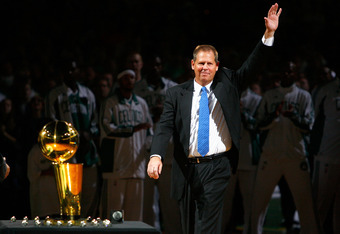 Jim Rogash/Getty Images
However, it's going to be tough to find a taker for Allen for the reported asking price, as many teams are going to be unwilling to make the suddenly red-hot C's an extraordinary offer for a 36-year-old SG they would be renting for a few months until free agency.
The Clippers are one interested party, but they do not possess the first-rounder in 2012 that Ainge is looking for. The best they could do is package Eric Bledsoe—an actual asset—with Ryan Gomes' and Randy Foye's contracts in exchange for the NBA's all-time three-point king.
It's doubtful the Celtics, who have won five straight since the All-Star break and look competitive again, would make that move. 
It would take an offer the team could not refuse to pry Allen away from his current team, and it just doesn't look like anyone is willing to do that right now.
There are plenty of solid shooting guards on contenders right now and it's just not a position of need for those teams that have a shot to win a championship.
The franchises that need someone like Allen are all floundering right now and would not be willing to abandon their youth movement to take on a veteran who would certainly leave in the summer.
Expect Jesus to remain with the C's for the postseason and then decide on his future after that.