Lakers Trade Rumors: Andrew Bynum's Success Should Spark Pau Gasol Trade
March 7, 2012

Stephen Dunn/Getty Images
A healthy Andrew Bynum has established himself as a dominant center in this league, while his frontcourt partner Pau Gasol finds his name in a new batch of trade rumors on a daily basis.
Before the season began, Lakers fans were desperate to trade Bynum away to make a run at Dwight Howard while retaining Gasol.
Now the script has been flipped and Gasol's the one on the chopping block.
Bynum is in the midst of a career season. He's averaging career-high marks of 16.7 points, 12.9 rebounds and 2.2 blocks while shooting 55.7 percent from the floor.
His 22.77 PER (Player Efficiency Rating) ranks him No. 15 in the league, ahead of notable names like Steve Nash, Deron Williams and Marcin Gortat.
In a league where talented centers are a rare breed, Bynum is establishing himself as a critical part to Los Angeles' future.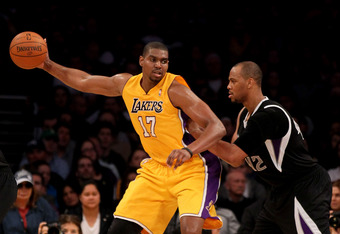 Stephen Dunn/Getty Images
While Gasol's decline as a player has been greatly exaggerated this season, there is valid reasoning behind the idea of moving him in the foreseeable future.
Although Gasol is averaging a career-low 16.8 points per game, he's averaging the second-highest rebound total of his career and is still a very valuable contributor.
There are a number of teams that would love to have a seven-footer averaging a double-double who shoots better than 50 percent from the floor and is signed through 2014.
But the Lakers need to start thinking about the long-term picture.
There are voids all over the roster.
A gaping hole at point guard, underwhelming production from small forward and a second unit that struggles to produce on the offensive end of the floor.
And then there is the growing concern about the amount of money Gasol is scheduled to earn in the future.
Gasol is slated to make more than $38 million from 2012-14.
Over that same span of time, Kobe Bryant is to earn nearly $60 million while the Lakers will have to find a way to re-sign Bynum after his current deal concludes following the 2012-13 campaign.
Los Angeles also has to address its depth concerns, the point guard problem and what to do at small forward.
This is a team that traded away Lamar Odom to shed salary.
The Lakers had no interest in paying a sixth man nearly $9 million, and with the harsher penalties the new Collective Bargaining Agreement carries for teams in luxury tax territories, money is going to be a concern moving forward.
No, Los Angeles won't suddenly take a cost-conscious approach and cheap out when there is a move to be made, but the days of throwing money at free agents and not worrying about the long-term impact of such a transaction are gone.
If the Lakers enter 2012-13 with Bryant, Gasol and Bynum all on the team, the team will have more than $60 million invested in just three players.
How long can this team ignore addressing its needs?
The Lakers don't have much to offer in a trade.
It's either Bynum or Gasol for teams that are calling general manager Mitch Kupchak.
Because the latter has more time remaining on his contract and he comes without health concerns, Gasol is the obvious choice to use as a trade chip if the team can find the right deal.
But here's the thing about the "right deal"—Gasol is on the wrong side of 30, and there won't be many interested teams looking to pay a premium for a veteran who makes nearly $40 million over the next two years.
There aren't a lot of teams that match up on a Gasol trade with what the Lakers are looking to get in return.
What we do know is this—the Houston Rockets like Gasol.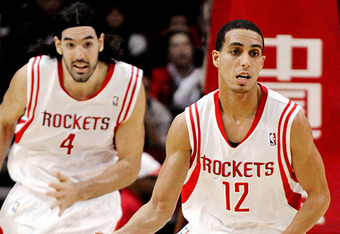 General manager Daryl Morey has long held an affinity for the big man, and his team nearly acquired Gasol before the season began in the vetoed Chris Paul trade.
Speculation is running rampant about what it would take for the two teams to successfully execute a trade for Gasol.
Sam Smith of NBA.com throws out a Kyle Lowry and Luis Scola for Gasol proposal as one that makes sense for both sides.
While such a deal works financially and would likely benefit both teams, the Rockets have been consistent in saying Lowry is not available in a trade.
Frankly, why would the Rockets move him? He's signed at an unbelievable bargain through the 2013-14 season and has really established himself as one of the more talented point guards in the league.
But there's another deal that benefits both sides, and it involves players each team was previously willing to give up in the three-way deal between Los Angeles, Houston and New Orleans.
Kevin Martin, Luis Scola and Goran Dragic in exchange for Gasol.
Should the Lakers look to a future that does not include Gasol, this is the deal to make.
March 15 is just eight days away.