25 Biggest Upsets in MMA History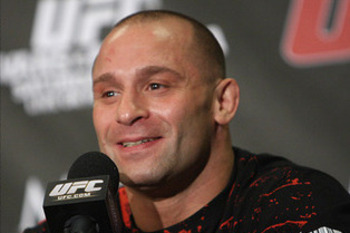 Matt Serra/ Scott Petersen for MMAWeekly.com
People like to think simple math can properly calculate outcomes when it comes to MMA.
Matt Serra has proven that against all odds, even the impossible can happen.
Here, we will take a look at some of the most surprising of outcomes in the history of the sport, where guys like the aforementioned Serra, Fabricio Werdum and even Frankie Edgar have defied those odds and come out on top.
Matt Serra/ Scott Petersen for MMAWeekly.com
Frankie Edgar vs. Sean Sherk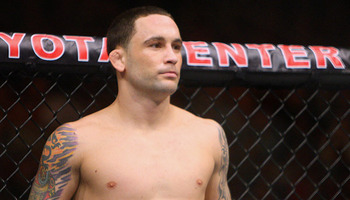 Edgar/ Ken Pishna for MMAWeekly.com
At the time, Edgar was regarded as one of the division's most exciting fighters, but he was a long ways away from title contention.
Then, the opportunity presented itself for the New Jersey fighter to take on a former world champion in Sean Sherk.
Edgar jumped at the opportunity and made the most of it, using his crisp, lightning-fast boxing skills to dance around Sherk, pop him with shots and eventually take the decision win, catapulting him up the ranks and moving him closer to the title.
Frankie Edgar vs. BJ Penn I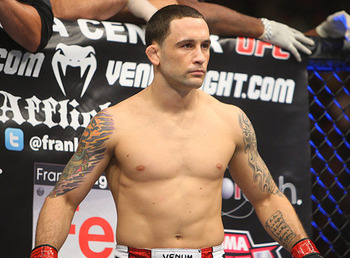 Edgar/ Ken Pishna for MMAWeekly.com
No matter what fight he takes as a lightweight, Edgar has been consistently regarded as the underdog, despite showing some world-class skills inside the Octagon as an undersized 155-pounder.
Naturally, though, Edgar was not given a snowball's chance in hell when he was slated to face then-reigning UFC lightweight champion BJ Penn, who is recognized as one of the greatest of all time.
Penn started strong but faded as the fight wore on, allowing Edgar to dictate the pace of the fight with his unrelenting attacks of strikes and takedown attempts.
Though the decision was close and somewhat contentious, Edgar defeated Penn and dethroned arguably the greatest lightweight of all time.
BJ Penn vs. Matt Hughes I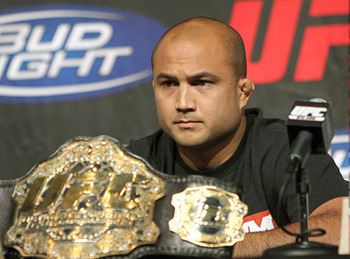 Penn/ MMAWeekly.com
Speaking of Penn, the manic Hawaiian opted some years ago to venture into unfamiliar territory at 170 pounds in order to challenge Matt Hughes for his UFC title.
After two failed bids at the belt in the lightweight division, Penn finally earned gold when he stunned Hughes with a right hand early, taking his back and eventually cinching in the fight-ending rear-naked choke in the first round.
At the time, Hughes was widely considered to be one of, if not the best pound-for-pound fighter in the sport.
Urijah Faber vs. Mike Brown I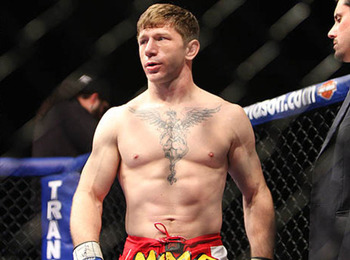 Brown/ Laron Zaugg for MMAWeekly.com
At the height of his career, Faber was considered to be the best at 145 pounds for years.
His run in the WEC was unprecedented, as the champ had defended his crown more times than any other titleholder before him, though things quickly changed once "The California Kid" tangled with Mike Brown.
The American Top Team product was a relative unknown, though he used a decision win over Jeff Curran to put him into the No. 1 contender position.
Brown proved that he was worthy of the shot at the belt, leveling Faber with a well-timed right hand which sent him crumbling to the canvas.
Additional ground-and-pound blows sealed the first-round finish and Brown became the new 145-pound champ in the process.
Brian Bowles vs. Miguel Torres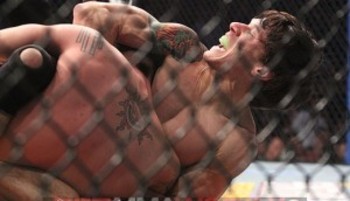 Bowles/ Ken Pishna for MMAWeekly.com
At the time, Bowles was just a 7-0 prospect who looked like he was being fed to the lions as he was matched up against Torres, the reigning WEC bantamweight champ and one of the best pound-for-pound fighters in the world.
Torres had nearly 40 fights under his belt by the time both he and Bowles stepped into the cage. Torres managed to rock Bowles early with a hook, though the heavy-hitting West Virginia native answered back with a hook of his own.
Rocking and dropping Torres to the canvas, Bowles followed up with some hellish punches on the ground which sealed the emphatic knockout finish, cinching the belt in the process.
Randy Couture vs. Tim Sylvia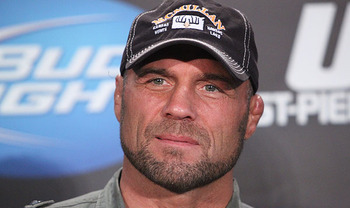 Couture/ Ken Pishna for MMAWeekly.com
After suffering two knockout defeats in the light heavyweight class, Couture came out of a retirement in order to take on the heavyweight bruiser in then-champion Tim Sylvia, who had a habit of finishing people with his fists.
Instead, the 43-year-old Couture shocked the world with his own heavy shots, dropping Sylvia early with a right hand.
That one punch dictated the rest of the fight, as Couture was able to manhandle Sylvia in all facets of the fight, outstriking him and out grappling for five rounds before he took home the decision win and his fifth world title.
Randy Couture vs. Vitor Belfort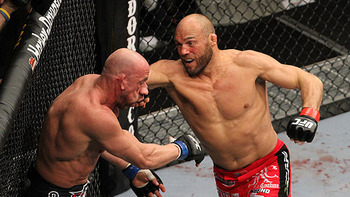 Couture (right)/ Scott Petersen for MMAWeekly.com
Couture has made a habit of defying the odds before.
At the time, Vitor Belfort was considered to be the next big thing in the heavyweight division. The young and tough Brazilian ascended the ranks quickly thanks to his black belt jiu-jitsu skills and his unwavering boxing acumen, coupled with some serious speed and power.
Couture waded into danger early, clinching Belfort while delivering some short hooks and uppercuts of his own. As the fight wore on, Belfort began to tire and the mounting blows began to take a toll on "The Phenom," who succumbed to a surprise TKO loss to Couture.
Randy Couture vs. Chuck Liddell I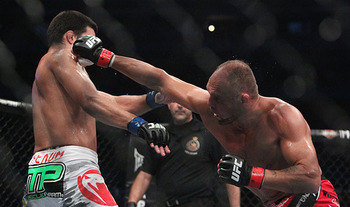 Couture/ Ken Pishna for MMAWeekly.com
Against Liddell, Couture was facing a man with real knockout power in either hand who also came from a wrestling background.
Stylistically, Liddell was a nightmare for Couture, though "The Natural" again proved that simple MMA math just doesn't mean anything once you step inside the Octagon.
Couture frustrated Liddell early with his pressure, wading forward with punches. Liddell, at the time, was used to stalking his prey and did not know how to respond when he himself was pressured.
Couture scored several takedowns, which began to wear on Liddell, who eventually wilted in the third and was finished off with strikes.
Gabriel Gonzaga vs. Mirko Cro Cop
Gonzaga/ Jeff Cain for MMAWeekly.com
In a heavyweight title eliminator, many pegged that former K-1 and Pride star Mirko Cro Cop would blow right through submission whiz Gabriel Gonzaga.
Known for his tremendous highlight-reel knockouts, Cro Cop fell victim to one of the nastiest KO's in MMA history, as Gonzaga sent the Croatian crashing to the canvas with a head kick.
Ironically enough, head kick KO's were a signature in the heyday of Cro Cop.
Forrest Griffin vs. Mauricio Rua
Griffin/ MMAWeekly.com
At the time, Rua was widely considered the best fighter in the light heavyweight division and though Griffin was a tough contender, many believed that he was being fed to the sharks when he was slated to face the Brazilian dynamo.
Rua started strong, though Griffin's size and unrelenting cardio proved detrimental as the fight went into the later rounds, with the Xtreme Couture product grinding on his opponent.
The fight was tight-knit throughout, with Rua doing some damage of his own with a vicious elbow.
In the third, Griffin had just seconds remaining though he looked to cinch the finish as he locked in a rear-naked choke. Moments later, Rua tapped out from the hold, earning Griffin the most prestigious win of his career.
Sokoudjou vs. Antonio Rogerio Nogueira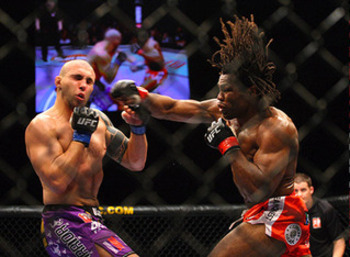 Sok (right)/ Lee Whitehead for MMAWeekly.com
At the time, "The African Assassin" was just a 2-1 fighter who was coming off of a TKO loss.
So, easy pickings for a tested veteran like Antonio Rogerio Nogueira, right?
Wrong.
Sokoudjou leveled Nogueira early with some fast strikes, connecting on a left which sent the Brazilian crashing to the canvas from the telling blow, earning Sokoudjou the knockout in just 23 seconds of the opening round.
Sokoudjou vs. Ricardo Arona
Sok/ MMAWeekly.com
A former Pride Grand Prix finalist and former title challenger, Ricardo Arona was among the best in the light heavyweight class and was looking to take some of the steam away from Sokoudjou, who was fresh off of an upset victory over "Lil' Nog."
After shucking off several takedown attempts early, Sokoudjou connected on a blistering uppercut, sending Arona tumbling towards the canvas. There, additional punches and kicks sealed another knockout finish in the first round.
Fabricio Werdum vs. Fedor Emelianenko
Fedor/ Ken Pishna for MMAWeekly.com
Considered arguably the greatest of all time, Emelianenko went undefeated for nearly a decade. That is, before Fabricio Werdum came into the picture.
The Russian looked as if he rocked and dropped Werdum early. Emelianenko waded in with some wild strikes, to which Werdum answered by locking up a tight triangle choke.
Fedor escaped at first, though once the hold was applied again, it was a done deal. Try as he may, Emelianenko eventually conceded and was forced to tap in just 69 seconds of the opening round.
Brett Rogers vs. Andrei Arlovski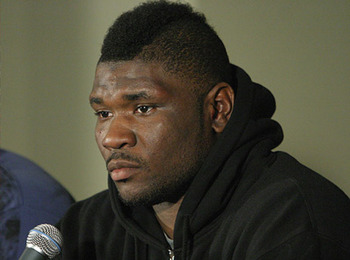 Rogers/ Jeff Cain for MMAWeekly.com
Though he was reeling from a knockout loss to Emelianenko, Arlovski was still widely regarded as one of the best heavyweights on the planet.
When "The Pitbull" made his debut with Strikeforce, he was pitted against the unheralded Brett Rogers, who had failed to record a significant one against any real notable opponent.
Well, that all changed as Rogers waded in with wild hooks early, catching Arlovski against the cage, where he was victimized by some heavy shots.
Rogers earned the knockout finish in just a matter of seconds.
Tito Ortiz vs. Ryan Bader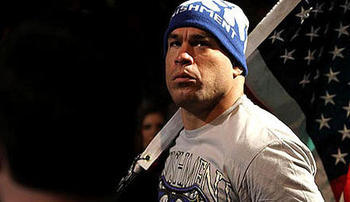 Ortiz/ MMAWeekly.com
After suffering a career-worst five-fight winless streak, it was do or die for Ortiz as he took on contender Ryan Bader last July.
Ortiz managed to catch Bader with an uppercut early, sending him crashing to the mat, where "The Huntington Beach Bad Boy" wasted little time in locking up a guillotine choke.
Ortiz squeezed away as Bader eventually tapped out from the hold, giving Ortiz the first win of his career in close to five years.
Rashad Evans vs. Chuck Liddell
Evans/ Scott Petersen for MMAWeekly.com
Liddell was coming off of a rousing performance against rival Wanderlei Silva and looked to be just one win away from a shot at the UFC title when he took on contender Rashad Evans. Evans was coming off of a lackluster split-decision win over Michael Bisping.
Liddell took the first frame, as he stalked Evans around the cage and popped him with a few shots early.
Then, Liddell's overzealous nature got the best of him, as the fast and wily Evans was able to stave away from "The Iceman's" dangerous looping right and counter with some hooks of his own.
Just as Liddell threw an uppercut, Evans countered with a vicious right hook, which sent Liddell to the canvas out cold well before he hit the deck.
Houston Alexander vs, Keith Jardine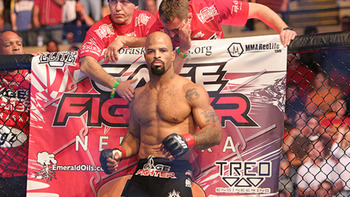 Alexander/ Ken Pishna for MMAWeekly.com
After defeating Forrest Griffin, Jardine was expecting a big-name opponent. Instead, what he got was relative unknown Houston Alexander.
Jardine manged to drop the UFC newcomer with a right hand early, though Alexander regrouped and drove "The Dean of Mean" against the cage.
There, a hellish barrage of punches ensued, with Alexander rocking Jardine with some heavy leather, eventually face-planting him to the canvas with an uppercut.
The finish came just 48 seconds into the first round.
Marcus Aurelio vs. Takanori Gomi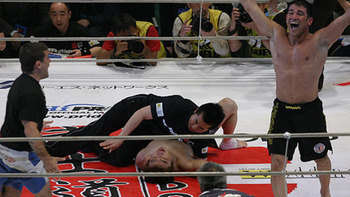 Aurelio (right)/ Scott Petersen for MMAWeekly.com
It looked as if Pride was matching Gomi up with the prototypical jiu-jitsu practitioner, which in the past had played right into Gomi's hand of knocking people out.
Instead, Aurelio made the most of the opportunity by cinching the takedown on the wrestler and immediately moving into an arm triangle choke which put Gomi to sleep in just seconds.
The first-round finish put Aurelio on the map and immediately warranted a rematch, which this time would be for Gomi's Pride lightweight title.
Scott Smith vs. Cung Le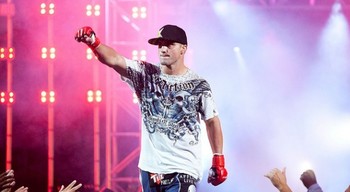 Smith/ Showtime (sho.sports.com)
Le never lost his Strikeforce title.
Instead, the striking ace opted to vacate the title in order to pursue an acting career, but his love for fighting eventually won him over. After spending well over a year away from the sport, Le returned to take on the always tough Scott Smith.
Le dominated "Hands of Steel" early on, though Smith remained vigilant in his approach, eventually timing a well-placed left hook which wobbled Le to the canvas.
Smith followed up with additional punches, which secured him the come-from-behind TKO victory in the third.
Kevin Randleman vs. Mirko Cro Cop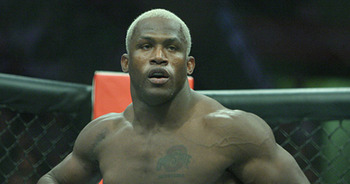 Randleman/ MMAWeekly.com
At the time, Randleman was coming off of two decisive losses at the hands of Quinton Jackson and Kazushi Sakuraba.
Naturally, against a touted striker in Mirko Cro Cop, who had unbelievable takedown defense, Randleman looked to be at a decided disadvantage.
What ensued, however, was completely unexpected.
Randleman feinted the takedown over and over again and just as Cro Cop let his guard down, Randleman connected on a vicious hook to the jaw, dropping the K-1 superstar to the mat.
Some heavy forearm smashes to the face recorded the knockout finish in the first round.
Keith Jardine vs. Chuck Liddell
Jardine/ Jeff Cain for MMAWeekly.com
Jardine was recently on the heels of a knockout loss to Houston Alexander and looked to be the perfect kind of opponent to get former champion Chuck Liddell back on track.
However, "The Dean of Mean" had other plans, as he was able to showcase his kicking prowess, bludgeoning the leg and body of Liddell over and over again.
Liddell connected on some grazing shots that bloodied Jardine early, though it was the Greg Jackson fighter's own right hand that leveled Liddell to the mat early.
In the end, Jardine took home the decision win, solidifying his place amongst the best at 205 pounds.
Anderson Silva vs. Hayato Sakurai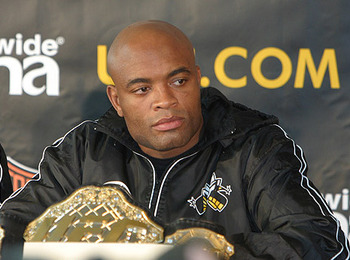 Silva/ Jeff Cain for MMAWeekly.com
At the time, Sakurai was widely considered the best welterweight fighter on the planet, let alone one of the pound-for-pound best.
In his first 20 fights, Sakurai went undefeated, though that all changed once a wily Brazilian named Anderson Silva strolled around.
"The Spider" managed to use his length and underrated jiu-jitsu acumen to out grapple "Mach" early on. On the feet? It was no contest, as the striking aficionado in Silva staved away from the powerful hooks and knees from Sakurai early while delivering some damage of his own.
In the end, Silva dethroned Sakurai for his Shooto championship, handing him the first loss of his career.
Joe Lauzon vs. Jens Pulver
Lauzon (right)/ Scott Petersen for MMAWeekly.com
Jens Pulver was looking to make memorable return to the Octagon after staying away for so long.
Well, his re-entrance will certainly not be forgotten anytime soon, as Joe Lauzon played the role of "the party pooper."
The UFC newcomer managed to stun Pulver early with some heavy shots, dropping him to the canvas where the referee quickly intervened, giving Lauzon the surprising knockout finish against a man who had made a career of finishing his opponents with strikes.
Junior Dos Santos vs. Fabricio Werdum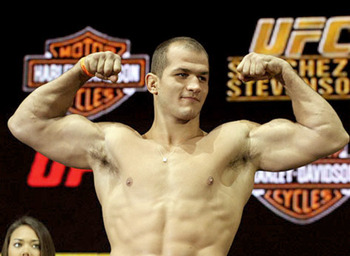 Dos Santos/ Lee Whitehead for MMAWeekly.com
Sure, now it doesn't seem like such a stretch, but at the time, who was Junior dos Santos?
The UFC newcomer was slated to face Fabricio Werdum, a top contender in the UFC who had finished off both Gabriel Gonzaga and Brandon Vera in succession.
Werdum came out aggressive, though it was the striking ace in Dos Santos who struck first, connecting on a vicious uppercut.
Werdum went face first into the canvas, where some more heavy shots followed, sealing "Cigano" the knockout finish in the first round.
Matt Serra vs. Georges St-Pierre I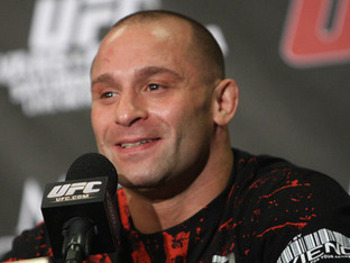 Serra/ Scott Petersen for MMAWeekly.com
After winning Season 4 of The Ultimate Fighter with a lackluster decision win over Chris Lytle, needless to say, not too many people gave Matt Serra a fighting chance against the newly crowned champion in Georges St-Pierre.
The Canadian managed to use his reach early, keeping Serra at a distance with long jabs and kicks.
Serra waded into the pocket, eventually connecting on a sweeping right hook which had St-Pierre in all kinds of trouble.
The New Yorker followed up with additional right hands, eventually rocking and dropping "Rush" against the fence, where some ground-and-pound blows elicited the first-round finish, making Serra the new UFC champion in the process.
Keep Reading