Rajon Rondo Trade Rumors: Why Boston Must Keep Rondo and Use Him to Rebuild
March 7, 2012
Boston Celtics general manager Danny Ainge would be crazy to trade Rajon Rondo.
There is simply no other way to slice it.
Rondo's name has been thrown around in rumors since before the season began, and there has been growing speculation that his long-term future is not in Boston.
The Celtics would be making a major mistake in trading.
Ainge and Doc Rivers have both voiced their public support for Rondo and have been adamant that he'll remain with the Celtics.
"My relationship with Rajon is as strong as it has ever been," (Rivers) said.

"He's our best player, he's the most important part of our future," said Ainge. "There's no way we're actively trying to trade Rondo. That makes no sense, no logical sense."
Those are strong words from Ainge. But the key takeaway from the quote is the phrase "actively trying to trade Rondo." Boston might not be calling teams about a possible Rondo deal, but there is no question the front office is listening to any offer that might come in.
But why are the Celtics even listening? Unless it's an unbelievably lopsided deal that clearly favors Boston in emphatic fashion, there should be no deal good enough to pry Rondo out of Boston.
Rondo's contract is the most valuable in the NBA. There can be arguments made for several players who are on club-friendly deals (see: Lowry, Kyle), but Rondo is signed for another three seasons (after this year) for just $36 million.
At an average annual value of $12 million in a league where players are routinely overpaid, Rondo is invaluable.
He's crucial to what the Celtics are doing with this core right now, but he's even more important to what the team will do going forward.
Some have asked the question and cast serious doubts as to whether a championship-caliber club can be built around Rondo.
The short answer is yes.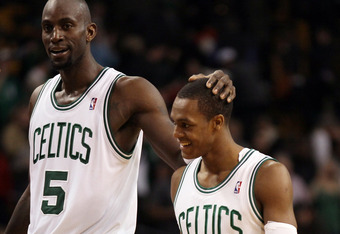 Elsa/Getty Images
Here is the thing about about Rondo: He has a unique skill set that will only be fully maximized when he plays with the right personnel.
Rondo would love to get out and run, but he doesn't have current teammates capable of doing that on a consistent basis.
Boston needs to utilize its cap space in 2012 to bring in youth and athleticism to pair with Rondo.
Ainge has done a careful job of creating cap space in a loaded free-agent class, and the Celtics are slated to have a ton of money coming off the books.
If he's being labeled as the best player on the team (which he is), and referred to as an integral cog for the future, why does his name consistently pop up in rumors?
Why does Ainge need to constantly clarify his stance on Rondo's future?
Rondo isn't part of the problem, he's an imperative part of the solution.
Should the Celtics trade Rondo? It's a ridiculous concept to think about.
Trading Rondo doesn't help this team build for the future, it sets Boston back immensely.
There would be no explanation convincing enough to support a move that sends Rondo packing.