Youth Movement on the New England Patriots Offensive Line
March 7, 2012

The New England Patriots may have some questions marks this offseason regarding the offensive line, but it's nothing like it was last year.
Following the end of the 2010 season the fate of Stephen Neal was unknown as the veteran was debating whether he would return or retire. Matt Light was hitting free agency for the first time in his career and Logan Mankins had just held out for seven weeks during the season after being franchise tagged. 
The only starters under contract were Sebastian Vollmer, Dan Koppen and the aforementioned Neal.
It all worked out in the end though. Not to toot my own horn, but I correctly predicted a two-year deal for Light and foresaw a free-agent addition at guard which eventually turned out to be Pro Bowler Brian Waters. Dan Connolly was a player I highlighted as likely to see increased snaps.
Waters deserves all the credit in the world for his seamless integration into the Patriots starting lineup. He did it at a new position and during a shortened offseason with immense success—certainly not an accomplishment to scoff at for a veteran of 12 NFL seasons.
The expedited development and deployment of rookies Nate Solder and Marcus Cannon turned out to be quite the surprise. Initially after their selection it was unknown whether either one of them would even see the field in 2011.
New England dealt with injuries to starters Koppen (injured reserve) and Vollmer (missed 10 games), and employed a rotating center for much of the season.
And yet this was a line that paved the way for 18 regular season rushing touchdowns, good enough to tie for third in the league. The Patriots ranked ninth in the league with 32 sacks allowed and ranked 12th in quarterback hits.
If not for their Super Bowl berth, Mankins (fourth Pro Bowl, third All-Pro) and Waters (sixth Pro Bowl) could've spent a week down in Hawaii.
A Pro Bowl argument could even be made for Matt Light who turned in one of his best seasons despite the fact that it was his 11th.
Solder ended up playing so often and so well it won't be a surprise to hear his name mentioned in the Pro Bowl circuits in the near future. Cannon has shown the promise and potential necessary to excite a lot of people as well. 
Looking forward to 2012 and beyond it's easy to see the strength of the youth movement on the line. Solder, Mankins and Cannon are all under contract through at least 2014. Vollmer, Waters, and Light have agreements in place taking them through 2012, while Connolly is a free agent.
The 30-year-old Connolly is expected to be a priority signing for New England and Light may have finally pulled the short straw at age 33.
I'd personally love to see Light in a Patriots uniform until he retires, but he's been a starter since 2001 and I doubt he'd like to start warming the bench now. New England has too many fresh legs behind Light to make him a worthy investment, as hard as that is to say.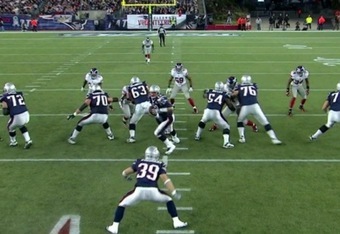 At this early stage I think it would be an upset if a rookie or free-agent addition cracks the starting lineup over Solder, Mankins, Connolly, Cannon and/or Vollmer. The team is likely to take a look at guard and center in the draft, but I don't expect a top pick to be used. 
So it appears the Patriots will experience some continuity on the offensive line heading forward, and that's never a bad thing.
Interested in reading more by this featured columnist? Check out more of Aaron Dodge's work on Bleacher Report.
8 Pats Considering Retirement This Offseason
Running Down the Pats' Best Free Agents
Were Andre Carter or Other Pats Involved with Bountygate?

Feel free to "Like" me on Facebook. Your support is much appreciated. And send in those questions for the Patriots Mailbag to ahp25@wildcats.unh.edu.