UCLA: Keys to the Bruins Winning the Pac-12 Tournament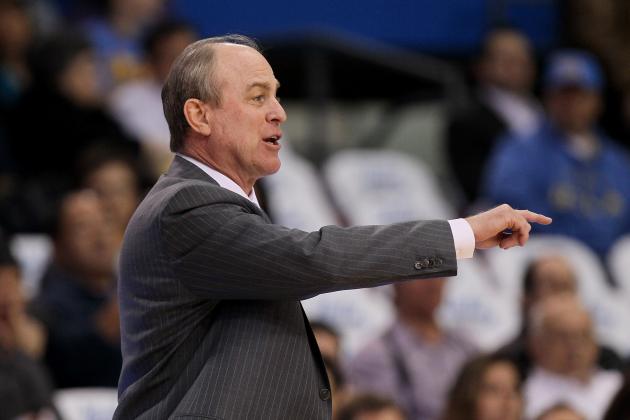 Stephen Dunn/Getty Images

We're on the threshold of yet another March Madness, and UCLA Bruins fans are painfully aware of what their team is up against.
Thanks to a season rife with underachieving, the dismissal of leading scorer Reeves Nelson and a scathing Sports Illustrated cover story, UCLA (18-13) finds itself in the unenviable position of having to win four games in four days at the Pac-12 Tournament to qualify for the NCAA dance.
While the task at hand may seem downright impossible, let me remind you that it's not. Just last year, UConn won five games in five days to capture the Big East Tournament.
For the Bruins to take a page out of Connecticut's playbook and capture the Pac-12, they're going to need a few aspects of the game to break in their favor.
Here are some keys to UCLA winning the conference tournament.
Begin Slideshow

»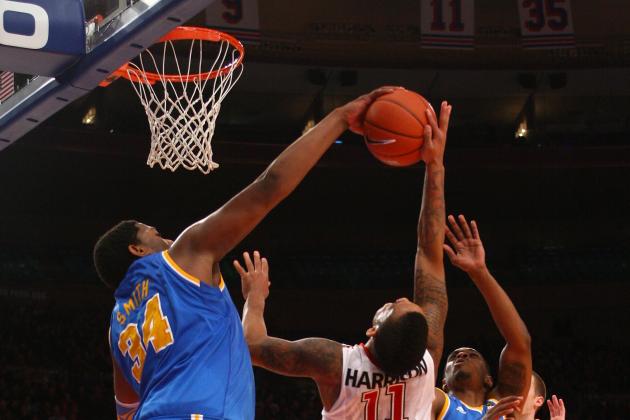 Chris Chambers/Getty Images

Bruins fans are well aware that the physically imposing Josh Smith is capable of wreaking havoc offensively and defensively on a nightly basis. The problem is that he's usually never on the floor long enough to wreak much havoc.
Smith, UCLA's burly 6'10", 305 lb center, averages less than 20 minutes per game in playing time. That's simply not good enough for a player of Smith's size and skills.
Smith must stay on the court longer than 20 minutes if UCLA is to win the Pac-12 Tournament. That starts by keeping the big guy out of foul trouble. And for Bruins coach Ben Howland, that includes sprinkling in some zone defensive looks to limit Smith's exposure to contact down low.
I know that a defensive purist like Howland probably cringes at the prospect of making his guys play zone defense. However, he has to do whatever it takes to keep Smith out of foul trouble because he is physically imposing enough to alter any Pac-12 opponent's game plan.
Now, if Smith can somehow get in better shape between now and the opening-round game against USC…
Stephen Dunn/Getty Images

Simply put, the brothers Wear (twins Travis and David) have been godsends for Ben Howland and his UCLA Bruins this season. Travis and David Wear transferred from North Carolina and have been saving graces of sorts in their first season in Westwood.
Both are high energy guys who run the floor extremely well for their size (an identical 6'10"), play fundamentally sound defense and are underrated rebounders. For those reasons, we'll see a healthy dose of the Wear brothers throughout the conference tournament. If they're both forced to log strenuous minutes, then so be it.
But Howland already realizes this. It's a plan he has followed all season, much to the delight of UCLA fans.
Because if it weren't for the Wears' contributions, who knows how much more disastrous the regular season would've been for the 18-13 Bruins.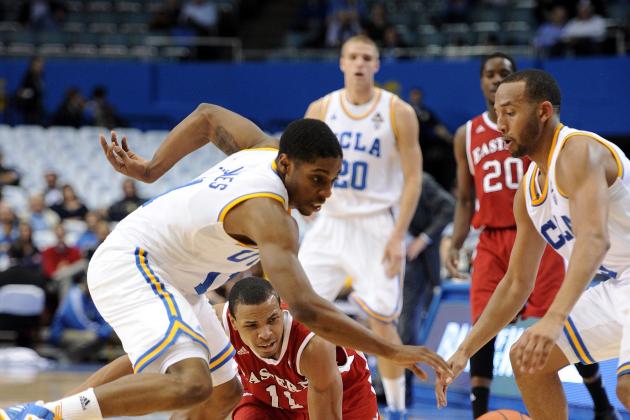 Harry How/Getty Images

UCLA coach Ben Howland can't be pleased with the fact that his Bruins have done a poor job of handling the basketball pretty much all season. Entering the Pac-12 Tournament, UCLA has averaged 12 turnovers per game on the season.
That's not a particularly flattering statistic considering Howland's reputation for being a coach who stresses fundamentals and discipline. It's no secret that there's little margin for error in the postseason.
The Bruins aren't good enough to overcome even a slight disparity in the turnover margin against Pac-12 foes. If UCLA is going to run the table in a four-day span, then guards like Jerime Anderson and Lazeric Jones are going to have to tote the rock more responsibly than they did during the regular season.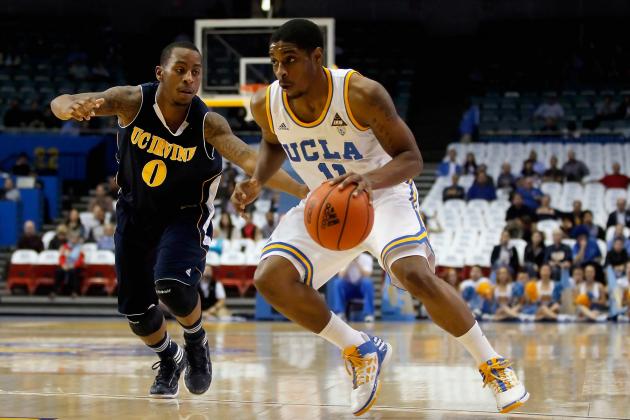 Jeff Gross/Getty Images

Speaking of Jerime Anderson and Lazeric Jones, the Pac-12 Tournament represents possibly the last chance for the senior duo to finish their UCLA careers on a high note. Both Jones and Anderson have had respectable seasons.
The former is averaging 13.4 points per game and the latter is putting up 8.7 ppg. Sure, they haven't had as spectacular careers as other Ben Howland-coached guards like Russell Westbrook, Darren Collison, Arron Afflalo and Jrue Holliday.
Nevertheless, this is Anderson and Jones's last chance to enhance their UCLA legacies.
If they can somehow carry the Bruins to an unexpected Pac-12 tournament title, then they'll carve out their own little niche in the program's storied history.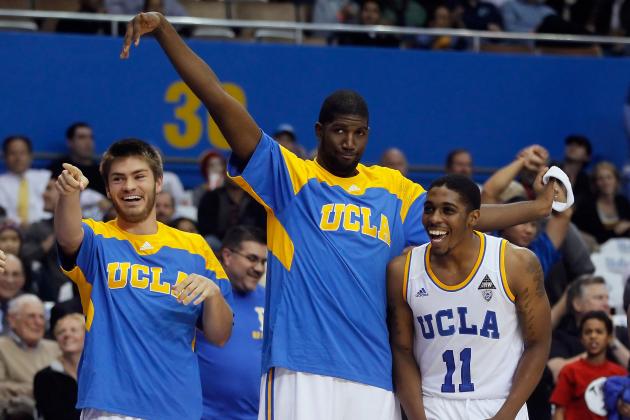 Jeff Gross/Getty Images

So what if the UCLA Bruins and USC Trojans are bitter cross-city rivals? There's definitely not much of a rivalry on the hardwood at the moment.
This year's version of the USC men's basketball team isn't very good, and even that's being too kind. The men from Troy are holding up the cellar in the downtrodden Pac-12 with just one conference win in 18 tries and six wins overall on the season.
So it's in UCLA's best interest to take care of business early in their opening-round Pac-12 Tournament bout against USC.
If they don't, then fatigue could rear its ugly head for Ben Howland's team and result in a layover effect for the rest of the conference tourney.
Beyond USC, a rested Arizona team awaits the Bruins. So, it's definitely in their best interest to blow out the Trojans and give their starters an opportunity to gain some valuable rest.
But if UCLA struggles to finish USC early, they may find themselves finished in no time.